Bill And Ted's Excellent Adventure: 14 Non-Heinous Behind-the-Scenes Facts About The Time Travel Movie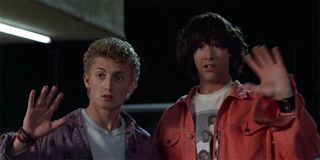 Last week during Comic-Con@Home, one of the most sincerely enjoyable panels was put together promoting the upcoming release of Bill And Ted Face The Music. What made the online event so entertaining was that it not only revealed some fun stuff about the new movie, but also divulged some great behind-the-scenes stories about Bill And Ted's Excellent Adventure – such as the moment when it was discovered that Alex Winter and Keanu Reeves were truly the perfect pair to play the titular duo.
The discussion got us wondering if there were possibly even more memorable moments and strange factoids available about the 1988 classic, and it turns out that the answer is an emphatic "yes." Digging into the conversation at the Comic-Con panel, various commentary tracks, featurettes, and interviews about the making of Bill And Ted's Excellent Adventure, we've put together this most radical feature for your enjoyment, and it will hopefully only deepen your appreciation for the movie.
The Original Concept For The Film Was For It To Be A Series Of Skits Like The Kentucky Fried Movie
Prior to being characters in a script, Bill S. Preston Esq. and Ted "Theodore" Logan were creations of screenwriters Ed Solomon and Chris Matheson in that they occasionally adopted the personas while in conversation and once incorporated them in an improv performance. That's an odd beginning for the heroes of Bill And Ted's Excellent Adventure, but even more out there is that when Solomon and Matheson did start thinking about a screenplay, they initially envisioned the project in the mold of The Kentucky Fried Movie and exist as an anthology comedy featuring Bill and Ted. It was ultimately a suggestion from Matheson's father, legendary author Richard Matheson, that the project take a more traditional narrative route.
Bill And Ted Had A Time Van In Early Drafts, But Back To The Future Pretty Much Forced That To Change
Once Bill And Ted's Excellent Adventure made that narrative shift, time travel became a part of the concept – though the means were totally different, and the title of the film was originally Bill And Ted's Time Van. In the first draft, which was only 83 pages long, Bill and Ted were able to move through time thanks to a special van owned by a guy named Rufus who had a dog named Dog Rufus. When Back To The Future opened in theaters, it was understood that the project had to move away from the idea of a time traveling car, and it was director Stephen Herek who came up with the idea of using a phone booth, inspired by college pranks where students would jam as many people as possible into the small space.
Bill And Ted's Excellent Adventure Almost Featured Hitler Instead Of Napoleon
Various drafts of Bill And Ted's Excellent Adventure used a number of historical figures who didn't make it into the final version (including George Washington, Babe Ruth, and Amelia Earhart), but arguably the most notable erased inclusion was Adolf Hitler essentially in the same role played by Napoleon Bonaparte. There were some good ideas and funny jokes that the writers put together with the concept, but they scrapped it in preproduction realizing that they couldn't have Bill and Ted – as they put it in their home video commentary track – "paling around with lovable Hitler."
Keanu Reeves and Alex Winter Went Into Their First Costume Fittings Thinking They Were Playing The Opposite Parts
Keanu Reeves and Alex Winter had to endure what was a surprisingly rigorous audition process, but what won them the parts at the end of the day was the chemistry that existed between them and the fact that they would hang out like instant friends between doing what was asked of them in the try out. At the end of it all it was determined that they were the only two actors who could play Bill and Ted… but the duo apparently walked out of the audition individually not entirely clear on which role they had won. It was not until they were at their first costume fittings that Reeves realized he wasn't playing Bill and that Winter figured out he wasn't playing Ted.
Casting Rufus Took A Long Time, And Inspired An On-Set Running Joke
George Carlin's performance as Rufus is one of the most perfect elements of Bill And Ted's Excellent Adventure, providing exactly the right level of cool and swagger to the part, but unlike in the movie he wasn't present when things started up. It took a while for the production to find the right actor for the part, so principal photography began before that actually happened. This unfortunately had a bit of a negative effect on the set atmosphere, as there was some nervousness in regard to the casting – so much so that there ended up being a running joke on set with people pitching worse and worse ideas for the role.
George Carlin Wrote The Movie's Introduction Sequence
As will be discussed later in this feature, Bill And Ted's Excellent Adventure went through some rather significant changes towards the end of its production, but what can be said about the majority of the material is that it was written by Ed Solomon and Chris Matheson. The lone exception to this is the very first scene in the movie where George Carlin's Rufus explains his mission to the audience. The bit only came about because test screenings revealed some confusion in regard to the larger context of Rufus' plans with Bill and Ted, and per Solomon and Matheson, the brilliant stand-up comedian wrote the material himself.
Keanu Reeves Asked George Carlin For An Autograph, And Got An Amazing Response
While Keanu Reeves is now one of the biggest stars in the world, he was just a young pup in the making of Bill And Ted's Excellent Adventure, and he was a bit star-struck with the opportunity to work alongside George Carlin. Mustering up his courage, he decided one day to ask his co-star for an autograph, and in Reeves' own words (from the Shout! Factory Blu-ray):
The Movie Had 10 Days Of Filming In Italy For Some Of The Notable Time Travel Scenes
Being an independent movie, Bill and Ted's Excellent Adventure had to save money where it could (for example, they filmed primarily in Arizona because it was less expensive than San Dimas, California), but there was one stretch where the production got an opportunity to pull a big blockbuster move and film for 10 days in Rome, Italy. The schedules were packed, there was only one day for sightseeing, and there wasn't even enough money to provide Ed Solomon and Chris Matheson with per diem, but they did add some serious production with European locations. The scenes filmed in Rome include the castle where they meet the girls, the fancy music room where they meet Beethoven, the square where they pick up Freud, the building where they find Socrates.
The Phone Booth Took On A Really Terrible Smell During Production
As noted, when the cast and crew wasn't in Europe they were filming in Arizona, and the particular climate had a seriously negative effect on one important prop/location: the phone booth. With actors constantly piling into the thing wearing heavy costumes day in and day out, the time travel device wound up taking on a seriously unpleasant odor with which the actors had to deal. It's noted in the Blu-ray special features that the production did have a version of the phone booth that didn't have a back, but Stephen Herek wanted to maintain a reality in the imagery of all the characters stuffed in a tiny space.
Keanu Reeves Came Up With The Concept Of "Ted Hair" On Set, And Was Very Insistent About It
Keanu Reeves has played many iconic characters over the course of his career that have their own specific and memorable looks, and Ted in Bill and Ted's Excellent Adventure is no exception to that rule – though Reeves didn't actually discover the "key" until a couple weeks into production. The actor found that he liked it when Ted's hair had a kind of width to it, as he felt that it made his performance funnier. He became pretty insistent about it on set, making sure it was right before each take, but to his credit, the style is hilarious.
The Original Bill And Ted's Excellent Adventure Climax, To Put It Bluntly, Sucked
Bill And Ted's Excellent Adventure really brings it home with its big climax, allowing the eponymous heroes to showcase all that they've learned, and also show off the very special skills possessed by their new friends. What you may not know is that the scene wasn't originally in the script. The original plan was to simply have the presentation take place in the same classroom seen earlier in the movie, with Bill and Ted having a more passive role while each of the historical figures explained themselves. An hour into shooting it was decided that the material was flat, and that the movie needed a punchier ending. It was this thinking that created the auditorium sequences.
Who Is Running The Lights During The Presentation? According To The Writers, It's Bill And Ted
There are admittedly a few plot holes in Bill And Ted's Excellent Adventure, which is natural for a time travel movie, but one of the standouts is the professional-level light show that accompanies their history presentation. Who is making that happen? Per Ed Solomon and Chris Matheson, their thinking is that it is time traveling versions of Bill and Ted who are taking care of the technical side of things, and they regret not actually showing that in the movie.
The Movie Was Originally Going To End With A Prom Sequence
The boring classroom finale wasn't the only Bill and Ted's Excellent Adventure sequence that wound up being left on the cutting room floor, as there were originally plans to have the movie feature a bit where Bill and Ted make good on their promise to bring the princesses to prom. They even had their own special Bill and Ted-style tuxes to wear to the event (you can't see it in the image above, but they are wearing cut-off dress pants)… but it was felt in the editing room that it was too much material for the end of the film and that it needed to wrap things up faster.
There Was A Long Time When It Was Thought That Bill And Ted's Excellent Adventure Would Never See The Light Of Day
Having completed production in 1987, the Bill And Ted's Excellent Adventure cast and crew expected the film to be released theatrically at some time in 1988, but those dreams fell through as a result of the De Laurentiis Entertainment Group, the production company backing the movie, being forced to file for bankruptcy. It sat on the shelf for years until a tiny company called Nelson Entertainment, which hired a bunch for former DEG executives, purchased it, and a distribution deal was created with Orion Pictures. The film wound up being Orion's highest grossing picture when it came out in 1989, earning $40 million.
We'll be doing a deep dive in to the behind-the-scenes story of the sequel, Bill And Ted's Bogus Journey, soon, so stay tuned here on CinemaBlend for that, as well as a whole lot more coverage as we continue to excitedly count down the days until the release of Bill And Ted Face The Music, which will be in select theaters and available on premium VOD starting September 1st.
Your Daily Blend of Entertainment News
Assistant Managing Editor
NJ native who calls LA home and lives in a Dreamatorium. A decade-plus CinemaBlend veteran who is endlessly enthusiastic about the career he's dreamt of since seventh grade.
Your Daily Blend of Entertainment News
Thank you for signing up to CinemaBlend. You will receive a verification email shortly.
There was a problem. Please refresh the page and try again.