Princess Bride Star Cary Elwes Uses Iconic Movie Quote To Encourage Mask Wearing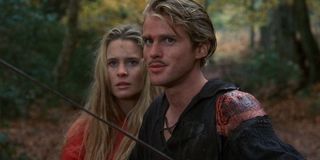 At this point, it's safe to say we're all tired of the COVID-19 pandemic. It's disrupted pretty much every facet of our lives and, unfortunately, it's difficult to say when things might be changing. That's part of the reason why stars like Cary Elwes are using their influence to remind fans how important it is to practice social distancing and wear a mask. He even found a clever way to tie in one of The Princess Bride's most famous lines in his most recent Twitter PSA.
On Friday, Cary Elwes tweeted out a clever, and all-too-timely, twist on one of the most iconic lines from The Princess Bride:
What made it even more funny is that his current Twitter avatar is of his Dread Pirate Roberts character wearing a mask. Even though he technically cribbed the line from Mandy Patinkin's Inigo Montoya, he definitely got the point across. Cary Elwes even doubled down on the point of the tweet when one fan accused him of fear-mongering. "Hopefully," he replied.
The Princess Bride star is far from the first to use social media to encourage fans to employ pandemic best practices. Over the past few months, celebrities have found a variety of creative, and often humorous ways, to express the importance of social distancing and wearing masks. It's also given plenty of stars, like Independence Day's Bill Pullman, an excuse to bring back some of their most memorable movie moments to remind fans to wear a mask. Given how much of an impact COVID-19 has had on the film industry, it's easy to see why.
Though some film production has resumed, there's still a long way to go before everything is back to normal. Right now, even if Hollywood can keep making movies, there's no clear indication of when it will be safe for us to go back to theaters and actually, you know, see them.
Movies like Tenet and Mulan, which were supposed to help give us some semblance of the summer movie experience, have been pushed back indefinitely. Studios are increasingly relying on VOD options to give fans a chance to see movies like Bill & Ted Face the Music.
But the rationale behind promoting safety extends past Hollywood's bottom line, too. Some celebrities, like Tom Hanks and Rita Wilson, contracted the virus early on and have since gone on to do their part to warn others about how serious it is -- and help find a cure. Even as social distancing has become the norm, actors like Bryan Cranston have revealed they've tested positive and urged fans to take the pandemic seriously.
Given all the uncertainty in Hollywood and beyond, Cary Elwes' firm-but-funny reminder to wear a mask feels pretty on point.
And if you want to revisit Cary Elwes' performance in The Princess Bride, you can currently stream the film on Disney+.
Your Daily Blend of Entertainment News
Thank you for signing up to CinemaBlend. You will receive a verification email shortly.
There was a problem. Please refresh the page and try again.