Mission: Impossible 7 Director Responds To Rumors About Blowing Up Historic Bridge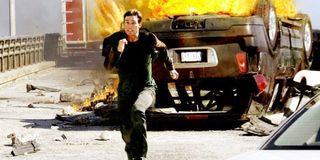 The Mission: Impossible franchise has always tried to up the ante with special effects, intense action sequences, and finding new ways to put Tom Cruise's life in danger. That said, there's been recent reports that Tom Cruise and director Christopher McQuarrie wanted to blow up a bridge for Mission: Impossible 7, which has caused a stir among some, claiming it's a historic bridge in Poland. Now, the Mission: Impossible 7 director has responded to the controversy.
Christopher McQuarrie wrote a statement published in Empire, hoping to set the record straight and address rumors that he wanted to destroy a Polish monument for entertainment. According to the director, they had vague plans to partially destroy a bridge but didn't think it would be possible until Polish authorities said they had a bridge they wanted to remove. Here's what he said:
The bridge in question is an old railway bridge that runs in the Silesia Province, suspended above Lake Pilchowickie. It was first built in 1909 but has since been decommissioned in 2016. In response to Christopher McQuarrie's search for a bridge, some people from Poland seemed eager to help him. Christopher McQuarrie continues,
Though Poland's Ministry of Culture and National Heritage seemed to want to help out in an attempt to revitalize their roads and economy, there have been some who have pushed back against the proposed action to blow up the bridge. The Silesian Monument Conserver reportedly wants to list the bridge as a monument and The International Committee for the Conservation of the Industrial Heritage has appealed to Prime Minister Mateusz Morawiecki to have the bridge preserved.
Oddly enough, Christopher McQuarrie believes an individual that wanted a job on the production, but they deemed unqualified, decided to retaliate against them through public and online harassment. Here's what he said later in his same statement,
It's hard to say if Christopher McQuarrie will continue to pursue blowing up this bridge. By the end of his statement, he sounded open to help Poland remove any bridges they don't want to have around, but also made clear they have no intention of destroying cultural landmarks and monuments. And the situation happening in the public eye no doubt further complicates things.
Mission: Impossible is renowned for blowing stuff up. From the helicopter explosion in the first movie to the explosion of the Kremlin in Mission: Impossible – Ghost Protocol, they aren't shy about finding new things to destroy. Of course, many of those special effects are done digitally, and in this case, Christopher McQuarrie wants to pull a Christopher Nolan and do it for real. After all, Tom Cruise jumped out of a plane for the last one.
Mission: Impossible 7 was originally scheduled to release on July 23, 2021, but has since been pushed back due to current events. It is now expected to release on November 19, 2021. For more movie news, stay tuned to CinemaBlend.
Your Daily Blend of Entertainment News
Your Daily Blend of Entertainment News
Thank you for signing up to CinemaBlend. You will receive a verification email shortly.
There was a problem. Please refresh the page and try again.