Why Hamilton's Leslie Odom Jr. Almost Walked Out On The Movie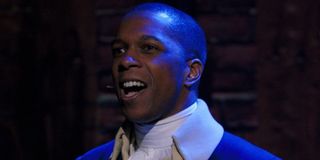 The release of Hamilton on Disney+ has led to a big increase in interest in the already beloved musical. That has meant a lot of positive attention for the cast of the film, who originated the roles they play on screen when Hamilton was on Broadway. But Leslie Odom Jr., who stars as Aaron Burr, almost chose not to participate, and nearly walked away from the opportunity shortly before they began to shoot the film.
There is no Hamilton without Aaron Burr. He serves not only as the lengthy story's narrator but also ends up being the figure behind many of the pivotal moments in the musical, including the murder of the musical's eponymous Founding Father. For those who've been fans of the musical since it first hit Broadway in 2015, it would have been hard to picture anyone but Leslie Odom Jr. bringing him to life in the Hamilton film.
However, the Tony-winning actor found himself faced with a tough decision when he and the rest of Hamilton's original Broadway cast were asked to participate in the filming of their stage performance for the movie. He told the Armchair Expert Podcast that he wanted to make sure he was being paid what he knew his participation was worth:
It sounds like the decision as to whether or not he would be a part of the film came down to the wire because Leslie Odom Jr. stood his ground:
Leslie Odom Jr. did his research, too, so he could be sure that he was being appropriately compensated for what would turn out to be one of the most buzzed-about movies of 2020:
For Leslie Odom Jr., it sounds like the bottom line ended up working out in his favor -- at least to the point that he was willing to sign on for the Hamilton movie. That's good news for fans, both new and old alike, because it means we can enjoy his stunning performance for years to come. It's available to stream now on Disney+.
Your Daily Blend of Entertainment News
Thank you for signing up to CinemaBlend. You will receive a verification email shortly.
There was a problem. Please refresh the page and try again.