Hamilton: 26 Cool Background Things To Look For The Next Time You Watch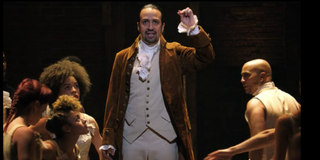 The world is finally experiencing and appreciating Hamilton and I could not be happier, thanks to its debut on Disney+. I've been obsessed with the show for years. The soundtrack is my favorite road trip companion. It never gets old! I cry every single time I listen to it start to finish. Lin-Manuel Miranda is a musical genius. I've seen the show once live, and seven times on Disney+, but still find something new with every viewing.
Something I love to do when rewatching a show is completely ignore the leads and everything happening in the foreground, and watch the set pieces change, the ensemble choreography, and other details I'd miss when staring at whoever is currently speaking/singing. Here are some pretty cool background things to look for when you rewatch, in the order (and song) that they appear.
Alexander Hamilton
Keep your eyes in the dark instead of in the spotlight. Each time a new actor enters, the previous actors step back and snap in time with the music. I know it's hard to take your eyes off of Anthony Ramos (John Laurens) when he enters in that white suit, but Leslie Odom Jr. (Aaron Burr) doesn't miss a beat with those snaps in the shadows. Focus upstage left center (that's behind all of the leads, to Daveed Diggs' left) when Okieriete Onaodowan (Hercules Mulligan) enters for the first time to see a single ensemble member casually snapping in the background. The small details blow my mind every time.
In addition to introducing our star, the opening number gives us lots of background information about Hamilton. He lost his mother to an illness and then moved in with a cousin who committed suicide. These pieces of information are shared in the song lyrics, but also acted by ensemble members in the background - watch them instead of the leads who are telling the story in this scene because the deaths are beautifully choreographed.
This song also features the first on stage costume change! After Burr sings "in New York, you can be a new man," Miranda removes his white jacket and hands it to Odom Jr. who takes it off stage as Philipa Soo (Eliza) enters with Hamilton's brown jacket.
My Shot
At the start of this song, Burr backs out of the spotlight, greets a friend, and then takes his seat. He watches Hamilton for the early lines but then intently reads a book in the background, seemingly oblivious to everything else going on in the bar, until he moves to the foreground for his next line. What is he reading? Why did he go to a bar to read? I have to know! The action itself also foreshadows his approach through life, always lying in wait for his next opportunity.
When delivering the line "don't be shocked when your history book mentions me," Hamilton flirts with the waitress walking by, totally foreshadowing the fact that he's going to be a complete and total, um... feral tomcat.
This is also the first time we see The Bullet (Ariana DeBose), the harbinger of death. As the end of Hamilton's "I imagine death so much it feels more like a memory" monologue, the cast unfreezes as he walks by. DeBose is the last to unfreeze, and we see her hand still outstretched toward him as he walks by. Chilling.
The Schuyler Sisters
Anthony Ramos is an insanely talented and attractive individual. He's perfectly cast as John Laurens and Phillip Hamilton. But he doesn't get of his own songs and these roles don't get him enough stage time! Not to worry, Ramos can be found throughout The Schuyler Sisters, dancing behind and around the sisters. He joins the ensemble for this number and ughh he's just so cute I could squeeze him.
You'll Be Back
The Bullet is back. As King George III walks off stage, he orders a British soldier to kill DeBose's character. This makes her the first death of the revolution in the production, emphasizing her role as the show's harbinger of death.
Right Hand Man
I honestly can't tell if this is an actor or a character detail. When we meet George Washington (played by the incomparable Christopher Jackson) he's looking in a mirror. Is Washington perhaps contemplating battle plans? Or is Jackson taking a deep breath preparing for his big intro? Maybe both! He also grabs his sword off the wall before turning to the audience and it feels like we get to see Jackson saying "Let's do this" and then transform into Washington before our eyes as he turns toward us.
This song also features another wardrobe change for Miranda. He enters the scene without a jacket, and Odom Jr. brings it on stage for him so he can begin Hamilton's time as a soldier.
A Winter's Ball
In this scene, Burr is narrating in the foreground. Looking beyond him, we see Lafayette approaching Angelica at the ball, but Hamilton pushes his friend out of the way to introduce himself. Imagine if Lafayette and Angelica had fallen in love. Hamilton and Eliza may never have met!
Helpless
This is not a background thing, but since I didn't notice it in my first five viewings I thought it was worth mentioning. Lafayette walks Peggy (Jasmine Cephas Jones soon to be Ramos) down the aisle at Eliza and Alexander's wedding. Judging by Peggy's expression, Lafayette whispers something inappropriate. Alex and his friends are all little flirty boys and I'm sort of annoyed but also completely here for it.
Satisfied
This is my favorite number in the entire show and you should definitely rewatch this one scene about thirty times. In the time-rewind, the ensemble's choreography around Angelica as she looks back in time is some of the same choreography done in the prior number "Helpless." Shout out to choreographer Andy Blankenbuehler. Every person who worked on this show is a genius. Every single one.
Stay Alive
The Bullet returns. There's a gunshot at the top of the song where she catches the bullet and carries it across the stage and over Hamilton's head. His life has been spared, but for how long? Dun dun dun (not really because we all know what happens, I just wanted to do that).
Guns and Ships
This one is easy to miss because it's one of Daveed Diggs' extraordinary fast rapping fire spitting moments. But pay attention to the catwalk after Lafayette tells Washington "but to succeed, there's someone else we need." As the story's narrator, Burr is eavesdropping on the moment Washington acknowledges needing Hamilton as his "right hand man" to win the war, and glares angrily from above as he burns with jealousy. Poor Burr. He needs a hug.
Yorktown (The World Turned Upside Down)
The Bullet is back, again! During the lyric "Laurens is in South Carolina redefining bravery" we see John Laurens and The Bullet killing a red coat and then shaking hands. Little did he know that interaction was foreshadowing his death. sheds a tear or five
Non-Stop
Once again, Les brings Lin a jacket! Part of him had to hate this, because Burr definitely would've told Hamilton to get his own jacket.
Say No To This
This is also not a background thing, but for everyone who is outraged by Hamilton's infidelity, the collective disappointment of the ensemble when Hamilton and Mariah (played by Jasmine Cephas Jones) kiss is so satisfying. The ensemble shares my "WE WERE ROOTING FOR YOU. WE WERE ALL ROOTING FOR YOU!" sentiment. How dare he do that to Eliza. Who does this man think he is?
The Room Where It Happens
Another one that happens right in front of us, but it's still great - on the line "but we dream in the dark for the most part" an ensemble member expertly pulls the tablecloth out from under Odom Jr. with lightning reflexes in time for him to land cleanly back on the table. The dude doesn't even look worried. Kudos.
Hurricane
At the end of this song, Mariah Reynolds hands Hamilton the quill to write The Reynolds Pamphlet. He publishes the letters she wrote him. Can we talk about that? There isn't time! I could write a whole other article about ways Hamilton could have handled the whole situation that did not involve telling the world his dirty secrets. He thought that was his only option? I can't.
The Reynolds Pamphlet
Okay, so we've agreed that at this point in the story Alex is a complete idiot, right? Well, Washington knows how we feel. He stops by when the boys are singing about how Alex is "never gonna be president now" to show his disapproval. I feel ya, Washington. Shake your head at that boy.
Blow Us All Away
The Bullet returns, once again! Phillip Hamilton inquires about the whereabouts of George Eacker, and while touching his chest The Bullet replies "I saw him just up Broadway a couple of blocks." Once again, an interaction with her foreshadows death.
Stay Alive (Reprise)
When Phillip is aiming for the sky and the ensemble is counting, The Bullet walks behind him and marks him for death. Did we NEED to see Anthony Ramos die TWICE though? No. No, we did not.
Your Obedient Servant
Watch as the ensemble sets up the stage for this song. The Bullet brings out the table Burr writes a letter to Hamilton on which leads to scheduling a duel. Death is upon us!
The World Was Wide Enough
The Bullet delivers the bullet from Burr's gun to Hamilton.
Who Lives, Who Dies, Who Tells Your Story
The finale features a costume detail for the actors playing dual rules to have a final moment as each character. Diggs delivers his final line as Jefferson while standing at the top of the stairs on the catwalk. After he speaks, his spotlight goes out. He descends the stairs, removes his jacket, and receives his white coat from Cephas Jones to become Lafayette. While Diggs is making this transition, the spotlight goes up on Onaodowan, who delivers his final line as Madison. His spotlight goes out and he removes his jacket while doing a quarter turn, then receives Mulligan's white coat from Jackson. The two put their characters' white coats from Act I on at the same time and it's brilliant.
How many times have you seen Hamilton or listened to the soundtrack? What are your favorite details? You can use this link to sign up for Disney+ and watch Hamilton to your heart's content.
Your Daily Blend of Entertainment News
Obsessed with Hamilton and most things Disney. Gets too attached to TV show characters. Loves a good thriller, but will only tolerate so much blood.