If You Want To Get To Know Captain Marvel 2's Director, Watch Little Woods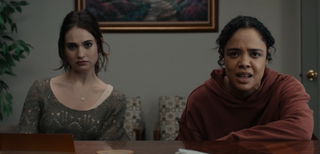 (Image credit: (Neon))
The Marvel Cinematic Universe got a rare bit of big news at the top of August when the director for 2022's Captain Marvel 2 was announced to be Candyman's Nia DaCosta. In a parallel dimension, we would already have her work on the horror property to go off of. Candyman is not scheduled to be released until October, but DaCosta's first feature film Little Woods is readily available to view, and it's a great way to get excited about her potential in the Marvel universe.
Nia DaCosta is a 30-year-old Brooklyn native, who was mainly raised in Harlem. She decided she wanted to be a filmmaker after watching Francis Ford Coppola's Apocalypse Now in her high school English class, per IndieWire. The writer/director followed a blackhole of '70s movies before going to the same film school as Martin Scorsese, New York University's Tisch School of the Arts. DaCosta's script for Little Woods was chosen by her program to be part of a Directors Lab program put on for Sundance. If you really want to get to know the upcoming helmer of Carol Danvers' next solo adventure, stick with us as we dive into Little Woods:
Little Woods Is A Thriller About The American Health Care System
Little Woods is a slow-burn thriller that centers on sisters who live in the titular North Dakota fracking boomtown. Tessa Thompson's Ollie and Lily James' Deb have recently lost their mother and both are dealing with circumstances that are related to the failure of public healthcare on their low-income status. Ollie is on probation after dealing opioids to townspeople in order to make money and previously providing pain medication to her mom, who could not otherwise afford it. Deb is a single mother and waitress who finds out she is pregnant and doesn't want to have it due to how expensive it costs without insurance.
No intention here of giving away how Little Woods unfolds, but the sisters' already dire circumstances become heightened by an event and they have to take these matters in their own hands. It's a timely and clever concept for a movie that Nia DaCosta expertly delivers through its intensely building filmmaking, killer soundtrack and meticulous writing. All produced on an $11 million budget too.
Tessa Thompson And Lily James Are Brilliant As Sisters
One instantly great reason to check out Little Woods is for the team-up between Tessa Thompson and Lily James. Watching it on its own you'd have no idea a novice filmmaker was behind the performances of these two. Both actresses who have graced the screen in much more high-profile projects give these roles their all and show a new side of themselves for the 2018 movie. Tessa Thompson takes the lead here and that's sadly rare for the Creed actress. By the end of the film, you forget who she is in the scope of the world of Hollywood and completely give in to her role as Ollie, who has a calm desperation that is unique to see her as. James' Deb is kind of this mess that the Cinderella and Mamma Mia star doesn't typically give off.
This aspect of Little Woods could play into Nia DaCosta's direction for Captain Marvel 2 specifically because the movie may feature the sister-like relationship between Carol Danvers and Monica Rambeau if they reunite in the present day. Captain Marvel 2 can benefit from a deeply developed story of sisterhood, especially if Monica finds herself catching the powers she gets in the comic books.
Little Woods Could Not Be Further Away From Nia DaCosta's Brooklyn Roots
One specific element about Little Woods that makes it an impressive debut for Nia DaCosta is how genuine and real she makes the struggle feel of this specific small town despite her complete unfamiliarity with it before writing the script. I would have thought the filmmaker behind this movie grew up in Little Woods. Yet, it comes from a city girl who wanted to highlight a topic that she has the privilege not to be in the thick of during her lifetime. Nia DaCosta has said she hopes audiences come away from Little Woods with a newfound "empathy" for how some women in the U.S. have it. She explained her process to THR with these words:
As NPR put in in their review of the 2018 movie, it's "quietly feminist thriller," which isn't an easy descriptor to achieve. In other words, it highlights the intersectional issues women deal with on a daily basis that a male character would not be subject to, without the storyline feeling particularly political or inherently a "feminist" film. The female gaze on these characters is clear and that's important when Nia DaCosta heads to Marvel to make the sequel to the studio's first female-led property.
Why Little Woods Has Us Excited That Nia DaCosta Is Directing Captain Marvel 2
Building off the previous point, Nia DaCosta's ability to sink herself into a narrative so specific without being part of it herself with that much detail will translate well to the world building needed for a movie like Captain Marvel 2. Within the comic book franchise, there is a lot of lore for the filmmaker to work with and the MCU might be the franchise held the closest to the microscope these days, with all the clever Easter Eggs and such the movies sprinkle in their movies.
To sum things up, Little Woods shows off a handful of key elements about Nia DaCosta's filmmaking that could make Captain Marvel 2 great. Attention to relevant story tackled in a unique way with it being a healthcare thriller, heavy focus on character especially through the theme of sisterhood that could be important to what's next for Carol and empathy to a story a world and in this case galaxy away from her own.
Have you checked out Little Woods yet? It's currently available to stream on Hulu (opens in new tab) and to rent/buy on VOD (opens in new tab). It's a good way to get excited for Candyman coming October 16 and Captain Marvel 2, set for July 8, 2022. Stay tuned here on CinemaBlend for more Marvel news.
Your Daily Blend of Entertainment News
YA genre tribute. Horror May Queen. Word webslinger. All her writing should be read in Sarah Connor's Terminator 2 voice over.
Your Daily Blend of Entertainment News
Thank you for signing up to CinemaBlend. You will receive a verification email shortly.
There was a problem. Please refresh the page and try again.