Steven Spielberg And 7 Other Directors Who Could Have Directed A James Bond Movie, But Didn't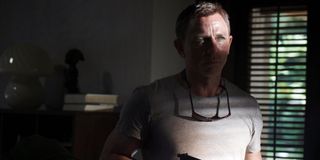 In the earlier history of the James Bond franchise, the position of who directed the films seemed to circulate through the hands of four individuals alone. With the exception of On Her Majesty's Secret Service director Peter R. Hunt, directors Terrence Young, Lewis Gilbert, Guy Hamilton and John Glen were the team that shaped 007 history for the first 16 films in the series. But when you include Hunt, all five men were part of the James Bond team in some position or another. Which makes the fact that in the classic history of Bond films, we could have seen a pretty big name break into their ranks, if history had been a bit kinder.
But even in the modern practice of almost a new director every film, with only Martin Campbell and Sam Mendes being the recurring figures in Pierce Brosnan and Daniel Craig's tenures, there have been some amazing "what if" scenarios we missed out on. Today, we're about to dive deep into the ranks of history, and see how eight directors had a brush with the world of Ian Fleming's secret agent, and how each of them either lost out or passed up the opportunity to command the gun barrel, along with the man who walks across its gaze.
Steven Spielberg, The Spy Who Loved Me/Moonraker
Back when Steven Spielberg was a young, hotshot director making hits like Jaws and Close Encounters of the Third Kind, the world seemed to be his oyster. And yet, even after making two of the biggest films that defined his career and the history of blockbuster filmmaking, James Bond producer Albert R. Broccoli still wouldn't hire Spielberg as a director in the Roger Moore era of Bond. Calling his shot two different occasions, history could have seen Steven Spielberg directing either The Spy Who Loved Me or Moonraker, based on the timing of when Spielberg personally called Broccoli to offer his services. Funny enough, both times Steven Spielberg tried to get into the 007 series, Jaws would have been there to greet him if it had worked out.
Alfred Hitchcock, Thunderball
Before Dr. No became the first James Bond tale to be adapted into a 007 film, Ian Fleming originally wanted the script that would eventually become Thunderball, entitled Longitude 78 West, to be directed by Alfred Hitchcock. Even more amazing is the fact that Hitchcock himself was a fan of Fleming's work, thanks to Casino Royale winning him over in book form. Timing scuppered the works, and the world lost out on what's now considered to be a "lost Hitchcock." Even stranger, as Hitch's North by Northwest leading man Cary Grant was also in the mix as one of the first candidates to play James Bond back in the day, we might have seen the two reunite on the film that eventually became one of the biggest legal headaches in Bond history.
John Landis, Bond 17
The other large legal quagmire that threatened to derail the James Bond series for good was that time that home studio MGM/United Artists was bought by another company, which unlawfully leased the rights to the Bond franchise to another company. Were it not for this hiccup, the film that wasn't quite Goldeneye, but would have been Bond 17, might not have seen Timothy Dalton fail to renew his contract. And if that film moved ahead, one of the candidates mentioned for the director's post was National Lampoon's Animal House/Coming To America helmer John Landis. But with the dissolution of that project, the man who also helped shape the story for The Spy Who Loved Me found his chance at directing this nebulous film fading fast.
John Woo, Goldeneye
It takes a lot of confidence to accept a gig like directing the long awaited return of James Bond, which saw Pierce Brosnan finally getting his turn in the tuxedo in Goldeneye. However, it also takes just as much guts to turn it down with a smile and a polite well wish. That very story showed up in author Christopher Heard's biography on Face/Off director John Woo, Ten Thousand Bullets: The Cinematic Journey of John Woo (opens in new tab). According to that text, Woo was allegedly offered the gig to direct the actual 17th James Bond movie, but he declined with the greatest respect. A year after Goldeneye's explosive debut, John Woo would break into the consciousness of western audiences with his action thriller Broken Arrow. So you could say it all turned out okay.
Peter Jackson, The World Is Not Enough
Imagine a world where The Lord of the Rings isn't directed by Peter Jackson. That might have been the case if history shook out differently, particularly in the version of events where Barbara Broccoli pursued Jackson's directorial skills for 1999's The World is Not Enough. Apparently, according to the authorized biography Peter Jackson: A Filmmaker's Journey (opens in new tab), Broccoli was at once impressed and repulsed by Jackson's resume. The story goes something like this: it was the serious and sobering drama Heavenly Creatures that put Peter Jackson on Barbara Broccoli's radar in the first place. This in turn led her to being invited to view the more comedic horror romp The Frighteners, which promptly put her off his hiring. Which is probably a good thing, as The World is Not Enough released in November 1999, a month into his back-to-back-to-back production schedule on The Lord of the Rings.
Quentin Tarantino, Casino Royale
If the powers that be listened to Pierce Brosnan's pitch for Casino Royale, things might still be a lot different from what they turned out to be in the world of 007. As Brosnan himself told this story during this year's Goldeneye watch party, a boozy night out led to the then current James Bond and director Quentin Tarantino, fresh off of Kill Bill at the time, to cook up an R-rated version of Ian Fleming's first Bond adventure. Apparently there were talks about this film also being a black and white period piece, and that may have been what ultimately pushed those in the decision-making seat to pass. Then again, with Pierce Brosnan being released from the role not too long after that point, other wheels may have been turning.
Roger Mitchell, Quantum of Solace
You probably don't know director Roger Mitchell by name, but you definitely know one of his most memorable projects as a director: the romantic comedy Notting Hill. Believe it or not, there was a time when Mitchell was approached to get Quantum of Solace off the ground, and in a hurry. With a 2007 release firmly in mind, and no script developed at the time, Roger Mitchell was asked if he could develop some action sequences that Daniel Craig's second 007 outing could employ to wow the audience. But Mitchell wasn't comfortable without a script and bowed out as he felt the gig just wasn't for him. Eventually, World War Z director Marc Forster would take over the reins and deliver the finished project.
Danny Boyle, No Time To Die
And here we are: the most recent and arguably most painful 007 parting of the ways we've seen in the current age. When you hire someone like Danny Boyle to make a movie, you kind of expect the man who shepherded Trainspotting, A Life Less Ordinary and 28 Days Later to do something at list a little bit unconventional. Yet when he and writer John Hodge were hired to craft the movie that was eventually No Time To Die, it felt like maybe the series was ready for that sort of approach. Five months after their hiring, and a ton of speculation later, Boyle left the then titled Bond 25, and it was supposedly over a bunch of "crazy, madcap ideas."
One can only imagine how different the history of James Bond would have been if any of these directors had landed their moments in the 00-sun. These are some experimental ideas and wild chances that might have paid off... or failed spectacularly. It's something to keep in mind as we make our way into the next phase of the Bond franchise, as any new hirings on the directing front could see a quick and sharp reversal of fortune. No Time To Die closes out the Daniel Craig era of films, with its planned release in theaters on November 20, and we can't wait to see how Cary Joji Fukunaga earns his place in the ranks of those who were lucky enough to walk away with the job in hand.
This poll is no longer available.
Your Daily Blend of Entertainment News
Senior Movies Contributor
CinemaBlend's James Bond (expert). Also versed in Large Scale Aggressors, time travel, and Guillermo del Toro. He fights for The User.
Your Daily Blend of Entertainment News
Thank you for signing up to CinemaBlend. You will receive a verification email shortly.
There was a problem. Please refresh the page and try again.