Radiohead, Alice Cooper And More Artists Who Wrote Rejected James Bond Theme Songs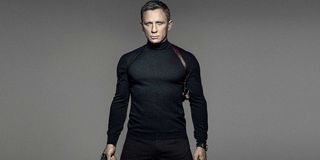 When you get to almost six decades of history in a franchise like James Bond, the "what if" scenarios can pile up quite a bit. Perhaps one of the sneakiest corners that's seen alternate history written and rewritten just as quickly is that of the songs that would almost go on to become Bond theme tunes. And when you've got names like Radiohead, Alice Cooper and even multiple 007 singer Shirley Bassey in the mix, the stories are bound to be wild.
If you're able, it's highly suggested that you make yourself a nice, cool drink of your choice, as we're going to run through some insane alternate themes to some of your favorite James Bond films. Just be sure to sip in-between entries, as you wouldn't want to waste a high quality tipple when the shock sets in.
Radiohead, Spectre (2015)
Radiohead had two separate bites at the apple with the title tune for Spectre. With their pre-existing tribute to Bond themes, "Man Of War," being rejected because it wouldn't be eligible for an Original Song nomination at the Oscars, a new track was needed. So, instead of completing their in-progress studio album, they put everything on hold and composed "Spectre."
Both songs were ultimately seen as too somber, and even though Sam Mendes really wanted to use "Spectre" somewhere in the film, it just didn't fit the sonic landscape already in play. Instead, Sam Smith's "Writing's On The Wall" became the title track for Spectre, and not only went on to win the Oscar for Best Original Song, but also caused a bit of controversy among fans as to whether or not the song itself fit in with the film. Though, if either Radiohead track was to be considered an effective contender for those honors, "Spectre" wins over "Man of War."
Alice Cooper, The Man With The Golden Gun (1974)
Sometimes the final theme selected for a James Bond film does work better than the competitors that tried to nab the honors. This definitely isn't the case with The Man With The Golden Gun, as we almost got a rock and roll villain theme to go with the film's opening credits, courtesy of Alice Cooper! If it wasn't for a simple deadline issue, we might have seen Cooper's theme making history, with even Christopher Lee approving of the song himself.
Instead, the world saw a theme song from Scottish pop star Lulu, with the film's title still remaining as the name. But this version of "The Man With The Golden Gun" is very much a product of its era, with a very flashy '70s sensibility; right down to some choice innuendo pertaining to Mr. Scaramanga's pre-kill habits. To think, we could have had a killer Alice Cooper track in the 007 franchise's history.
Dionne Warwick/Shirley Bassey, Thunderball (1965)
Radiohead's big double header for Spectre was predated by at least two other major examples of musical themes flying everywhere before a Bond film. When it came time to cook up an opening number for Thunderball, there were two very different approaches at work before settling on Tom Jones' banger of a theme; the first of which saw Bond theme song royalty go head to head with another contemporary talent of her day.
Both Shirley Bassey and Dionne Warwick recorded the original theme tune, "Mr. Kiss Kiss Bang Bang," with Bassey acting as the original vocalist, but with Warwick re-recording the tune due to scheduling conflicts. Were the course of events to have progressed as intended, Dionne Warwick's longer version of the tune would have been used. However, seeing as Thunderball was apparently a magnet for attracting lawsuits, and Shirley Bassey was upset her version wasn't going to be used, neither version of "Mr. Kiss Kiss Bang Bang" would be heard for quite some time.
Johnny Cash, Thunderball (1965)
Another wild swing for the fences came from none other than The Man in Black himself, Mr. Johnny Cash. Going more straightforward with the title track for Thunderball, the song's name was exactly the title of the film, and it was more of a country-style rundown of the film's villainous plot. No offense to Mr. Cash, or even Shirley Bassey and Dionne Warwick for that matter, but none of these other tunes beat Tom Jones' belting ballad.
In Johnny Cash's variant, "Thunderball" sounds like a tune that belongs at home in a classic Western. Which isn't a bad thing, as that's definitely the bread and butter of the Cash songbook. But as far as James Bond villains are concerned, the Jones song captured what eventually became the trademark swagger and doom that some Bond title themes were known for.
Blondie, For Your Eyes Only (1981)
Listening to Blondie's crack at nabbing the title track duties for 1981's For Your Eyes Only, one has to wonder how the hell lead singer Debbie Harry wasn't considered for Bond Woman duty? Her attitude, as well as that of her band's title track, would have fit in with the harder edged attitude that this particular 007 outing was trying to return to, and history only vindicated their rejected theme a few short years later.
Considering we were on the cusp of Bond getting a modern pop/rock act on board again with 1985's Duran Duran track for A View to a Kill, Blondie's version for For Your Eyes Only could have jump started that trend much earlier. However, we were still in the tail end of '70s trends, and film composer Bill Conti's style would have clashed a little bit with Blondie's uber modern track. For the film's purposes, Sheena Easton's track works better; but don't confuse that as labeling that tune as the superior track.
Pet Shop Boys, The Living Daylights (1987)
Here's an interesting story: famed '80s duo the Pet Shop Boys started to cook up a tune that would eventually be turned into "This Must Be The Place I Waited Years To Leave," in service of Timothy Dalton's debut The Living Daylights. And listening to what this song became in its final form, it would have been a hell of a follow-up to Duran Duran's previous work on Roger Moore's swan song, A View to a Kill.
Sadly, when the band and the franchise producers clashed over creative direction, the Pet Shop Boys left, and a-Ha took on the duties to turn in "The Living Daylights." While that theme song is still one of the top tier tunes from the whole canon of 007 themes, the Pet Shop Boys' tune not only ties into the defection that kickstarts the film's plot, after a hell of an opening, it's also steeped in the sexy danger James Bond has been known for. We lost a superior tune when "This Must Be The Place I Waited Years To Leave" did just that, and in a shorter time span.
Ace of Base, Goldeneye (1995)
While the choice of Swedish pop act Ace of Base might be something that causes James Bond fans to laugh a little bit, Goldeneye title track "The Goldeneye" actually sits at a tie with Tina Turner's eventual victor. In fact, the difference between the songs isn't only in the musical approaches, but also the thematic weight both songs are pulling. Ace of Base's song pushes more of a grand scope story, focusing more bluntly on the change of political landscape in the '90s.
Despite only existing as a demo, which is as far the song got before its unknown termination, "The Goldeneye" still works. But Tina Turner's more villain-focused song does have a big blast of Bond theme panache thanks to her collaboration with songwriters The Edge and Bono, and it still does work. If the more polished rewrite of that Ace of Base tune is any indication, which eventually became "The Juvenile," we could have had another seismic shift in 007 theme history.
k.d. Lang, Tomorrow Never Dies (1997)
Many songs entered into the contest to become Tomorrow Never Dies' theme, but one contender had the duties locked down so tight, you still hear its melodic signature throughout David Arnold's debut score in the James Bond canon. If it wasn't for an eleventh hour replacement of the titular theme, sung by Sheryl Crow, k.d. Lang's "Surrender" would have been the movie opening single for Pierce Brosnan's second outing.
The Crow song, on top of working the film's title into its finished product, is still a proper entry into the history of Bond songs, for sure. It's a beautiful, moody noir number in a series that was still trying to reinvent itself in a modern context. But "Surrender" is, without question, the song that should have opened the film, rather than be shifted to the ending credits. It's a tribute to evil, with a delicious lyrical story that would have even made Elliot Carver cry proud, cold bastard tears. This is the theme that got away, and the Thunderball-style confidence presented within doesn't pretend otherwise.
Muse, Skyfall (2012)
If you never call your shot in life, you're never going to get anywhere. Pop group Muse certainly knew this, and in particular, drummer Don Howard was the shot caller in this case, as he thought the group's single "Supremacy" from the album "The 2nd Law" should have totally been the theme to Skyfall. Invoking the spirit of Bond, both by name and in the content of that song itself, it's hard not to agree. You can even hear the 007 theme sneaking into the melody at times; it's that clear.
One could even say that the product that "Supremacy" is working with is definitely a David Arnold era James Bond song, and that's both a blessing and a curse. With a new composer coming on board with Thomas Newman, and even the brass at Sony wanting a more Shirley Bassey approach for Skyfall's big opener, the fact that Adele was an in-house talent probably sealed this decision faster than the pull of a trigger. While "Supremacy" is absolutely a Bond song, this wasn't the right movie for that particular opportunity.
These musical "what ifs" all carried their own tunes when it came to the 007 legacy, but be it either the wrong timing, or just not being the right tune for the job, they didn't make the grade. Examples such as these are going to happen in a series that has spanned as far and wide in tone as the James Bond legacy, but even with its missed opportunities, the series manages to shine pretty brightly. It's just a shame that, in some cases, what could have been is brighter than what actually was.
Your Daily Blend of Entertainment News
Senior Movies Contributor
CinemaBlend's James Bond (expert). Also versed in Large Scale Aggressors, time travel, and Guillermo del Toro. He fights for The User.
Your Daily Blend of Entertainment News
Thank you for signing up to CinemaBlend. You will receive a verification email shortly.
There was a problem. Please refresh the page and try again.