Eternal Sunshine Of The Spotless Mind Ending Explained: What Happens And What The Lacuna Tapes Mean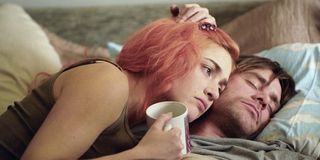 (Image credit: (Focus Features))
SPOILERS are ahead for 2004's Eternal Sunshine of the Spotless Mind. Proceed at your own risk if you have not seen it... unless you are planning to erase your memory after reading this.
Before the incomparable writing of Being John Malkovich, Anomalisa and Adaptation returns for the Netflix original film I'm Thinking of Ending Things in September, his most iconic film Eternal Sunshine of the Spotless Mind starring Jim Carrey and Kate Winslet has just returned to the streaming platform along with his feature debut John Malkovich. Whether you recently paused your weekly TV binges to discover or rediscover the thoughtful drama or just want to take a stroll down memory lane, let's discuss the ending of Eternal Sunshine here:
What Happens At The End Of Eternal Sunshine
Eternal Sunshine of the Spotless Mind predominantly takes place within the mind of Jim Carrey's Joel Barish as he undergoes the procedure from Lacuna Inc that will erase the memory of his ex Clementine, played by a highlighted-haired Kate Winslet. Clementine has already gone through with it and chose to forget him on a whim, much to Joel's heartbreak. As Mark Ruffalo's Stan, Elijah Wood's Patrick and Kirsten Dunst's Mary monitor Joel (wow, that cast though!), Joel goes down an imaginative trip through his memories of Clementine and his own past.
The narrative shifts into the third act when Mary kisses Dr. Mierzwiak and we find out she had gone through the procedure herself in order to forget her feelings for her boss. Mary then finds her own tape from Lacuna, where it is confirmed that her memory was in fact erased because it was deemed best for their work relationship. Mary then quits her job at Lacuna and Ruffalo's Stan confesses his interest in her.
Joel wakes up from his successful procedure in his bed. Then Eternal Sunshine cuts to something we've seen in an earlier scene in the film where Clem goes inside to get her toothbrush plus some mail and Elijah Wood's Patrick knocks on the car door. It's clear the pair have spent some time together but are in a new relationship. Once she gets back in the car to meet Joel, she opens one letter from Mary that explains the procedure they had and includes Clem's Lacuna tape.
She pops it into the car, and Joel hears her complaining about him from their prior, more lengthy relationship. They both get spooked and Clem leaves. Later Clem goes back to find Joel listening to his tape talking about her. After listening to his badmouthing she leaves, and he follows her out. And asks her to wait. Check out the final scene here:
Despite hearing the tapes, Joel says he can't think of anything he doesn't like about her. Clem says he will because that's "what happens" and he responds with "okay." She responds back with the same line and they laugh to one another before running through the snow happily, closing out Eternal Sunshine.
Why Joel And Clem Receive The Lacuna Tapes
The plot twist in Eternal Sunshine looks to be the doing of Kirsten Dunst's Mary after she found out that the mind-erasing procedure was done on her. The findings of the experiment seem to have proved not to be as advertised, and that leads to Joel and Clem learning of what happened to them. Mary's feelings do not go away for her boss and Joel and Clem end up together again.
Early on in Eternal Sunshine when Joel decides to take part in the experiment, there's a voiceover of Dr. Mierzwiak asks him to throw away all memory of Clem in his home and explains that when he wakes up in his bed after the procedure there would be a "a new life awaiting" him. We know that is not the case, because Joel and Clem somehow find their way back to each other even with memories wiped. Mary can also be heard on the phone in the beginning of the movie telling someone that the procedure cannot be repeated on them three times in a month. Point here is if history is bound to repeat itself, what's the point of going through with erasing someone?
What The Film's Final 'Okay' Line Could Mean
The ending "okay" line seems to indicate that Joel and Clem have decided to continue their blooming relationship despite the knowledge that they could end up hating each other to the point of breakup and interest in forgetting one another all over again. It's a bittersweet end to Eternal Sunshine because the audience knows they were unhappy together when things fell apart for them down the line, but we still want to root for their love story anyway. Let's go back to the Alexander Pope line from the 1717 poem Eloisa to Abelard, which the movie's title is based on. This is the quote:
It's from a poem about a woman named Eloisa who falls in love with her much older tutor Abelard, but her family forces them apart. Eloisa is forced to become a nun and writes about the grief of being without her star-crossed lover. She tries to forget Abelard, but she cannot and she comes to the conclusion that God cannot heal all wounds. She wishes she hated Abelard, but concludes her love for him remains. Despite her knowing about her doom with her love, she still longs for it. Just like Joel and Clem. They have knowledge about their destruction and loathing for each other if they continue with the relationship, but it doesn't matter to them. It's "ignorance is bliss" by another name.
The Greater Meaning Behind Joel And Clem's Relationship
To sum up the conclusion of Eternal Sunshine of the Spotless Mind, Joel and Clem's relationship seems to express the importance of memories, even the bad ones in forwarding one's life. When one goes through a breakup, the first thought that may pop up is the want to forget them or "erase" them from existence somehow. Charlie Kaufman's movie takes the audience on a journey of what happens when society gives into this desire.
But if we have not learned, we are destined to repeat ourselves over and over. A do-over will not make one a new person, but simply an ignorant one destined to repeat themselves until the cycle breaks. When Joel wakes up from the procedure, he simply goes back on the train and meets Clem again. If you restart the movie after finishing it, he wakes up the same way he does at the end, runs to the train and begins his relationship with Clem all over again. And you'll notice the pair have the same conversations a few times over, denoting multiple timelines where they could have been together in the past twice. So they could have had their memories erased many times over. Years spent together and then erasing each other. Whoa. Imagine that?
It's still one of the best breakup movies of all time over 15 years later. You can stream Eternal Sunshine of the Spotless Mind on Netflix here (opens in new tab) and I'm Thinking of Ending Things hits the streaming service on September 4.
Your Daily Blend of Entertainment News
YA genre tribute. Horror May Queen. Word webslinger. All her writing should be read in Sarah Connor's Terminator 2 voice over.
Your Daily Blend of Entertainment News
Thank you for signing up to CinemaBlend. You will receive a verification email shortly.
There was a problem. Please refresh the page and try again.