Why Mark Ruffalo Was Almost Ready To 'Hang It Up' As An Actor A Decade Ago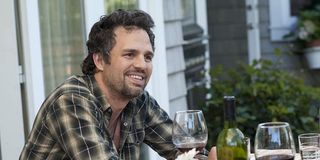 Mark Ruffalo has a career that many actors would envy. His filmography spans four decades, he's starred in Oscar-winning films and the most successful franchise of all time. Despite all the success, Mark Ruffalo recently revealed that a decade ago, he considered leaving Hollywood behind, until one role changed his mind.
The average moviegoer probably best knows Mark Ruffalo as Bruce Banner, a.k.a. the Incredible Hulk. As a key figure in the MCU, he's become about as famous as a movie star can be. However, he was acting long before he first appeared in 2012's The Avengers -- in fact, he'd established himself as one of the most compelling actors on the prestige drama circuit.
Despite starring in several highly acclaimed films, including Eternal Sunshine of the Spotless Mind and Zodiac, Mark Ruffalo admits he was beginning to question whether he was on the right track. Then, he was cast in 2010's The Kids Are All Right and, he told Variety that it proved to be a pivotal moment for his career:
In The Kids Are All Right, Mark Ruffalo played Paul, a free-spirited grocer who -- after being tracked down -- befriends the lesbian couple who used his sperm donation to bring their two teenagers into the world. The movie is a dramedy through and through, and it gave the actor a chance to show off his range in a way that he hadn't before.
The award season buzz for The Kids Are All Right, including Mark Ruffalo's nomination for Best Actor in a Supporting Role at the Oscars, definitely marked a new era in his career. Shortly after that, he secured his role in the MCU. To put it mildly, the rest is history.
One of the cool things about Mark Ruffalo's career over the last decade is that he's balanced his roles in blockbusters with meatier dramas. He's been nominated for two additional Best Actor in a Supporting Role Oscars for 2014's Foxcatcher and 2015's Spotlight. He was also on hand to help celebrate Spotlight's Best Picture win -- a moment he wouldn't have had if he'd chosen to "hang it up" a few years earlier. Given his huge global fanbase, it's safe to say Mark Ruffalo isn't the only one who's glad he decided to keep going.
Your Daily Blend of Entertainment News
Thank you for signing up to CinemaBlend. You will receive a verification email shortly.
There was a problem. Please refresh the page and try again.