Jim Carrey Reveals He's Getting Fat During Quarantine, Is Thankful For Zoom Interviews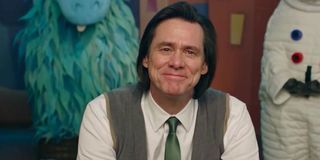 Like many non-essential workers, Jim Carrey's been out of work and sitting around a lot over the past few months. Luckily, he has a cabin in the middle of nowhere in which to seriously social distance miles from another soul. The only issue? He says quarantine has been making him fat.
Speaking to Jimmy Fallon recently, Jim Carrey revealed that as soon as the quarantining rules happened, he literally went out and bought a cabin in Montana where he's been hanging out. From the sounds of things, he's doing a lot of Zoom meetings from his remote location these days, which he says is a good thing because the weight gain has been noticeable.
As expected, Jim Carrey has a pretty amusing take on his expanding waistline, though he said on The Tonight Show Starring Jimmy Fallon that luckily he looks pretty good from the neck up. So, his weight gain has not affected his work yet, though who knows what his work out routine is going to have to look like when he begins filming movies again. I hear the camera adds 10 pounds.
It's actually kind of refreshing to listen to a celebrity open up about weight gain with a little levity – and I'm not talking the kind of weight that's really muscle that Marvel and action actors are always putting on for various roles. In general, weight can be kind of a touchy subject in Hollywood given industry expectations, but also the public's penchant for commenting.
In fact, actors often have to put on or take off weight for roles. While that's sometimes necessary for a biopic or other projects, these changes can and have taken tolls on actors in the past. Plus, there's Hollywood's obsession with body image to factor in. In this case, Jim Carrey's clearly not taking the weight gain too seriously. And in case anyone at Cracker Barrel was upset after seeing the angle of his jokes about his weight gain, he does mention he "love[s] that place."
Meanwhile, while Jim Carrey is one of the celebrities who has put on a little weight --but is seemingly kicking it back and taking quarantine in stride -- some other celebrities have been using the time alone to get into major shape. Rebel Wilson has been sharing a lot of updates about her health journey lately and has already lost a considerable amount. I guess at the end of the day, there's no wrong or right way to handle the global circumstances we were thrust into a few months ago.
You can catch The Tonight Show Starring Jimmy Fallon on weeknights at 11:35 p.m. ET, only on NBC. Jim Carrey just published a book, though with Kidding recently cancelled, his schedule will be wide open. Though he could ultimately make a return to the big screen in Sonic the Hedgehog 2, slated for 2022.
Your Daily Blend of Entertainment News
Reality TV fan with a pinch of Disney fairy dust thrown in. Theme park junkie. If you've created a rom-com I've probably watched it.