New Report Alleges Meghan Markle Would Get An Incredible Payday If She Became A Movie Star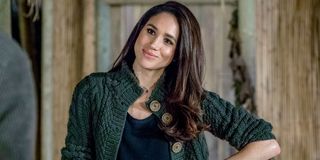 Meghan Markle is already remaking her image after leaving London and resettling in sunny California. Since her return, she's done some narrative work for the Disney+ project Elephant, but she hasn't yet made a concerted effort to revitalize her acting career. All that could be changing however, and if it does, it allegedly could result in a massive payday for Markle, who was formerly known mainly for playing Rachel Zane on Suits.
In fact, a new report that has emerged featuring commentary from InterTalent chairman Professor Jonathan Shalit OBE, an entertainment and talent manager who went on the record to state that Meghan Markle is a hot commodity right now if she wants a big screen career. He also mentioned to The Mirror she might be able to command as much as £38million, which would be around $50 million in U.S. dollars to star in a major big screen film.
Of course, this is just some dude in the industry talking and he's not the guy writing the checks, but it feels like it's still worth talking out because 1. It's a massive number and 2. Meghan Markle really doesn't have a ton of experience making movies in Hollywood.
To put into context, $50 million would be more than the $40 million salary that Robert Downey Jr. allegedly earned on Captain America: Civil War or the $20 million salary earned for Avengers: Endgame, though it's worth noting the actor came out way further ahead than that with all his MCU gigs due to profit participation on the backend. Will Smith is supposed to make $35 million for Bright 2, which will be headed to Netflix. Cameron Diaz made $42 million on Bad Teacher – in that case, again, most of the money was reportedly from negotiating a percentage of the box office intake.
And Meghan Markle is relatively unknown in the movie space – is mostly known for Hallmark TV movies in fact -- though she clearly has a much bigger brand now than when she was previously acting. Plus, it's unclear if making a major foray back into the Hollywood space is Markle's ultimate goal, as she and Prince Harry are still working toward philanthropic work.
When her Disney+ project was still new, we had heard Meghan Markle took the narrator work on Elephant because she was "intrigued" by the tale and also because a donation was made to Elephants Without Borders in lieu of payment for the work. So even that Hollywood work had a philanthropic touch.
Meghan Markle also recently spotlighted The 19th with a special interview talking about her life experiences and what she hopes the outlet will accomplish, as well as touching on various social issues. Since she and Prince Harry ultimately left their Royal Family duties, she'll have more freedom to decide what she wants to do next and both she and her famous husband will be able to be paid for appearances and more.
It's also worth noting, the possibility of a major movie payday is also directly contradictory to what some other individuals with know how in the industry had to tell Slate a few short months ago, but again these are just people talking in the industry, not people working with Meghan Markle herself.
So, there's just a lot to unpack here and Meghan Markle would need to decide to act again first before any of this other stuff could pan out. Then, if she did decide to act, there are still a lot of unknowns. She could always opt to be more of a figure or personality in Hollywood as well, so there are lots of directions to go in, but if does ever command $50 million, good for her.
Your Daily Blend of Entertainment News
Reality TV fan with a pinch of Disney fairy dust thrown in. Theme park junkie. If you've created a rom-com I've probably watched it.
Your Daily Blend of Entertainment News
Thank you for signing up to CinemaBlend. You will receive a verification email shortly.
There was a problem. Please refresh the page and try again.