Sylvester Stallone Can't Stop, Won't Stop Sharing Rocky IV Outtakes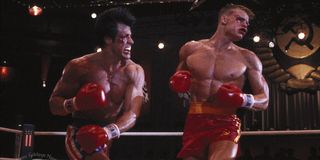 Right now, Sylvester Stallone is hard at work deep-diving into his own director's cut of Rocky IV, the beloved classic featuring the epic bout between Rocky Balboa and Ivan Drago. But that doesn't mean Stallone's not taking a little time to give his fans a behind-the-scenes look into the process, sharing Rocky IV outtakes along the way.
It was only a few days ago that Sylvester Stallone dropped a short outtake clip of a Rocky IV scene on his social media, showing Stallone directing Dolph Lundgren and the crew during the press conference scene. Now he's at it again, and just posted another quick clip on his Instagram of Lundgren delivering a line. Check it out:
I have to say, it's cool to see Sylvester Stallone stepping back in time, as it were, and analyzing a movie he wrote and directed over 35 years ago. It must be strange trying to recall why you made certain decisions and why you now want to change them.
One decision Sylvester Stallone wishes he could change in Rocky IV is killing Apollo Creed. He recalled how fantastic Carl Weather's performance was during production and seemed to have second thoughts. Of course, since that story piece has been set in stone, especially with the creation of Creed movies, there's no way to walk it back, no matter how much Stallone wants it.
Even though Sylvester Stallone is producing a new cut of Rocky IV, the movie isn't his favorite of the franchise. However, he does believe it has one of the best boxing matches in movie history between Rocky Balboa and Ivan Drogo, an opinion many Rocky fans would likely agree with.
Despite having no ownership of the movies, the Rocky franchise is clearly very dear to Sylvester Stallone, with him having fought hard to produce Rocky Balboa, as well as working on the spinoff movies Creed and Creed II. It's easy to see that these stories are a labor of love for the Hollywood star.
The last Rocky movie with Sylvester Stallone as the main star released back in 2006. Considering his age, some might assume he had hung up his gloves, but that's not necessarily the case. Last year, Sylvester Stallone signaled that there's a good chance that "Rocky may ride again."
Supposedly, Sylvester Stallone has a plot idea for this Rocky sequel as well, saying that it would be about Rocky mentoring a young, angry person who comes to America to see his sister. Rocky and this person would wind up south of the border.
Right now, there's been little news about the progress of this film, but perhaps Sylvester Stallone's work on Rocky IV will regenerate interest in a sequel. As always, stay tuned to CinemaBlend for the latest news.
Your Daily Blend of Entertainment News
Your Daily Blend of Entertainment News
Thank you for signing up to CinemaBlend. You will receive a verification email shortly.
There was a problem. Please refresh the page and try again.