Jamie Dornan Shares Deepfake Acting Opposite Himself In Marie Antoinette, And I Can't Look Away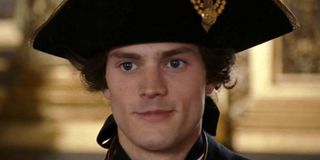 While there's still some controversy surrounding certain aspects of deepfake culture, there's also an app for that, and some celebrities have no problem superimposing their face onto other characters in order for hilarity to ensue. Cue Jamie Dornan, most known for Fifty Shades of Grey, but who prior to that played a notable character in Sofia Coppola's Marie Antoinette way back in 2006. Now, he's been superimposed onto the famous royal's face and the results are, weird, amusing, and possibly deeply unsettling? Honestly, you just need to take a look for yourself.
If you've seen Marie Antoinette, in this deepfake from the Reface App, Jamie Dornan is playing both his character, Count Axel, and Kirsten Dunst's titular character through some of the movie's biggest moments. We see him in the bathtub and walking around in pretty 18th century fashion, joking in the post he "always knew" his role was a miscast.
Deepfakes often range from fun fan fiction to literal porn, and there are plenty of famous scenes from movies and television that have become deepfake videos recently, so the Marie Antoinette clip isn't alone there. In Jamie Dornan's case, he seems to be amused by the whole thing, which fits in with some of the other oddball stuff he's engaged in (like riding his kids' bike for funsies or playing Twister) since he joined the social media platform Instagram.
Meanwhile, now that I've seen his face on Marie Antoinette's I can't ever fully unsee it. In fact, it's been basically on loop as I'm writing and it hasn't gotten any less weird for me. There's something utterly bizarre about this level of fakeness and I can't be the only one who's reacting to it because the thing had been watched on Instagram over 700K times at the time of this writing.
Some of Jamie Dornan's industry friends had some pretty amusing responses, too, as Fra Fee said, "U were robbed." Conor MacNeil was a little closer to my own thought, which was "this is incomprehensibly distressing." I wish Kirsten Dunst herself had weighed in, but we can't have everything.
Meanwhile, Jamie Dornan's had some fun with Instagram during quarantine, but as the industry gets back to work, the Irish actor has a slew of projects coming up, including Wild Mountain Thyme, Barb and Star Go to Vista Del Mar, and Carmen. He's also set to appear in the TV series Dr. Death, where Dornan will play the famous neurosurgeon Christopher Duntsch, who was involved in so many malpractice lawsuits in Texas he earned the nickname that is the show's namesake. We'll keep you posted on Mr. Dornan, whether it be about new roles or more oddball videos such as this one moving forward. Maybe please no on the latter?
Amazing Race & Top Chef superfan with a pinch of Disney fairy dust thrown in. Theme park junkie. If you've created a rom-com I've probably watched it.
Your Daily Blend of Entertainment News
Thank you for signing up to CinemaBlend. You will receive a verification email shortly.
There was a problem. Please refresh the page and try again.