Joseph Gordon-Levitt Recalls His First Reaction To The Dark Knight Rises' Ending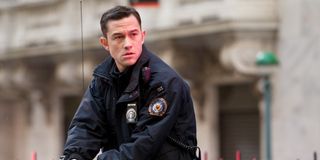 Coming on board a major franchise for its last chapter has to be a little bit daunting. When Joseph Gordon-Levitt signed on to co-star as John Blake in The Dark Knight Rises, he had the added burden of knowing that his character would play a pivotal role in helping to wrap up the epic series. So it's understandable that he had some pretty strong feelings when he first read Christopher Nolan's script and learned exactly how important his character would be.
It's been a while since The Dark Knight Rises so, if you can't remember the epic conclusion to the blockbuster franchise, the most important takeaway was that Joseph Gordon-Levitt's character, John Blake, ends the film by taking up the mantle for Batman. After the rookie police officer -- who figured out Batman's real identity earlier in the film, retires from the Gotham City police force, we see him following a trail left for him by a presumed (but not actually) dead Bruce Wayne.
In The Dark Knight Rises' final moments, we see him at the entrance to the batcave. That final image, combined with a last-minute revelation that his full name actually includes "Robin," is enough for us to assume he's about to do whatever it takes to keep Gotham City safe.
Joseph Gordon-Levitt has already gone on record stating that he believes The Dark Knight Rises' ending is pretty much perfect. He recently told The Hollywood Reporter that he vividly remembers the first time he read the final pages of the script:
The actor, of course, had previously starred alongside Leonardo DiCaprio in Christopher Nolan's 2010 Inception. So it seems pretty clear that he would have been pleased to join up with the director again regardless of the circumstances:
The Dark Knight Rises wound up being a huge box office success, and many fans found it to be a fitting ending for both the Caped Crusader and the franchise at large. So Joseph Gordon-Levitt's initial excitement over the script wasn't all for nothing.
What did you think about The Dark Knight Rises' ending? Let us know in the comments!
Your Daily Blend of Entertainment News