Christian Bale Still Only Has One Piece Of Advice Now That Robert Pattinson's The New Batman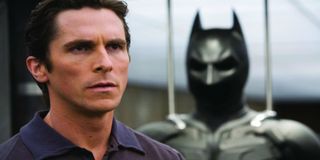 Unless you've been seriously out of the loop, you have probably heard that Robert Pattinson is our new Batman. Fans are divided on the decision, which came a few months back following weeks of rumors, hints and subtle confirmations. Despite having overwhelming evidence that Pattinson can act well, there are still folks who can't seem to set aside their negative feelings about his role in the Twilight series. Pattinson himself didn't (and probably still doesn't) seem to mind, though. He had a much stronger reaction to the leaks and minced no words saying so.
But now that the bat's outta the bag and the internet is going nuts, former Batman Christian Bale was able to offer Pattinson the same advice he gave Ben Affleck. Speaking with Variety at TIFF 2019, Christian Bale said:
That's actually very helpful, and couldn't be more spot-on. You can't save the world with a full bladder. Thanks, Christian.
Bale portrayed the Caped Crusader in Christopher Nolan's acclaimed Dark Knight trilogy, which kicked off with 2005's Batman Begins and concluded with The Dark Knight Rises in 2012. The trilogy as a whole was well-received for the most part (particularly the middle entry, The Dark Knight), thanks in part to a strong rogues gallery and to Bale himself. His performance was well-received by audiences and critics alike, and he is still considered one of the better live-action Batmans we've seen so far.
Of course, ask around, and a lot of fans will tell you that Kevin Conroy's voice performance in Batman: The Animated Series can't be touched, but Christian Bale and Michael Keaton come close enough to be memorable. But look out, you three. Pattinson might out-Bat you. It will be exciting to see what he ends up doing with the opportunity. Hopefully, he will play the part for longer than Ben Affleck and Christian Bale did.
Robert Pattinson will debut as Batman in Matt Reeves's The Batman, which already has a completed script and is slated for release on June 25, 2021. Not much is known about the film because it is still super far in the future (at least for Bat-fans), and so far the only prominent people attached to the project are Reeves and Pattinson. If you're itching to see him on the big screen before that, though, you can catch him in Robert Eggers's The Lighthouse on October 18.
What do you think of Christian Bale's advice? Did you find it amusing or should he give better guidance? And what do you think of Robert Pattinson being the new Batman? Are you excited or indifferent? Let us know in the comments and don't forget to check out what's heading to theaters in 2019.
Your Daily Blend of Entertainment News