Justice League's Snyder Cut Will Retell A Key Batman V Superman Scene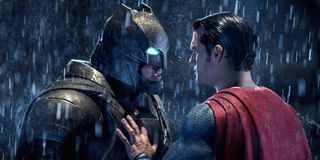 Among the goodies that were shown off at DC FandDome this past weekend was the first trailer for the Snyder Cut, officially known as Zack Snyder's Justice League, which will premiere on HBO Max some time next year. The preview was made up of footage that was not featured in Justice League's theatrical cut, including what looked like Superman's death in Batman v Superman: Dawn of Justice from a different vantage point.
Sure enough, Zack Snyder has confirmed that his version of Justice League will retell the Man of Steel's tragic demise in its opening sequence. The filmmaker explained how "It's part of the way the credits are rendered," comparing the way the Snyder Cut opens to how Batman v Superman: Dawn of Justice opened with Thomas and Martha Wayne being murdered. In Snyder's words:
For those who haven't seen the theatrical Justice League in a while (or at all), after seeing footage of a weirdly upper-lipped Superman answering some kids' questions, the opening credits, as a cover of Leonard Cohen's "Everybody Knows" played, showed the world still mourning Superman's death. Snyder's going in a different direction, instead opting to show audiences Superman's death at the hands of Doomsday from a different perspective.
Given that Batman v Superman: Dawn of Justice's opening sequence spliced the Waynes being gunned down with the young Bruce Wayne fleeing his parents' funeral and falling into that cave filled with bats, it's unclear if the Snyder Cut's opening will also cut to other scenes or if will focus solely on Superman's death. If it's the latter, then perhaps we'll still get to see the world coping with Superman's absence in a different way. At least that won't be an issue for them too much longer.
This also sounds similar to what unfolded after Batman v Superman: Dawn of Justice's credits unfolded, with viewers seeing General Zod's attack on Metropolis during the events of Man of Steel from Bruce Wayne's perspective. In a way, these retellings somewhat serve like a "Previously On…" segment for a TV series, reminding audiences of the major beats from the prior movie before delving into the latest story.
During his appearance on Reel in Motion, Zack Snyder also mentioned that the Snyder Cut's opening sequence will also include a reaction from Lois Lane that sets up her "trajectory through Justice League" regarding how she handles Superman's death. Judging by the Snyder Cut trailer, Lois' overall journey appears to be quite similar to what was shown in Justice League's theatrical cut, including her commiserating with Martha Kent and being brought to the Kent farm after Clark's resurrection, but it'll still be interesting to see what specific differences there are.
You can rewatch the trailer for Zack Snyder's Justice League below.
Rather than playing as one movie, it was revealed at DC FanDone that the Snyder Cut will be divided into four one-hour episodes. Zack Snyder has also made it clear that his Justice League will not include any footage captured during the Joss Whedon-helmed reshoots, and even admitted late last month that it wasn't his call to bring The Avengers director to take over directorial duties.
Zack Snyder's Justice League doesn't have a specific release date yet, so stay tuned to CinemaBlend for word on when it'll drop on HBO Max. Keep track of the DC movies that are headed to the big screen with our handy guide.
Your Daily Blend of Entertainment News
Connoisseur of Marvel, DC, Star Wars, John Wick, MonsterVerse and Doctor Who lore. He's aware he looks like Harry Potter and Clark Kent.
Your Daily Blend of Entertainment News
Thank you for signing up to CinemaBlend. You will receive a verification email shortly.
There was a problem. Please refresh the page and try again.