Walt Disney World and Disneyland Are Removing More Song Of The South References Ahead Of Splash Mountain Redesign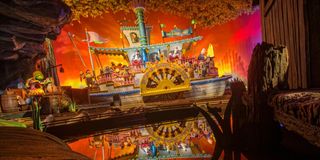 Even while Disneyland and Walt Disney World were both closed, the parks were making a lot of news as a grassroots effort asking Disney to consider redesigning the iconic Splash Mountain attraction, not only gained steam, but eventually gained success. While not admitting that the recent outcry was the reason for the change, Disney has announced that the attraction will see a re-theme to The Princess and the Frog and while the actual overhaul of Splash Mountain is likely years away, it seems that both resorts have begun to take steps to remove other Song of the South references from other parts of the parks.
First, it was reported by the OC Register that the music loop at Downtown Disney, the one part of Disneyland Resort that is currently open, had removed "Zip-A-Dee-Do-Dah" from the playlist. Now, BlogMickey has reported that The Zip-A-Dee-Doo-Dah Day, a game available to play in the Disney Play app at Walt Disney World, has been removed from the app, and even the Disney Parks Blog post announcing the game's existence has been removed from the web.
Not everything related to Song of the South and Splash Mountain has been pulled from the parks. BlogMickey has recently confirmed that a pair of Song of the South songs, including "Zip-A-Dee-Do-Dah," can still be heard at the Magic Kingdom entrance plaza, but these other removals make it seem likely that it's only a matter of time before that changes.
While these changes aren't particularly unexpected on their own, seeing them happen so quickly potentially is. Even when Disney Parks announced the plan to redesign Splash Mountain, it was clear that the idea was so early in development that there was no estimate as to when the work would begin, much less when it would be completed. With so many other construction projects on the docket, and an expectation that many of them could see delays and/or changes themselves, nobody is expecting the Splash Mountain redesign to happen for at least a couple of years.
This likely isn't an indication that things are going to move any faster than that. These changes are simple things that could be done without having any drastic repercussions. Pulling music and one game out of many from an app doesn't cost Disney any time or money, and so it was simple enough to just do.
What it does mean, however, is that Disney is committed to this change. While the financial issues that Disney Parks are currently dealing with could end up canceling some concepts that have already been planned, it doesn't seem like Splash Mountain is going to be one of them. This change has already been started, even if it ultimately takes years to be fully completed.
The Splash Mountain redesign, as with all theme park changes, has a lot of people feeling very strongly on both sides of the issue. While thousands of people signed a petition asking for the change, because of the racially insensitive elements found in Song of the South, many also signed a counter-petition asking that the ride remain the same.
While Splash Mountain doesn't make specific reference to any of the problematic elements of the film, the modern feeling is that the ride, simply by existing, promotes the film and its depiction of Reconstruction-era race relations, which were criticized even back when the film was first released.
One expects that things like Splash Mountain merchandise will hang around until the ride closes down, because, this is Disney after all, but we may see other small changes leading up to the big one, whenever that actually happens.
Your Daily Blend of Entertainment News
Content Producer/Theme Park Beat
CinemaBlend's resident theme park junkie and amateur Disney historian. Armchair Imagineer. Epcot Stan. Future Club 33 Member.
Your Daily Blend of Entertainment News
Thank you for signing up to CinemaBlend. You will receive a verification email shortly.
There was a problem. Please refresh the page and try again.