What Movies To Watch If You Like The Stranger Things Cast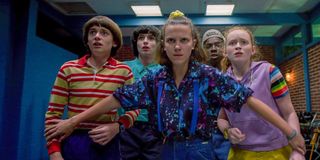 By now, you're familiar with the cast of Stranger Things. The Netflix series is one of the most popular programs on TV — on their service or otherwise — and it has propelled the careers of pretty much everyone involved, most notably including Millie Bobby Brown, Finn Wolfhard, and David Harbour.
Through the continued pop culture staying power of the streaming series, the Stranger Things cast members have branched off into their own individual film and TV projects, many of which show the expansive talents of the ensemble through dynamic performances. Some of these movies were big crowdpleasers, while others were smaller movies that might've slipped past the public. Whether blockbusters or indie joints, the cast members continue to prove their talents in several noteworthy projects. With that said, we'll take this time to highlight some of these finest film performances for fans looking for something to watch before Season 4 drops.
Millie Bobby Brown - Godzilla: King of the Monsters (HBO Max)
Though it didn't exactly meet critical expectations, particularly following the roaring success of 2014's Godzilla, Godzilla: King of the Monsters was a huge step forward for Millie Bobby Brown as an actress. Gaining a great deal of recognition for her great performance in Stranger Things, including an Emmy nomination, King of the Monsters was Brown's first starring vehicle, serving as the bright young eyes exploring the wondrous creatures roaming the city and skies in the wake of Godzilla's earth-shaking arrival.
While the movie itself doesn't give its human performers enough time to shine in this lumbering, overcrowded blockbuster affair, Brown's lead performance is earnestly motivated, showcasing a bright up-and-coming actress with bright star power. In a film where the raging otherworldly monsters ultimately take the spotlight, Brown brings some gentle humanity to this hulking enterprise.
Stream It On HBO Max here (opens in new tab).
Finn Wolfhard - IT (Amazon Prime)
Admittedly, if there's one movie on this list you've probably seen by now, it's 2017's IT. Based on Stephen King's tome of a novel, it's no secret that the source material played a huge role in shaping Stranger Things, which makes the irony of the movie being influenced by the show's success a bit startling. To blur the lines even further, Finn Wolfhard plays Richie Tozier, providing an enjoyably scene-stealing role as the clown of the group (besides, you know, the killing supernatural one that's terrorizing them and threatening their lives).
While it's hard to live up to King's prolific work, this big-budget adaptation is appealing in its focus on the neighborhood kids fostering their friendships while also battling the unknowable terror that lurks in the shadows. While Wolfhard takes many strides to win over the spotlight, it's fitting for the character.
Rent It On Amazon here (opens in new tab).
David Harbour - Frankenstein's Monster's Monster, Frankenstein (Netflix)
While it's hard to call it a "movie" as it only clocks in at 32 minutes, this streamable special serves as an enjoyably slim showcase for David Harbour's thespian talents as a veteran actor, while also providing a fun, loose platform to provide a nostalgically loving tribute to both staged theater and unpolished TV productions of decades prior.
While it can occasionally be amusing than outright funny, the jokes remain consistently inspired, and Harbour's enthusiasm for this off-kilter premise fuels the mockumentary special's goofy sensibilities in endearing, rewarding ways. Plus, the period redesigns are — similar in Stranger Things — pointed and reverent in their approach. While Harbour is great on Stranger Things, he hasn't found much success away from it, notably with the ill-fated Hellboy reboot. This likably wacky production, therefore, is a fine vehicle for his immense talents.
Stream It On Netflix here. (opens in new tab)
Winona Ryder - Beetlejuice (Peacock)
Before she became Joyce Byers, concerned mother of Will and Jonathan, Winona Ryder was a teen star herself, notably making a splash in movies like Heathers, Edward Scissorhands, The Age of Innocence, Little Women (1994), and more. But the role that really helped propel her career in stardom was Tim Burton's Beetlejuice. As Lydia Deetz, the goth teenager who Beetlejuice (Michael Keaton) believes is his way back into the land of the living, Ryder made a great impression in this entertaining spooky dark comedy, showcasing her talents for dry comedy and bringing pulpy life to reserved characters.
While she certainly wasn't the star of the show, Ryder shined bright and stole the show in this supporting turn, launching a great '90s filmography. Though Ryder's career unfortunately stalled in the 2000s, Stranger Things' massive success brought the actress back into the limelight.
Stream It On Peacock here (opens in new tab).
Noah Schnapp - The Peanuts Movie (Disney+)
It's nearly impossible to recapture the simplistic charm of Charles Schultz consistently-beloved Peanuts comic strip, notably outside of its hand-drawn animation style. Nevertheless, The Peanuts Movies serves as a warm, lovely, sweet-natured, and fitting tribute to the classic cartoon series, elevated by incredible 3D animation made in a 2D style and commendable vocal performances from its young cast.
In the lead role of the perpetually downtrodden but persistently hopeful Charlie Brown, Noah Schnapp brings a rich, wholesome sincerity to the title role, providing a keener sense of kindness and compassion to the often glum character. It helped to bring out the child protagonist's youthful side, appropriately enough, allowing the child actor to ingrain an impressionable good nature to the character's various cinematic misadventures, giving everything his best shot (or his best kick) — even when facing countless suburban-set odds.
Stream It On Disney+ here. (opens in new tab)
Caleb McLaughlin - High Flying Bird (Netflix)
In Steven Soderbergh's iPhone-filmed Netflix sports drama, High Flying Bird, we're given an inside look at a sports agent (Andre Holland) who has 72 hours to pull off a controversial strategic plan. It's a zippy, quick-rolling feature, relying on the well-suited actors to fast talk about sports figures, basketball players, and some whizzy professional lingo throughout its dialogue-driven narrative.
While that might not sound like the most exhilarating sports movie, it's livened by its pinpoint camerawork, Soderbergh's intensive direction, and the strong ensemble of actors, which also includes Zazie Beetz, Kyle MacLachlan, a great Bill Duke, and Caleb McLaughlin. While the Stranger Things actor doesn't get as much screen time as his co-stars, McLaughlin is aided by the fine support of his talented co-stars, which allows the rising star to step up his game and provide a sharply-crafted supporting performance.
Stream It On Netflix here. (opens in new tab)
Charlie Heaton - As You Are (Amazon Rental)
Channeling Charlie Heaton's moody, sullen intensity into the right character isn't easy. The British actor can capably play a darkly brewing character, though outside of Stranger Things, he hasn't found too much success in bringing out those seething impulses to the right project. This past weekend's long-delayed The New Mutants is a perfect, notable example. While he's a talented actor, Heaton needs to find the right roles to prove those talents, showing the full extent of his unsettling captivation.
Thankfully, 2017's indie As You Are is that type of drama. From director Miles Joris-Peyrafitte, who was only 23, this cold, commanding debut gives Heaton one of his most haunting performances, properly allowing him to play into his strength as a beguiling if sometimes unreadable actor. Not many films found the right role for Heaton. As You Are is an exception.
Rent It On Amazon here. (opens in new tab)
Natalia Dyer - Yes, God, Yes (Amazon Rental)
Sadly, Natalia Dyer hasn't gotten enough time to shine on Stranger Things. She's a clear talent, though she can be overlooked in the popular Netflix series. Whenever she gets a chance to prove herself, Dyer is an exceptional talent, as was the case with Karen Maine's appealing directorial debut, Yes, God, Yes, from earlier this year. The personal, reflective indie from the Obvious Child co-writer is meticulous in its period recreation, recapturing the look and feel of its time.
A young, sheltered early 2000s Christian teen comes to terms with her budding sexuality in a strict, ultra-conservative environment. Dyer's bright eyes, inquisitive facial features, and intentionally demurred body language do wonders to reveal the insecurity and introspection of its inquiring, soul-searching protagonist. It's a charming, winning star vehicle for this undervalued actress.
Rent It On Amazon here. (opens in new tab) Also Currently Available On Virtual Cinemas.
Joe Keery - Spree (Amazon Rental)
Exploring the extreme, overzealous lengths that young wannabe influencers will go to discover internet stardom is ripe territory in our current age, though only a handful of movies have done it effectively. Be it the entertainingly silly Nerve or the thrilling character study Ingrid Goes West, social media dependency is a compelling place for movies to take unstable characters and their darkly obsessive interests in an environment that feeds on inherent cynicism and narcissism.
While Spree doesn't dive too far below its shiny surface, this found footage dark comedy-horror is an entertaining descent into madness with an excellent lead performance from Joe Keery. Game for anything the film throws in his way, Keery indulges in Spree's fixations with wicked glee and fervent menace, allowing any narrative bumps and hang-ups to generally be absolved thanks to his unhinged dedication to this lurid spectacle.
Rent It On Amazon here (opens in new tab).
Sean Astin - The Goonies (Amazon Rental)
Stranger Things is inspired by many products of the 1980s, not the least of which is Richard Donner's 1985 film, The Goonies. The Steven Spielberg-produced adventure-comedy follows a band of kids who attempt to save their homes from foreclosure by discovering an old treasure map leading to a lost-long treasure fortune. It's exactly the sort of charmingly goofy kid-centric plot that makes for exhilarating entertainment for young audiences, and its several cast members have found fame in its wake, including Josh Brolin, Corey Feldman, and Sean Astin.
Before Lord of the Rings and Rudy, The Goonies was (and still is) Astin's calling card, and the actor's endearing child performance made him a natural fit for Stranger Things. The Netflix show's mix of high-stakes adventure and buddy camaraderie was heavily influenced by the rousing amusement found throughout this rewatchable movie's runtime.
Rent It On Amazon here. (opens in new tab)
Do you have any additional film recommendations for anyone who loves Stranger Things? Be sure to let us know in the comment section below!
Will is an entertainment writer based in Pittsburgh, PA. His writing can also be found in The Playlist, Cut Print Film, We Got This Covered, The Young Folks, Slate and other outlets. He also co-hosts the weekly film/TV podcast Cinemaholics with Jon Negroni and he likes to think he's a professional Garfield enthusiast.
Your Daily Blend of Entertainment News
Thank you for signing up to CinemaBlend. You will receive a verification email shortly.
There was a problem. Please refresh the page and try again.