David Arquette Calls Spree Taxi Driver For The Instagram Age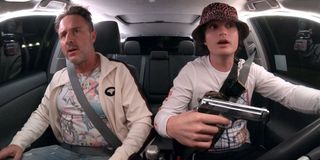 Warning: spoilers for Spree are in play. If you haven't seen the film yet, and want to remain unspoiled, turn back now and return once you've enjoyed the madness for yourself.
In an era of decadence, mistrust, and immorality, a lone driver snaps and takes it upon himself to teach the world a lesson. Before too long, the world will remember the name and deeds of Kurt Kunkle and the killing spree that are both at the heart of writer/director Eugene Kotyarenko's indie thriller Spree. Though you wouldn't be faulted for thinking my opening invoked the memory of an obvious influence on the film's story, director Martin Scorsese's vigilante classic Taxi Driver. In fact, not only did Kotyarenko admit as much, but upon recalling his own story of hearing the director's intentions, co-star David Arquette also believes in that assessment.
David Arquette, who plays Kurt's disapproving father/night club DJ Kris in the film talked about the motives behind the film with me as part of Spree's promotional tour. In fact, it didn't take long for us to start talking about the Taxi Driver nature of the film's murderous protagonist, played by Stranger Things' heartthrob/badass Joe Keery. Just discussing Kurt's character is enough to recall memories of Robert De Niro's Travis Bickle. What sells that image, according to David Arquette, is how Spree's writer and director deliberately shaped his film to match the feel, and added a car to boot. Arquette said:
Right from the beginning of Spree, you can tell something is off about Joe Keery's Kurt. Gone is the confidence and the finely coiffed hairdo of Steve Harrington, and in its place is a young man who, through a dangerous cocktail of loneliness and desperate fame seeking, starts teaching what he calls "The Lesson" through his Instagram livestream. Much like David Arquette recalled in his remarks above, the movie does start out presenting Kurt Kunkle's quest with a sort of darkly comic glee. That's thanks to some prime targets, a racist and a rude real estate agent, being among the first victims of Spree's body count.
As the story moves along, there's a subtle shift in the menace that Kurt poses toward the world. Gradually, Spree gets darker, and part of the reason is because we get to see the relationship between David Arquette's father character and his son in the later acts of the film. A fractured relationship, to say the least, Kris isn't the best father in the world; a facet of his character that Arquette had to keep in mind at all times when playing against his own parental instincts. Sure enough, Taxi Driver's DNA really starts to kick in when you see Kurt taking some of his kills more personally than others.
While there's never a moment of Spree's angry young man shaving his hair, there is a pivotal murder of a rival streamer that starts to send Spree into its tailspin of madness. Our protagonist is starting to get what he wanted, and it starts to sour the audience on his intentions, as it rightfully should. By the end of the movie's story, I wasn't sure whether we should sympathize with Joe Keery's murderer due to his family woes, or if we should condemn him for his obviously harsh actions. Part of the brilliance of Spree's pseudo-adaptation of the Martin Scorsese classic for a new generation is the fact that it embraces the technological devices that help tell its story. Which called for David Arquette, Joe Keery, and their co-stars to film themselves on set as if they were really making social media posts in the moment.
So rather than ape the story and style of Taxi Driver, much like last year's Joker had somewhat attempted to do, Eugene Kotlyarenko dove deep into the social media trappings of Spree to tell a similar, but extremely timely story. The tale of a young man who has the wrong intentions, this movie still has us questioning whether the true villain is the murderer or the culture behind his antics. Even better, after seeing Arquette in Spree, I have to wonder what the modern age will do to reinvent the always-forward Scream franchise, as it has a lot of old favorites coming back to make the world happy again with a fifth installment coming up.
Both Eugene Kotlyarenko and David Arquette believe that Spree is an Instagram-flavored version of Taxi Driver, and based on how they recalled the film's approach to mimic that same rollercoaster of gritty sensations, the idea couldn't be more thrilling. You can check it out for yourself and see if you agree, as Spree is currently in select drive-in theaters, as well as available for rental through VOD. Meanwhile, Arquette can next be seen in his wrestling documentary, You Cannot Kill David Arquette, which drops on August 28th.
CinemaBlend's James Bond (expert). Also versed in Large Scale Aggressors, time travel, and Guillermo del Toro. He fights for The User.
Your Daily Blend of Entertainment News
Thank you for signing up to CinemaBlend. You will receive a verification email shortly.
There was a problem. Please refresh the page and try again.