All The Stephen King Movies Available Streaming Right Now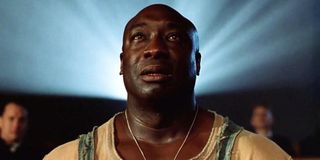 CinemaBlend participates in affiliate programs with various companies. We may earn a commission when you click on or make purchases via links.
Undoubtedly among the most prolific authors of our times, Stephen King is celebrated worldwide for his terrifying tales. Nearly all his novels have been bestsellers, and several of them have been turned in movies and TV shows. Sometimes, more than once. There are a lot of Stephen King adaptations, most recently including Doctor Sleep, and many of them are available on streaming, like IT: Chapter Two. While not all of them have met the famous author's stern approval, there's certainly an audience for them, as many of them have also become box office hits. If you're looking to curl up under the covers and turn on a scary film inspired by the words of The King of Terror himself, fear not. We've got a frightening list. Check them out... if you dare.
IT: Chapter Two
The much-anticipated second half to 2017's acclaimed adaptation of Stephen King's magnum opus (besides The Stand, of course), IT: Chapter Two didn't reach the same heights as its predecessor, either critically or financially, but it provided a definitive end to one of the most ambitious King adaptations to date. Starring Jessica Chastain, James McAvoy, Bill Hader, and more as the adult Loser Club, this sprawling three-hour blockbuster gave viewers an expensive spectacle that has rarely — if ever — been seen in a horror film before, let alone a Stephen King adaptation.
Stream It On HBO Now
Cujo
While it's a novel that Stephen King admits he barely remembers writing, in On Writing, Cujo was one of the earliest adaptations of King's work, and this 1983 movie was certainly a memorable experience for a number of viewers. The horror tale of a rabid Saint Bernard proved chilling and frightening for both dog lovers and otherwise; in fact, the name "Cujo" has become synonymous with any canine that doesn't become man's best friend. Cujo stars Dee Wallace and Danny Pintauro, and it was the fourth highest-grossing horror movie of 1983. Be careful. This dog bites.
Stream It On Starz
Children of the Corn
Based on the short story of the same name, Children of the Corn might not be considered the best or the most acclaimed Stephen King adaptation, but it's often referenced in pop culture, and that's no coincidence. The tale of a malevolent entity that inspires a town's children to murder their elders, Children of the Corn certainly got under the skin of several viewers, young and old, and it inspired a cult following and, subsequently, a film franchise.
Stream It On Tubi and Amazon Prime
Pet Sematary (1989)/(2019)
Based on the one Stephen King novel that apparently even scared the horror author himself, 1989's Pet Sematary and last year's remake are based on one of King's finest novels. While neither adaptation captures the raw power of the text, both of them bring something dynamic to the table. The original is filled with emotional pathos, while the remake captures an ongoing sense of unnerving dread. They also have fine performances from Fred Gwynne and John Lithgow, respectively, as Jud Crandall.
Stream Pet Sematary (1989) on Starz and Amazon Prime
Stream Pet Sematary (2019) on Hulu and Amazon Prime
Misery
If you were to make a list of the greatest performances ever seen in a Stephen King adaptation, Kathy Bates' menacing turn in Misery would certainly be at (or, at least, near) the top. Her Oscar-winning portrayal of Annie Wilkes, a mentally-unstable woman who rescues one of her favorite authors from a car crash, only to terrorize him throughout a bitter stay, is one for the ages, and it helped turn Misery into one of the most acclaimed King adaptations. With both Misery and Stand By Me, director Rob Reiner certainly earned the author's hard-earned trust.
Stream It On Hulu
Needful Things
If you want to pay your respects to the late Max von Sydow, you can make a point to check out Needful Things. Based on the first novel that Stephen King wrote after drug and alcohol rehabilitation, the book served as the second phase of the famous author's career. While the movie didn't earn quite as much recognition, it gave Sydow a chance to really go wild, which is always something.
Stream It On Starz
The Shawshank Redemption (Rita Hayworth And The Shawshank Redemption)
For some folks, 1994's The Shawshank Redemption stands as not only the best Stephen King adaptation ever but one of the best movies in cinematic history — if not the best. That's certainly high praise, and it's easy to see why this award-nominated film earned such high-standing acclaim. Featuring a pair of top-notch performances from Tim Robbins and Morgan Freeman, The Shawshank Redemption is a great tale of redemption, perseverance and our duty to our fellow man. It's considered one of the best movies ever for a reason.
Stream It On Netflix
The Green Mile
Though it didn't earn the same critical and commercial acclaim as The Shawshank Redemption, Frank Darabont's The Green Mile is another outstanding Stephen King adaptation, and one that shouldn't be overlooked. Based on my personal favorite King novel (just putting that out there), The Green Mile stars Tom Hanks as Paul Edgecomb, a death row corrections officer who witnesses supernatural oddities occurring when the enigmatic John Coffey (Michael Clarke Duncan) enters the facility. Featuring a career-best performance from the late, great Duncan and exceptional filmmaking all-around, The Green Mile is another triumph from Darabont.
Stream It On Cinemax
Secret Window (Secret Window, Secret Garden)
The story of a successful writer who tries to write in peace in his secluded remote lake house, only to be intruded by a stranger who accuses him of plagiarism, the jury isn't out regarding whether or not Secret Window, based on Stephen King's novella, Secret Window, Secret Garden, was borrowed from the author's own personal history. Nevertheless, the suspenseful thriller stars Johnny Depp and John Turturro, and while it got mixed reviews from critics, general moviegoing audiences were quicker to accept it. It comes from screenwriter-turned-director David Koepp.
Gerald's Game
Based on one of Stephen King's most underrated novels, in my opinion, Gerald's Game is most certainly a challenging book to adapt to the screen, but this movie did it with gusto, resulting in one of the most suspenseful screen adaptations of his works in recent years. Starring Carla Gugino in one of her finest roles to date, it's an exceptional adaptation from director Mike Flanagan, who would later direct last year's Doctor Sleep.
Stream It On Netflix
Carrie (1976)
Based on Stephen King's first published novel, Brian De Palma's Carrie was also the first King adaptation. It also remains one of the best. Featuring an incredible, iconic lead performance from an Oscar-nominated Sissy Spacek in the title role, Carrie is arguably one of the few King adaptations that's even better than the source material. It's a horror classic and it's one that you definitely want to check out — most especially if you're a King fanatic.
Stream It On Showtime
Creepshow 2
If you love horror anthology movies, Creepshow and its sequel, Creepshow 2, are two that you shouldn't miss. Two movies that helped popularize the trend, the horror series also serves as one of the few times where Stephen King stepped in front of the camera beyond a walk-on cameo. Turns out, he's actually a pretty decent actor! What a talented guy! While the first movie isn't available streaming right now (you can rent it), Creepshow 2 is on Shudder.
Rent Creepshow on Amazon.
Stream Creepshow 2 on Shudder, Amazon Prime and Tubi
The Dark Tower
While it had a troubled road to production, resulting in an anti-climatic critical and commercial failure, The Dark Tower was the first time that Stephen King's appropriately towering fantasy series was brought to the screen. Following years of stalls, delays and non-starters, this movie finally brought The Gunslinger (Idris Elba) and The Man in Black (Matthew McConaughey) to the screen, and their performances shouldn't be dismissed — even if the film surrounding them didn't live up to its potential. Nevertheless, if you want to see this series brought to life, here's your chance.
Stream It On Showtime
Also Streaming...
Christine - Crackle
The Running Man - Starz
Tales From The Darkside (Based in part on the short story "The Cat From Hell") - Crackle
The Dark Half - Starz
The Mangler - Vudu
Hearts of Atlantis (Based on Low Men In Yellow Coats) - Starz
Riding the Bullet - Tubi
A Good Marriage - Tubi and Amazon Prime
1922 - Netflix
In the Tall Grass - Netflix
The Lawnmower Man - Showtime
Julie Ganapathi (Based on Misery) - Eros Now
No Smoking (Based on the short story "Quitters Inc.") - Eros Now
What's your favorite Stephen King adaptation? Let us know in the comment section below!
Will is an entertainment writer based in Pittsburgh, PA. His writing can also be found in The Playlist, Cut Print Film, We Got This Covered, The Young Folks, Slate and other outlets. He also co-hosts the weekly film/TV podcast Cinemaholics with Jon Negroni and he likes to think he's a professional Garfield enthusiast.
Your Daily Blend of Entertainment News
Thank you for signing up to CinemaBlend. You will receive a verification email shortly.
There was a problem. Please refresh the page and try again.