Looks Like Sylvester Stallone Is Officially Working On A Director's Cut Of A Certain Rocky Movie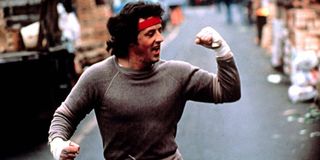 Sylvester Stallone has immense love for a number of the franchises he's starred in, but the one he arguably has the most affection for is the Rocky series. Of all the characters he's played, the lovable Rocky Balboa is the one character he's always finding his way back to, even more often than John Rambo. While Stallone hasn't official confirmed if or when he'll reprise his famous role, the 74-year-old actor has been teasing work on a director's cut of a Rocky movie, and it looks like the project is now officially a go.
In an Instagram post, Sylvester Stallone announced that a director's cut of Rocky IV would be released to commemorate the film's 35th anniversary. He also used the opportunity to thank MGM for letting him pursue the project. Check out his original post down below:
Sylvester Stallone had recently been dropping a few cool behind-the-scenes nuggets in the form of bloopers from Rocky IV. One included an unused take that featured Dolph Lundgren's Ivan Drago, while a particularly cool one showed Stallone both acting and directing during a scene.
Written and directed by Sylvester Stallone, Rocky IV was originally released back in 1985 and has since become one of the illustrious franchise's most popular installments. The film sees Rocky Balboa come face to face with brutal fighter Ivan Drago after the Soviet boxer kills Apollo Creed in the ring. Of course, the events of the film would play heavily into what transpires in Creed II.
The idea of a director's cut of the film is definitely exciting, and it already makes you wonder what Stallone had to remove from the original. Could there be more material with Lundgren's Drago? Could there be a plot point that had to be removed for the sake of time? Maybe there's even some unused footage of Carl Weathers' Apollo Creed.
At this point, it's hard to say what we will or won't see, but it wouldn't be unreasonable to think that there could be more footage from the final fight between Balboa and Drago. The fight is already intense enough on its own, but adding a few extra jabs to it could definitely spice things up even more.
Sylvester Stallone hasn't made it clear just how long he's been wanting to do this. But based on his recent social media posts and his enthusiasm about the project, he's probably been working on this for a while.
Fans of the Rocky franchise will no doubt be waiting intently for their first opportunity to see what Sylvester Stallone has in store. If there's anything the actor has proven, it's that he's full of surprises, and this should be no different.
Are you excited for the director's cut of Rocky IV? What would you like to see in it? Let us know in the comments below.
Your Daily Blend of Entertainment News
Covering superheroes, sci-fi, comedy, and almost anything else in film and TV. I eat more pizza than the Teenage Mutant Ninja Turtles.
Your Daily Blend of Entertainment News
Thank you for signing up to CinemaBlend. You will receive a verification email shortly.
There was a problem. Please refresh the page and try again.