Bill And Ted Face The Music Ending: What Happened And What Could Be Next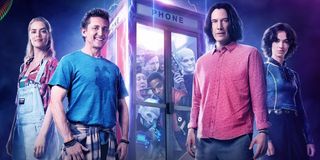 Warning: spoilers for Bill & Ted Face The Music are in play. If you haven't faced the music for yourself, head out and come back once you've returned from your most excellent trip into the present future of this threequel.
After almost 30 years of trying to save the world of the Bill & Ted universe, the long awaited threequel Bill & Ted Face The Music has delivered a moment we've heard hyped for quite some time. As prophesied by the future peoples of San Dimas, California, the song that united all of time and reality has now finally been written, played, and deployed into the world.
Thanks to Bill & Ted Face The Music's purely joyful ending, we now know how and why this occasion has finally taken its place in human history, and it's a hell of a ride. Here now is your last chance to turn away from spoilers safely, as we're about to dive into the ending of director Dean Parisot's trilogy capping film, and what it could say about the future of Bill & Ted. Still here? Then, LET'S ROCK!
What Happened At The End Of Bill & Ted Face The Music?
Throughout Bill & Ted Face The Music, William "Bill" S. Preston, Esq. (Alex Winter) and Ted "Theodore" Logan (Keanu Reeves) are struggling to create the song that has always been prophesied to us in the quest of universal peace. And by time the film wraps its plot, that fateful prophecy is fulfilled. However, we finally get the specifics as to why this moment happens, and it's quite surprising compared to what we've heard in the past.
The Prophecy That Changed The World
Prophesied by the late time traveler Rufus (George Carlin) himself, the song to restore balance to all of time and reality was boiled down to this string of key details: "Preston/Logan, MP 46, 7:17 PM." With no further specifics other than that small bit of information, Bill & Ted go on their trip full of shenanigans during Bill & Ted Face The Music. However, it's not their journey that fulfills Rufus' prophecy, as the Preston/Logan that save the world isn't Bill and Ted, but rather their daughters Theodora "Thea" Preston (Samara Weaving) and Wilhemina "Billie" Logan (Brigette Lundy-Paine).
How Billie & Thea Saved The Day
While Bill and Ted are enduring their struggle with saving the world through music, all Billie and Thea want to do is help their fathers with their quest. As such, the similarly musical children of the Preston/Logan legacy go on their own excellent adventure that feels mighty similar to what their fathers had undergone over 30 years ago. Travelling through time, Billie & Thea form a supergroup of their own devising, as they recruit Grom (Patty Anne Miller), Ling Lun (Sharon Gee), Mozart (Daniel Dorr), Louis Armstrong (Jeremiah Craft), and Jimi Hendrix (DazMann Still) to make the ultimate jam band.
Thanks to an accidental death, and the disorder of time and reality transporting figures throughout its entirety, Death (William Sadler) and Kid Cudi are both drawn into that band themselves, to put the finishing touches on "Face The Music." Aptly named, Billie and Thea did what they do best, and put a bunch of unique sounds into one killer track that aligned the planets, created harmonic convergence, and realigned time and reality, restoring various historical figures that were displaced in time back to their original locations. And of course, what would the song to save the world be without Bill & Ted playing as part of the band to save the universe!
The Infinity Button Has A Function!
Thanks to Billie and Thea's efforts to crack the song that saved the universe, Bill and Ted have to work with Princesses Joanna (Jayma Mays) and Elizabeth (Erinn Hayes) to deliver the sheet music and instruments so that "Face The Music" can be played simultaneously throughout all of time and reality. With the additional specifications that the song should be played in C major, at 113 beats per minute, the royal couples need to be in multiple places all at once.
But how?!
Well, it looks like the owner's manual for the phone booth-style time machine from the franchise's early history has been updated in Bill & Ted Face The Music, as the Infinity key actually has a function. And as you'd expect, if you want to go to multiple places throughout the Circuits of Time at the same time, you hold the Infinity key and let the magic happen.
Could There Be A Bill & Ted Face The Music Sequel?
Now that the song to save the universe has been written, played, and deployed through all of time and reality, Bill & Ted Face The Music feels like it may have given us the ending to the Bill and Ted story overall. Heeding the knowledge of Rufus, in that "Sometimes, things don't make sense until the end of the story," we have potentially seen the final day of Bill & Ted's life, as their present day counterparts visit themselves on their death beds to unlock their eventual revelation. Also, thanks to the post credits scene hidden at the end of Bill & Ted Face The Music, we have potentially seen Bill & Ted's final jam session.
As their oldest selves swear that before they die, they want to play one last gig together, they strap on their guitars, turn on their amps, and play their supposedly last gig together. Though, their older selves did tell them, "Where you end up depends on what happens with [the song.]" So there is room for a different fate for Bill & Ted after all. Considering the series' usage of predetermination paradoxes, and everything falling into place as it should, it's still up for debate.
However, regardless of what Bill and Ted's fates actually turn out to be, there's a bigger opportunity that Bill & Ted Face The Music places in front of its creative team and audience. As Billie & Thea turned out to be the Preston/Logan that saved the universe, this could mean that their adventures will be the ones we follow in future sequels. Though there's also the chance that Princess Joanna and Elizabeth's journey throughout time and space that was alluded to in Bill & Ted Face The Music could also find its way into a film of its own, as we weren't party to that particular story and how it played into everything this time around.
All possibilities are on the table, but either way, there's a chance that we'll see some sort of Preston/Logan adventure in the future of the Bill & Ted universe. It just matters which pair gets the greenlight to move into the future. We'll have to see where things go with the release of Bill & Ted Face The Music before we see any sort of talk about a sequel, and you can see the film again, or for the first time, in select theaters and on VOD today.
This poll is no longer available.
CinemaBlend's James Bond (expert). Also versed in Large Scale Aggressors, time travel, and Guillermo del Toro. He fights for The User.
Your Daily Blend of Entertainment News
Thank you for signing up to CinemaBlend. You will receive a verification email shortly.
There was a problem. Please refresh the page and try again.