Kevin Costner Defends His Work On The Postman, Despite The Dreadful Reviews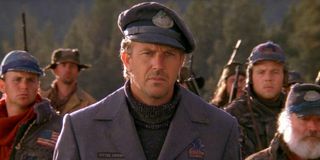 Kevin Costner has been in a lot of well-received movies and TV shows over the years, from baseball flicks like Field of Dreams to TV projects like Paramount Network's wildly popular Yellowstone. However, he's been involved in some stuff that hasn't gone over so hot, including the 1997 post-apocalyptic film The Postman. Years later, in a time when the Post Office is making headlines for very different reasons, Costner has admitted, well, he still kind of loves his work in the film.
Speaking in a recent interview that touched on a lot of the projects Kevin Costner has made over the years, he was asked about the "prescient nature" of what The Postman did in the nineties, particularly given the challenges facing the U.S. Post Office right now. Costner admitted to The Daily Beast that he's "proud" of the work he did on the film, also explaining how he approached the role.
Look, in the history of Kevin Costner bombs there are two that stand out: Waterworld, which was allegedly wildly expensive to film, and The Postman. The former was nominated for a bunch of Golden Raspberry Awards and the latter won a slew of Razzies in its day. Years later, The Postman is still only running at 8% on Rotten Tomatoes and the reviews are rather dreadful. But Costner stands by both flicks years later.
As a younger person, The Postman was actually one of the first R-rated movies I was allowed to watch (it coulda been Die Hard, Mom) and I always kind of loved the romantic tone of a story about a drifter turning into a hero in the post-apocalyptic world. I mean this is a world in which characters name themselves Ford Lincoln Mercury (the latter of which isn't even a brand anymore) and Tom Petty isn't the "famous one;" there are interesting ideas there, even if they don't all work.
Still, while The Postman's a famous flop, I always kind of dug it and the cat and mouse game being played by Will Patton and Kevin Costner's characters. It also has stuck around in the minds of music fans, given that Tom Petty is brought in for an amusing cameo in one of the movie's more light-hearted segments. Kevin Costner also touched on Petty's famous cameo in The Postman and what that cameo was really trying to do.
It has to be hard to be an actor. When you are making a movie, you never know exactly how it's going to turn out or be received by audiences. In the case of The Postman it still sounds as if Kevin Costner looks back fondly at his decision to star in the film, even if the movie only went on to make a little over $17 million on an $80 million budget. Making a movie is hard work and if you don't appreciate the journey as an actor, I'm not sure how you'd even make it in Hollywood over the long haul, as Costner himself has.
Amazing Race & Top Chef superfan with a pinch of Disney fairy dust thrown in. Theme park junkie. If you've created a rom-com I've probably watched it.
Your Daily Blend of Entertainment News
Thank you for signing up to CinemaBlend. You will receive a verification email shortly.
There was a problem. Please refresh the page and try again.