11 Massive 2020 Movies Now Arriving In 2021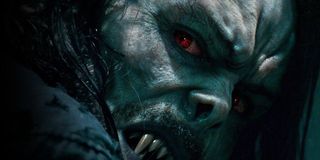 It has been an atypical year, to put it mildly. When it comes to movies, it's safe to say that most of them have been pushed back and delayed at least once or twice from their original 2020 release date, with most of them now occupying 2021's release date calendar. This perpetual shift in dates have seen Marvel movies, the newest Fast & Furious sequel, and several other blockbusters delayed six to eight to even 12 months away from when they first originally slated to debut in theaters both nationwide and internationally.
For every studio movie like Tenet opening up in an uncertain theatrical market, there are at least two or three more major motion pictures that decided to become 2021 movies. And that's, of course, assuming that they'll stick to those dates moving forward. With that said, here are 11 massive movies that jumped from 2020 over to 2021.
The Eternals - February 12, 2021
It'll be a little while longer before we enter Phase 4 of the Marvel Cinematic Universe. While The Eternals was previously scheduled for release on November 6th, 2020, that date has been taken by Black Widow, which was initially set to start off the summer movie season on May 1st.
Since the MCU is one gigantic ship of an enterprise, when one piece of the puzzle shifted, the whole thing needed to move. Therefore, The Eternals has taken Shang-Chi and the Legend of the Ten Rings' release date slot on February 12th, 2021. That film, subsequently, will now be released on May 7th, 2021. Starring Richard Madden, Gemma Chan, Kumail Nanjiani, Brian Tyree Henry, Salma Hayek, Angelina Jolie, Kit Harington, and more, The Eternals will follow a group of eternal superbeings (hence their name) who reunite after thousands of years to defeat the Deviants.
The King's Man - February 26, 2021
Manners maketh man, as Kingsman: The Secret Service was prone to note. Therefore, it should hopefully be seen as a courtesy that The King's Man, a prequel to the previous two Mark Miller adaptations, won't be bowing on September 18th, 2020, as it was initially planned, but on February 26th, 2021. The release date change isn't the first for the title. It was previously scheduled for November 15th, 2019 and February 14th, 2020 before it was slated to come out this month.
Alas, the latest film from director Matthew Vaughn hasn't had the best luck when it comes to keeping a release date. We'll have to wait and see if this newest one is meant to last or if it'll get pushed back again. It stars Ralph Fiennes, Gemma Arterton, Rhys Ifans, Matthew Goode, Tom Hollander, Djimon Honsou, Harris Dickinson, and Charles Dance.
Ghostbusters: Afterlife - March 5, 2021
The call will have to wait. Ghostbusters: Afterlife, Sony's latest Ghostbusters blockbuster from director Jason Reitman, son of Ghostbusters I and II's Ivan Reitman, was set to be released on July 20th, 2020. But with the ongoing pandemic, Sony pushed the supernatural comedy-drama back to March 5th, 2021.
Set 30 years after Ghostbusters II, this movie will be a direct continuation of the original two movies following 2016's reboot. It'll follow a family moving to a small town, where they discover a grandfather's secret legacy. While Afterlife is expected to feature appearances from some familiar Ghostbusters stars, though it stars Carrie Coon, Finn Wolfhard, Paul Rudd, and Mckenna Grace. Whether this newest attempt to the Ghostbusters franchise lives up to the original's legacy will be determined next year. Jason Reitman admitted that this delay gives him more time to reflect on his newest film.
Morbius - March 19, 2021
Particularly following Venom's box office success, Sony is looking to capitalize on whatever Marvel IP they have at their disposal. In addition to Venom: Let There Be Carnage (which we'll discuss in a little bit), there's also Morbius, starring Jared Leto, which is based on the character known as the Living Vampire.
Naturally, when you have a movie where your main character gains superpowers after being bit by a bat, you might have trouble releasing it in 2020. Sure enough, in response to the COVID-19 pandemic, Sony opted to push the movie's release date back from July 10th, 2020 to July 30th, 2020 to March 19th, 2021. In addition to Leto, Morbius will also star Matt Smith, Jared Harris, and Tyrese Gibson. Alas, 2020 wasn't destined to be the year that general moviegoers were introduced to Morbius, the Living Vampire. Perhaps next year will be.
F9 - April 2, 2021
Earlier this year, before many of the movies listed decided to push back their release dates, it was announced that F9 would be released a full year later than anticipated. Once set to come out on May 22nd, 2020, this ninth installment in the Fast & Furious saga (or the 10th, if you count last year's Fast & Furious Presents: Hobbs & Shaw) was delayed to April 2nd, 2021, to make it more accessible to national and international just as COVID-19 pandemic was sweeping the world.
Much like No Time To Die, the movie was ahead of the curve when it came to this decision, knowing full well that this film franchise does excellent numbers in theaters both nationally and internationally. While it's hard to know what the U.S. will look like in the next calendar year, F9 decided early on to make the jump.
Monster Hunter - April 23, 2021
Based on the video game series (if loosely) by Capcom, Monster Hunter is the latest video game adaptation from director Paul W.S. Anderson (Resident Evil). Starring Milla Jovovich, Tony Jaa, Ron Perlman, T.I., and Megan Good, this fantasy action-thriller blockbuster was originally set to hit theaters on September 4th, 2020. Due to the COVID-19 pandemic, however, the release date was pushed back to April 23rd, 2021. The upcoming movie follows a United Nations military team that falls into a portal into an alternate world, one where hunters fight giant monsters.
As you'd expect, these earthlings must prevent these monsters from invading Earth. There have been rumors dating back to 2012 about Anderson being involved in an adaptation of this video game. It took a few years for the project to lift off the ground. Now, it'll be an extra year before it hits theaters.
The Conjuring: The Devil Made Me Do It - June 4, 2021
Over the past few years, moviegoers have seen either a new Conjuring movie or spin-off released in yearly (sometimes twice yearly) installments. That trend would've continued with The Conjuring: The Devil Made Me Do It, seemingly concluding The Conjuring trilogy, but Warner Bros. decided to push back its new horror title. Originally set for September 11th, 2020, the third Conjuring movie is now scheduled for June 4th, 2021.
In this latest sequel, we'll once again follow paranormal investigators Ed (Patrick Wilson) and Lorraine Warren (Vera Farmiga) following a case inspired by Arne Cheyenne Johnson's 1981 murder trial in Connecticut, which marked the first time in U.S. history that a murder suspect would claim demonic possession as a defense. Unlike the past two Conjuring movies, it won't be in a haunted house and it's not directed by James Wan.
Venom: Let There Be Carnage - June 25, 2021
Audiences didn't know what to expect from Sony's Venom, a Marvel adaptation featuring the popular villain/anti-hero but not featuring any trace of everyone's favorite neighborhood Spider-Man. Nevertheless, audiences ultimately came out in droves worldwide to see Tom Hardy's take on the gooey character, resulting in an enormous box office smash for the studio. Sequel plans were quickly put into forward motion, expanding on a mid-credit stinger where Carnage (Woody Harrelson) was promised to be involved, but audiences will need to wait a bit longer than originally anticipated to see it.
Originally slated for October 2nd, 2020, Venom 2 will now make its way into theaters on June 25th, 2021. The Andy Serkis-directed comic book film will now have more time to finish its special effects, according to Serkis, while waiting out this ongoing pandemic. Carnage will have to wait another day.
Top Gun: Maverick - July 2, 2021
It has been a long wait for Top Gun: Maverick, the action-packed sequel to 1986's Top Gun. And it'll ultimately now be a longer one. Originally slated to hit theaters on July 12th, 2019, the new Tom Cruise blockbuster was later delayed to June 26th, 2020. Then it was moved up just two days earlier to June 24th, 2020. But as the pandemic hit the United States, Paramount announced that the movie would now be expected in theaters on December 23rd, 2020.
It was then announced a few months later that Top Gun: Maverick would instead be released on July 2nd, 2021. The most recent delay was also due, in part, to Cruise's schedule delays, most likely related to filming the latest Mission: Impossible sequel, which recently started production. So, alas, it'll be a good while longer before these wings soar once more.
Jungle Cruise - July 30, 2021
Similar to how Disneyland's re-opening strategy is currently left unclear in this midst of this pandemic, Jungle Cruise, based on the amusement park ride of the same name, will embark on a later date. Disney's newest blockbuster was previously set to open on July 24th, 2020, after it was previously pushed back from its October 11th, 2019 release date, but now it's slated for July 30th, 2021.
Starring Dwayne "The Rock" Johnson and Emily Blunt, this upcoming action-adventure movie takes place in the early 20th century and it follows a riverboat captain (Johnson) and a scientist (Blunt) as they go on a mission to discover the Tree of Life and its healing powers. It's easy to see how this newest attempt to bring a familiar theme park ride to life could produce some fun results for the silver screen, but we'll have to wait.
Halloween Kills - October 15, 2021
Once again, Michael Myers is back. But not this year, unfortunately. Halloween Kills, the continuation to 2018's Blumhouse revival Halloween and the second installment in the new horror trilogy from director/co-writer David Gordon Green, is reportedly finished and ready to go. But instead of pushing it out on VOD, drive-in theaters, and/or whatever theaters might be open this Halloween with its intended October 16th, 2020 release, Universal decided to have Michael wait until next year to exact his revenge on Jamie Lee Curtis' Laurie Strode, her daughter (Judy Greer), and her granddaughter (Andi Matichak).
The particulars of the plot are vague, though we know that it'll be followed with the conclusive-sounding Halloween Ends on October 22nd, 2022 —one year after its original release date, October 15th, 2021, which is where Halloween Kills is currently slated. Though that trilogy capper reportedly hasn't started production yet.
Which delayed blockbuster are you most looking forward to seeing (hopefully) in 2021? Please let us know in the comment section below!
Your Daily Blend of Entertainment News
Will is an entertainment writer based in Pittsburgh, PA. His writing can also be found in The Playlist, Cut Print Film, We Got This Covered, The Young Folks, Slate and other outlets. He also co-hosts the weekly film/TV podcast Cinemaholics with Jon Negroni and he likes to think he's a professional Garfield enthusiast.