Ghostbusters: Afterlife Director Reveals Silver Lining In The Movie's Delay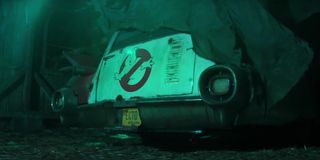 Among all the movies delayed due to current events, Ghostbusters: Afterlife couldn't avoid the inevitable and had to face delays as well. Originally, it was scheduled for release on August 7, 2021, but that date has been moved to October 8, 202. However, this might prove to be a good thing, as the director reveals there's a silver lining to this shake up.
While Jason Reitman has already followed in his father's footsteps into directing, he's now taken another step by helming a Ghostbusters movie in Ghostbusters: Afterlife. While talking with Josh Gad and the original Ghostbusters cast and crew on Josh Gad's YouTube channel, Jason Reitman provided some insight on the project. Here's what he had to say:
It definitely is a rare opportunity for a director to pause in the midst of filming and go over their movie footage without many distractions. In contrast, the schedule for Star Wars: The Rise of Skywalker was so tight, they had to have the editor actively editing while on set. So with that in mind, hopefully Jason Reitman will be able to spot flaws and smooth out the movie for the better.
Forced delays helping making a movie better is not without precedent. Many directors in the past have noted the benefits of a delayed schedule. For instance, production for Mission: Impossible – Fallout had to stop due to Tom Cruise's ankle injury. But Christopher McQuarrie said that allowed them to look over the script and fix any holes.
Even though Jason Reitman can't provide any details about the movie at this point, that's not to say we don't know much about the movie. The first trailer that dropped late last year certainly provided us with a good look at a more nostalgic, connected-the-past take in contrast to Paul Feig's Ghostbusters in 2016.
Ghostbusters: Afterlife is a direct sequel to the first two Ghostbusters movies and will also bring back a majority of the original cast, such as Bill Murray, Dan Aykroyd, Ernie Hudson, and Sigourney Weaver. Unfortunately for Louis Tully fans, Rick Moranis will not be returning. But even though they old cast is back, they seem to be taking a similar approach to Star Wars: The Force Awakens. Namely because the story's focus will be placed more on the next generation of characters, while also including the originals.
While the story may highlight younger characters, it's been written to address the death of actor Harold Ramis as well. According to Bill Murray, the story they've written will not only acknowledge Dr. Egon Spengler's absence, but also will heavily factor into the upcoming movie's story.
Ghostbusters: Afterlife looks like a promising addition to the franchise. Here's hoping the brief pause Jason Reitman has will be enough to bring fans a sequel worthy of the Ghostbusters.
Your Daily Blend of Entertainment News