Ryan Reynolds Got Rick Moranis To Film A Mint Mobile Ad, And It's Canadian Gold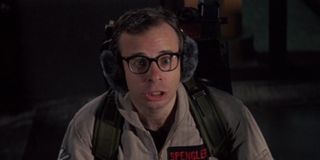 When he's not playing Deadpool or getting into faux-feuds with Hugh Jackman, Ryan Reynolds has become something of an advertisement genius. He's produced a bunch of hilarious ads for his company Aviation Gin in the past. Now it looks like he's putting some of that creativity to work for his next company, Mint Mobile, by getting fellow Canadian actor Rick Moranis to make an appearance.
Of course, Rick Moranis of Ghostbusters and Honey, I Shrunk the Kids fame has been out of the limelight for decades. But I guess Ryan Reynolds is a big fan and decided to bring him on a quick ad on social media to highlight a new feature that Mint Mobile is offering. The results are, no surprise here, perfect. Check it out:
Short, sweet, with the classic Rick Moranis' look, like he has no idea what's going on, this ad is everything I needed for today. The real mystery is how Ryan Reynolds was able to convince Rick Moranis to agree to the ad in the first place. After all, he'll be noticeably absent in the next Ghostbusters movie.
Other than making a few very rare appearances on TV, Rick Moranis hasn't been in the public eye or made a movie in ages. The last movie he made a physical appearance in was the TV movie Honey, We Shrunk Ourselves in 1997. And he's a talent that has definitely been missed.
So, why did Rick Moranis suddenly stop making movies? Back in 2014, he said he decided to make the change to being a stay-at-home dad. He wanted to focus on his kids rather than his career after his wife died of breast cancer in 1991. And that's what makes the above video so special.
On top of that, as some opportunities have crossed his path, he's admitted to turning them down and says he's been picky about his roles. More particularly, he didn't seem too interested in returning to Paul Feig's Ghostbusters or the upcoming Ghostbusters: Afterlife, saying it didn't appeal to him. Even if his co-stars signed on for those projects.
However, it looks like Rick Moranis may have found a new project that does appeal to him—the remake of Honey, I Shrunk the Kids. Earlier this year, it was confirmed that Rick Moranis had sealed a deal to return as Wayne Szalinski in the remake simply known as Shrunk. Little else is known about the reboot other than Josh Gad taking on the lead role.
In the early 80s and 90s, Rick Moranis often played nerdy roles, but with great comedic success. From his role as Louis Tully in Ghostbusters to Dark Helmet in Spaceballs to Wayne Szalinski in Honey, I Shrunk the Kids, Rick Moranis never failed at delivering a different angle to his dorky comedy.
Could his return to Shrunk and this Mint Mobile ad mean he's warming up for more projects in the future? Could we see a Moranissance? Stay tuned to CinemaBlend for the latest!
Your Daily Blend of Entertainment News