Could Spaceballs 2 Actually Happen? Here's What Mel Brooks Says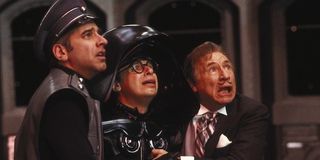 A long time ago (1987) in a galaxy far, far away (a Hollywood film set), the wise and powerful Yogurt expressed hope that he would reunite with Lone Starr and his friends in Spaceballs 2: The Search for More Money. It was a funny, fourth wall-breaking line to drop into Spaceballs, but an actual sequel has never progressed much further than the conceptual stages. However, with the resurgence of the Star Wars franchise, Mel Brooks has revealed that there's renewed interest in making Spaceballs 2 happening. He stated:
During a recent screening of his 1974 hit Young Frankenstein (via njpac), Mel Brooks provided the above update on Spaceballs 2 to the audience. Evidently the success of Star Wars: The Force Awakens and Rogue One: A Star Wars Story has led MGM to talk with the legendary comedy actor, writer and director about revisiting the world of Spaceballs, which was primarily a satire of George Lucas' creation, but also took aim at plenty of other popular sci-fi properties.
This isn't the first time Me Brooks has expressed interest in making Spaceballs 2. He said a few years ago that a sequel "is actually going to happen," and last year he wisely noted in late 2015 that making it now in the midst of all these Star Wars movies coming out would likely be profitable. How fitting given the title Yogurt pitched for the follow-up all those years ago. Of course, assuming that Spaceballs 2 is eventually greenlit, it wouldn't be the only Star Wars spoof movie coming down the pipeline, as the guys behind Scary Movie announced in February that they're making Star Worlds Episode XXXIVE=MC2: The Force Awakens The Last Jedi Who Went Rogue.
Although Spaceballs 2 has never gotten off the ground, Mel Brooks did return to his laugh-packed sci-fi world last decade with Spaceballs: The Animated Series, which aired 13 episodes on G4 from late 2008 to early 2009. Spaceballs 2 would certainly face an uphill battle being made. Since Spaceballs' release, John Candy (Barf), Joan Rivers (Dot Matrix), Dom and Dick van Patten (King Roland) have passed away. Rick Moranis (Dark Helmet) has also been on an extended hiatus from acting since 1997, only taking on select voice roles in the years since. No doubt Mel Brooks would do his best to bring back Moranis, Bill Pullman (Lone Starr), Daphne Zuniga (Princess Vespa) and George Wyner (Colonel Sandurz), but just like Star Wars: The Force Awakens did, Spaceballs 2 will have to introduce a lot of new faces to fill out the main cast and set up the "next generation."
For now, Spaceballs 2 remains in the "talks" phase, so stay tuned to CinemaBlend for any updates that may come in concerning the sequel.
Connoisseur of Marvel, DC, Star Wars, John Wick, MonsterVerse and Doctor Who lore. He's aware he looks like Harry Potter and Clark Kent.