Now, Disney Has Responded After Facing Scrutiny For Where Part Of Mulan Was Filmed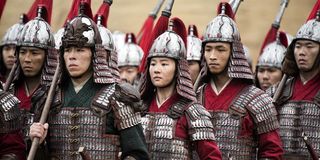 Mulan's bumpy ride from page to screen, in theory, would have ended when it premiered -- but it doesn't appear that will be the case. Amid multiple rounds of controversy and a constantly-shifting release schedule that resulted in its release on Disney+, it's made headlines time and again since it was announced. Now that it's been released, Mulan is facing a new round of scrutiny over one of its filming locations -- and Disney has responded to the backlash.
After Mulan hit Disney+ earlier this month, some fans quickly noticed that in the credits, the filmmakers acknowledged a government agency in the Xinjiang province of China. That area is controversial because it is where Uighurs, a minority ethnic group, are being detained in mass internment camps. According to Deadline, Xinjiang province officials authorized the Mulan crew to film in that region.
As the area is a focal point of global concern, controversy arose over its inclusion in the Mulan credits. American politicians have criticized Disney's decision to enter into a relationship with the Xinjian province and called on the studio to remove the film from theaters and Disney+.
When Deadline asked Disney CFO Christine McCarthy about the scrutiny over the shooting location and its impact on the film's reception, she was straightforward:
Christine McCarthy went on to provide more insights -- and addressed how the controversy has impacted the studio:
This is not the only issue Mulan has faced with regard to the Chinese government. In 2019, fans online organized a #BoycottMulan hashtag campaign after the film's star, Liu Yifei, expressed support for the Hong Kong police force amidst widespread demonstrations within the region. Mulan was also saddled with numerous logistical issues, including costly reshoots and COVID-19-related release issues.
Despite the myriad issues Mulan has faced, many critics praised the movie and early data seems to indicate it's found an audience on Disney+.
Your Daily Blend of Entertainment News
Thank you for signing up to CinemaBlend. You will receive a verification email shortly.
There was a problem. Please refresh the page and try again.