Why I'm Probably Going To Visit Disneyland When It Reopens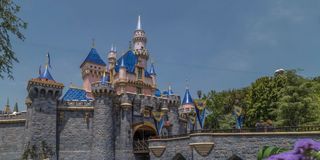 Disneyland has been closed since March. As I write this, we have hit six months since Disneyland Resort closed its doors as a result of the global pandemic, and while the Downtown Disney District is open once again to limited crowds, the theme parks and hotels have announced no plan for reopening. While it feels like a reopening announcement might be coming soon, it seems equally likely we could see the resort, as well as places like Universal Studios Hollywood, remaining closed for a few more months. The closure was the right decision at the time, and it likely still is the right decision now. Having said that, yeah, I think I'll probably be making plans to visit Disneyland pretty soon after it reopens, whenever that happens.
While I'm sure I'm not the only one who is mentally planning their next trip as soon as an announcement is made that such trips can resume, I also expect there are a lot of people who have a significant problem with an idea such as this, feeling that nobody should be making unnecessary trips for the foreseeable future. I get it. I'm not looking to convince anybody that we should all go back to "business as usual" right now. I do, however, think there are a few reasons why a trip to Disneyland is, at least in the abstract, an acceptable decision.
California Has Taken Its Time Reopening Disneyland
To start off, yes, I'm already hedging my bets by saying that I will "probably" be making plans when Disneyland Resort reopens in full. If the park was opening tomorrow, as things currently stand, I likely wouldn't be making the same plans. Part of the reason that I have confidence is that the state of California has already shown a willingness to shut down Disneyland's plan to reopen if the situation doesn't seem safe. Back in June, Disneyland announced plans to reopen by mid-July, but before we even made it to the July 4th weekend, it was clear things in California were taking a turn, and the decision was made to hold off on reopening theme parks.
Because of the first false start, I don't think the state is going to give Disneyland the guidance the resort needs until there is much more confidence that things are going right. While there are calls for California to open the parks, it doesn't really seem like these calls are having any direct influence. I fully expect that, even though Disneyland is reportedly very ready to open, the announcement of reopening will be given plenty of lead time so the state and the resort can gauge the situation before actually pulling the trigger.
And once the decision is made to actually open Disneyland Resort, then the responsibility to make this all work falls on Disneyland. Yes, in the end, the responsibility to be safe lies with each of us, but Disneyland certainly isn't going to want to be attached to any reports of outbreaks once open, and so we can be sure that steps will be taken as much as is possible to keep everybody safe.
Walt Disney World's Reopening Has Been Successful
Walt Disney World has been doing this for a couple of months now, and by all reports, or lack thereof, it seems to be going well. While things certainly aren't going perfectly, if there had been a major outbreak at Disney World, we would have heard about it, and that simply hasn't happened. That isn't actually all that surprising. Temperature checks are required before anybody enters, and social distancing and face-covering rules are seemingly being well enforced by cast members at Disney World. My local grocery store isn't checking my temperature or actually making sure I keep my mask on.
If I lived closer to Walt Disney World, I might have already made a trip to that resort. Being in California, I can drive to Disneyland. While it would be a long drive, it's one I've made before, and by doing so, I can keep myself separate from others for the duration of the trip.
There are some unique challenges at Disneyland Resort that haven't necessarily been the same sort of problem for Walt Disney World, to be sure. As I've talked about before, Disneyland doesn't have the gift of size that Walt Disney World has. As a result, if Walt Disney World and Disneyland Resort are both open to say, 20% of max capacity, while that means more overall people at Walt Disney World, it also means they're spread out over a much wider area, whereas at Disneyland, that group of people is much closer together. It's an issue that will need to be addressed.
At the same time, there are also some benefits to being Disneyland. Because rain is a much bigger issue in Florida than it is in Southern California, more of the attraction queue space is covered, if not actually indoors at Walt Disney World. While at Disneyland, much more of the park area is open-air, which is a benefit to social distancing.
Disneyland is Important For Mental Health
And then there's one more reason that I'm seriously considering going to Disneyland sooner rather than later: I just sort of need it. Let's just be honest, 2020 has been a complete mess, and at this point, it's not a question of if you've felt it, but how much. Whatever that thing is that you need to reduce stress and find some peace, you could probably use it, and for me, that thing is Disneyland.
Our physical health is important, of course, but I've come to appreciate in the last few months just how important mental health is as well. Simply being on the grounds of Disneyland Resort would relieve a lot of the stress that's been building up throughout this year. When I say I'll probably go to Disneyland, I'm not even sure how much of my normal Disneyland activities I'll actually want to engage in. Whether I get in line for an attraction is still an open question (though I'll probably give in on Rise of the Resistance because I haven't had a chance to ride that yet), and I'll almost certainly skip the parade-like "cavelcades" if Disneyland has them, because there's no need to bother with those. What I'm really going to want to do is just walk down Main Street U.S.A. Maybe I'll have a meal at a socially distanced table at one of my favorite places to eat.
If I don't feel safe, then I won't go to Disneyland. My measurement of safety, in this case, is certainly going to be different than many others, and I'll quarantine myself from those people if that's what's necessary. However, I do feel like the precautions that Disney is taking are significant and might make Disneyland as safe as it can be, and potentially safer than a lot of places one could go.
Your Daily Blend of Entertainment News
Content Producer/Theme Park Beat
CinemaBlend's resident theme park junkie and amateur Disney historian. Armchair Imagineer. Epcot Stan. Future Club 33 Member.