Why The Response To Bill And Ted Face The Music Has Been A Big Shock, According To Alex Winter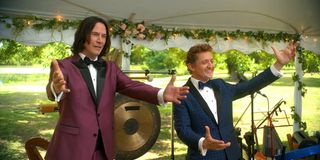 It's been a long time since we got a Bill & Ted movie. So, when news broke that Bill & Ted Face the Music was actually happening, you could say fans were pretty excited about that. Still, it sounds like the response after its release has been a big shock, according to Alex Winter.
Typically, a sequel like Bill & Ted Face the Music appeals mostly to diehard fans of the originals, and the filmmakers try their hardest to tap into that sweet nostalgia. But when speaking with Entertainmentie, Alex Winter said Bill and Ted Face the Music tapped into something much bigger which was a big surprise. Here's what he had to say about it:
Indeed, the reviews for Bill & Ted Face the Music have been most excellent. CinemaBlend's own Sean O'Connell gave it a 3 ½ stars out of 5 and said, "Face The Music starts off clunky, but finds its sweet spot, and delivers good laughs and big heart in a very tight 88-minute package." Other critics seem to agree that the sequel successfully accomplishes the rare feat of capturing the original's charm.
Even though Bill & Ted's Excellent Adventure is looked back on more fondly now, critics didn't have many good things to say of it when it first released. It was only later that critics started seeing the cultural impact the movie had. Alex Winter said later,
It's a rarity for a sequel like Bill & Ted Face the Music to be made after so long, but it's even rarer for it to do even better critically than its predecessors. Alex Winter and the filmmakers likely didn't expect that and figured it would appeal only to the core fans. Luckily that's exactly what it ended up doing.
Overall, Bill & Ted Face the Music could be considered a success. Not only has it received warm critical reviews, but it also has done well at the box office and on VOD, considering the current circumstances. For more movie news, be sure to stay tuned to CinemaBlend.