Bill And Ted Face The Music's William Sadler Talks Reuniting With Keanu Reeves And Alex Winter After All These Years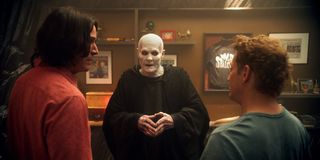 Bill and Ted Face The Music didn't just reunite one of the most legendary on-screen duos of all time. It also brought back plenty of references to the previous films in the franchise, as well as a few familiar faces -- including Death. It seems like the new movie wasn't just a great experience for many fans but for the Bill and Ted cast as well, and William Sadler got real about what it was like to meet up with Alex Winter and Keanu Reeves after nearly 30 years.
William Sadler's Death may not be a titular character in the Bill and Ted franchise, but he's easily one of the most memorable. It was pretty much a no-brainer that the team behind Bill and Ted Face The Music would find a way to bring him back -- and fortuitous that the seasoned actor was game to come back. William Sadler told Collider that there were discussions about making a third film since 1991, so he was ready when it finally happened.
He also shared what it was like to reunite with the infamous duo after so many years -- and he didn't hold back:
There's something pretty heartwarming about knowing that it was that much fun for William Sadler, Keanu Reeves and Alex Winter to get the band back together. Those good feelings on set seem to have translated into the final cut as well.
Since it hit theaters and VOD, the actors and fans alike have remarked at how well the movie incorporates some of the best elements of the previous films in the franchise without it feeling stale or overdone. Some superfans, like Kevin Smith, have even admitted that watching Bill and Ted Face The Music was an emotional, cathartic experience because of the way it tapped into nostalgia.
Even if you can't make it to a movie theater, you can watch Bill, Ted, and Death reunite from the comfort of your home. Bill and Ted Face The Music is currently available to rent or buy on streaming platforms.
Your Daily Blend of Entertainment News