Of Course, The Internet Has Thoughts On Robert Pattinson's Accent In The Devil All The Time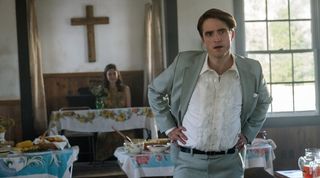 The Devil All The Time is the kind of movie that is designed to inspire debate. A Southern gothic story in every sense, it tackles religion, sex, death, and makes you think twice about good and evil. It also features one of the most hotly debated actors in recent years, Robert Pattinson. So it makes sense that one of the biggest topics of debate when the movie hit Netflix this week was his performance -- more specifically, his accent.
In The Devil All The Time, Robert Pattinson plays Preston Teagardin, arguably the film's most detestable character. Though he is a pastor, his actions are cruel, predatory and manipulative -- in other words, anything but holy. Despite Teagardin's despicable persona, fans who watched The Devil All The Time were more immediately distracted by the British actor's take on a southern accent.
There was, to put it mildly, a range of reactions from fans in the Twittersphere. Fans on both sides were quick to note that Robert Pattinson didn't use a dialect coach while preparing for his role in The Devil All The Time. According to some fans, that wasn't the right call:
Other fans, however, defended Robert Pattinson, arguing that his performance is a highlight of the film -- and that his choice to forgo coaching was the right one:
Aside from the "good" vs. "bad" debate, fans also found a wide variety of words to use to describe Robert Pattinson's accent in The Devil All The Time. Cinephiles on Twitter remarked that it was everything from funny to the (unintentionally) scariest part of the Southern gothic thriller. There were those who more or less just settled on being unable to stop thinking about Robert Pattinson's southern accent:
Another fan pointed out that The Devil All The Time shares something in common with Robert Pattinson's other Netflix film, The King:
So yeah, maybe it's just a Robert Pattinson and Netflix thing. The studio, for their part, threw its support behind the actor's commitment to his performance with a tweet of its own:
Robert Pattinson's unorthodox approach to his latest performance should come as no surprise to fans. He's known for seeking out unexpected roles -- from Twilight to The Lighthouse -- and making them his own. Since we barely hear him speak in The Batman trailer, it's too early to tell if the accent he adopts for Bruce Wayne will be a hit or a miss. Though based on his work on The Devil All the Time, he likely aimed to create something unique on his own.
What did you think of Robert Pattinson's accent in The Devil All The Time? Was it funny, scary or a mix of both? Let us know in the comments!
Your Daily Blend of Entertainment News