Spider-Man Fan Art Turns Matthew McConaughey Into Green Goblin, And I Can't Look Away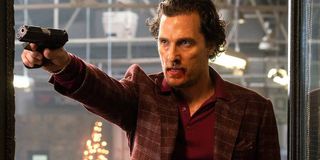 Marvel Studios' and Sony's Spider-Man franchise is going strong, as many have been pleased with the Marvel Cinematic Universe's interpretation of the iconic superhero. Aside from their appreciation of Tom Holland's web-slinger, fans have also come to enjoy the villains he's faced off with. With the third film on the way, most of us are curious as to who he'll take on next, but it's safe to say that the Green Goblin is a prime candidate fans would like to see. One fan has even taken the initiative and rendered the character with Matthew McConaughey in the role. And the result is pretty impressive.
Online visual artist Jackson Caspersz's art of Matthew McConaughey as the Green Goblin shows the fan-favorite villain striking an intimidating pose while holding one of his deadly pumpkin bombs. McConaughey may not be the first actor that comes to mind when you think of Goblin, but Caspersz's rendering may just change your mind. Check out the Instagram art for yourself and be amazed:
I honestly never knew I wanted to see Matthew McConaughey's take on the Green Goblin. For starters, I love the look Jackson Caspersz has come up with. It seems to be a nice melding of Goblin's classic appearance and his design from Marvel's "Ultimate" continuity. Looks aside, it's hard to say what McConaughey would actually sound like in the role, but I would think that he may be able to develop a voice that suits the character. Though it would be jarring if the villain greeted Spidey with a casual, "alright, alright, alright."
So far, we've had several big-screen incarnations of Green Goblin, the first being Willem Dafoe. While some had issues with his Goblin's non-emotive costume, Dafoe's performance was praised, and the actor still looks back on the role quite fondly. On the other end of the spectrum is Dane DeHaan, who played a version of the character in The Amazing Spider-Man 2. DeHaan's Harry Osborn and Goblin were panned by comic book fans, as many were displeased with the vast changes made to the villain.
When it comes to this recent Spider-Man franchise, Marvel Studios has made it a goal to utilize villains that haven't been featured in movies before. Despite this, both Marvel's Kevin Feige and Spider-Man director Jon Watts are open to including well-known villains if doing so makes sense to the story being told.
Tom Holland, believe it or not, has actually expressed reservations about bringing Green Goblin to the franchise. Not only has the actor acknowledged that he's a hard baddie to adapt, but he also argues that Spider-Man has a rich rogues' gallery filled with other villains to explore.
There's been no indication as to who will challenge Tom Holland's Spider-Man in his third film but, there's a good chance it may be yet another villain that's new to the big screen. It'll be exciting to see who the studio ultimately chooses.
Spider-Man 3 is currently scheduled to be released on December 17, 2021.
Covering superheroes, sci-fi, comedy, and almost anything else in film and TV. I eat more pizza than the Teenage Mutant Ninja Turtles.
Your Daily Blend of Entertainment News
Thank you for signing up to CinemaBlend. You will receive a verification email shortly.
There was a problem. Please refresh the page and try again.