The Touching Way Chris Hemsworth Really Changed Life For His Extraction Co-Star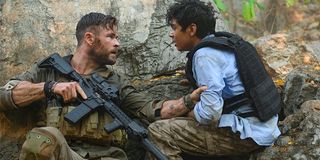 Chris Hemsworth has played plenty of heroes in his Hollywood career. From his tenure as Thor in the MCU to his latest action-packed foray as Tyler Rake in Extraction, he's saved quite a few lives on the big screen. Now it looks like he's also changed the life of one of his Extraction co-stars in real life.
In Extraction, Chris Hemsworth plays mercenary Tyler Rake, who's hired to rescue Ovi Mahajan, the kidnapped son of an international crime lord. Ovi Mahajan is played by Rudhraksh Jaiswal, a young actor just getting into the business. According to Jaiswal's interview with the Daily Telegraph, it sounds like Chris Hemsworth gave him some valuable advice that changed his life:
Way to go, Chris Hemsworth! He may like to play the stone-cold hero type from time to time, but it looks like in real life, he's a softy who likes to help out.
In Extraction, Chris Hemsworth and Rudhraksh Jaiswal shared quite a bit of screen time together, especially in the latter half of the film. So Rudhraksh Jaiswal's interview makes it sound like they were able to build a repertoire that also seemed to help with their on-screen chemistry.
The real question is, will we be seeing Rudhraksh Jaiswal return to play Ovi Mahajan again? If you don't recall, at the end of Extraction (SPOILERS ahead), Tyler Rake may or may not be dead, and Ovi is seen swimming in a pool before looking off in the distance and seeing a blurred figure before cutting to credits. Some believe that figure is Tyler Rake.
Assuming the very likely event that Netflix continues to move forward with Extraction 2, it feels like that ending could prove to be a stepping off point to another story for those two characters. Meaning, Ovi Mahajan could always reappear in the sequel, reuniting Rudhraksh Jaiswal with Chris Hemsworth's Tyler Rake.
Whether or not that's likely is anyone's guess. Chris Hemsworth's Tyler Rake is a bit of a loner in Extraction, and there's little reason he would change that trend. But he also had a connection with Ovi Mahajan, so you never know what Joe Russo might dream up. For more movie news, be sure to stay tuned to CinemaBlend.
Your Daily Blend of Entertainment News
Thank you for signing up to CinemaBlend. You will receive a verification email shortly.
There was a problem. Please refresh the page and try again.