Chris Hemsworth Explains Why Working On Netflix's Extraction Was 'Intimidating'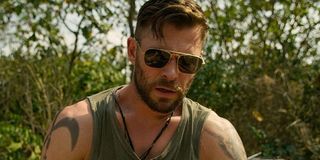 Over the course of his career, Chris Hemsworth has done a slew of franchise movies and action roles with their share of challenges. His role as Thor alone has given him plenty of speed bumps to overcome. Still, it sounds like all of his past roles pale in comparison to his latest as Tyler Rake in Extraction.
While some might think Avengers: Endgame would set the bar pretty high for the most exhausting and intimidating to shoot, it sounds like Extraction was more so. Chris Hemsworth recently told WWE Champion Drew McIntyre on WWE's YouTube channel that working on Extraction was intimidating. Here's what he had to say:
As everyone knows by now, Marvel movies are overloaded with green screens, CGI-laced special effects, and teams of stunt performers. So Chris Hemsworth going from that to virtually nothing but his own body sounds pretty intimidating. But, it's admirable that they wanted to take on such a heavy challenge. Especially Chris Hemsworth, who did a lot of his own stunt work. He later added:
In one realistic looking scene in particular, Chris Hemsworth falls down a flight of stairs while fighting a bad guy. Director Sam Hargrave admitted that its scenes like these that stunt men exist otherwise the main actors could get hurt. So, to pull off the scene, they padded the floor to break Chris Hemsworth's fall.
Despite being an intimidating experience for Chris Hemsworth, he certainly pushed his own limits and may have set a new standard for what he can accomplish as an actor. According to writer and director Joe Russo, this was Chris Hemsworth's best performance to date, saying he has incredible charisma and also can express vulnerability.
As for Extraction's performance, all the hard work the creators put into the movie paid off as well. Extraction became one of Netflix's most successful original movies in one weekend. Plus, Joe Russo has already signed a deal to produce a sequel. What that sequel will be about has yet to be revealed, but we'll be sure to keep you updated when news breaks.
Your Daily Blend of Entertainment News
Thank you for signing up to CinemaBlend. You will receive a verification email shortly.
There was a problem. Please refresh the page and try again.