Sorry Ryan Reynolds, Deadpool 2's Director Is Jumping Into The Action With Ryan Gosling For His Next Movie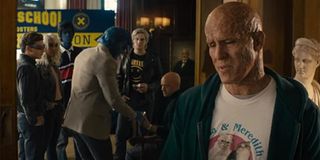 Deadpool 2's director David Leitch has been putting a ton of new movie projects on his slate recently. But unfortunately for Ryan Reynolds, none of them include Deadpool 3. Instead, the Hobbs & Shaw director will be tackling a big action movie with another Ryan taking the lead—Ryan Gosling.
Universal Pictures just won a fierce auction battle against Netflix, Paramount, and MGM for David Leitch and Ryan Gosling's as-of-now untitled action drama. According to Deadline, this movie will be a seven-figure deal with Hobbs & Shaw screenwriter Drew Pierce tackling the script. Sorry, Wade Wilson.
While it's unknown what the movie will be about, the project reportedly going to be in the "stuntman genre" and action film that likely to include a number of intense stunts. This is something David Leitch is well suited for, considering his past work as a stunt coordinator and involvement with movies like John Wick and Atomic Blonde. So prepare for plenty of thrilling sequences.
These kinds of films have been a hot commodity of late. This can be seen the success of the John Wick, Fast & Furious, and Mission: Impossible franchises that keep upping the ante with wild new stunts. With the latest addition being Netflix's action movie Extraction, movie studios seem intent to push this genre forward.
And while David Leitch has extensive experience in the genre, Ryan Gosling is just getting his feet wet. The La La Land actor has primarily been in a number of dramas. Perhaps Blade Runner 2049 and Drive are the closest he's gotten to being in a movie with considerable action. At least, until now. This could be a turn for Ryan Gosling. Right now, he's working with the Russo Brothers on what will likely be an action-packed espionage thriller in Netflix's The Gray Man, that also co-stars Chris Evans. In that, Ryan Gosling will play the lead, Court Gentry, a former CIA operative turned assassin.
David Leitch also has his hands full right now with other movies on his schedule. It was just announced this year that he not only will be tackling a remake of Kung Fu, but he'll also be directing a thriller set in Japan called Bullet Train, a movie about hitmen and assassins with different motives all on the same train. And now he's got another project to look forward to.
Unfortunately for Ryan Reynolds and Deadpool fans, it doesn't look like David Leitch has Deadpool 3 on his schedule at all. Ryan Reynolds has reportedly been working on Deadpool 3 with Marvel, but where it is in development is hard to say. Things have been pretty quiet on that front.
One thing is for sure: David Leitch looks less and less likely to direct it with his ever-growing list of projects he's taking on. Stay tuned to CinemaBlend for the latest.
Your Daily Blend of Entertainment News
Thank you for signing up to CinemaBlend. You will receive a verification email shortly.
There was a problem. Please refresh the page and try again.