What To Watch On Streaming If You Like Joaquin Phoenix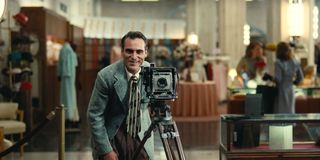 CinemaBlend participates in affiliate programs with various companies. We may earn a commission when you click on or make purchases via links.
As a vigorously committed and authentically soul-searching thespian who is capable of delivering astonishingly vivid and shockingly powerful performances, Joaquin Phoenix remains one of our finest working actors. Though he was finally recognized as such for his Oscar-winning work in Joker, Phoenix has delivered many astounding, confounding, and engrossing performances throughout his accomplished career — many of which you watch now through several streaming services. If you love Joaquin Phoenix, be sure to check out these movies made accessible through various different platforms.
The Master (2012)
An oversexed, PTSD-stricken Navy veteran (Joaquin Phoenix) is lured by the grand promises of a charismatic leader (Philip Seymour Hoffman).
Why It's A Good Option For Joaquin Phoenix Fans: As a ravaged, uncontrollable hurricane of chaos on a warpath of self-destruction, one who doesn't care if other people get caught up in his storm, Joaquin Phoenix is a transformation in The Master, writer/director Paul Thomas Anderson's opaque-yet-mesmerizing character study exploring the ambitions of a man damaged by his country who seeks personal redemption and acceptance through ill-gotten means — particularly when a charming huckster promises milk and honey through his dubious, self-inflating, cult-like haven. It's a firecracker performance, exploding with rage and frustration, but it's also filled with soft bits of humor and intrigue, like a child watching an unknowable world in awe. It's incredible character work. In my view, it's Phoenix's finest hour.
Stream It On Netflix here (opens in new tab).
You Were Never Really Here (2018)
A traumatized veteran-turned-mercenary (Joaquin Phoenix) is hired by a local politician (Alex Manette) to find and rescue — through any violent means necessary — his daughter (Ekaterina Samsonov), who was kidnapped by a human trafficking network.
Why It's A Good Option For Joaquin Phoenix Fans: Based on the excellent novella by Jonathan Ames, You Were Never Really Here is a haunting and perceptive examination of trauma, grief, depression, and violence — both reverberating and present — featuring yet another mesmerizing Joaquin Phoenix performance. As the internalized loner who uses brutality to bring some sort of justice back into the world, Phoenix evocatively showcases the struggles of battling PTSD and how it distorts the mind and ravages the soul. It's compelling in its refinement, providing another soulful characterization of a man battling evil forces that follow him or wrestle inside him.
Stream It On Amazon Prime here.
Her (2013)
In the near future, a lonely writer (Joaquin Phoenix) enters a relationship with a personality-driven operating system voice (Scarlett Johansson).
Why It's A Good Option For Joaquin Phoenix Fans: In Spike Jonze's romantic sci-fi drama, Joaquin Phoenix faces an unusual challenge: he must fall in love with a computer's voice and convince us that it's a believable, authentic, zestful, and investing relationship. It poses an unorthodox task for the hard-working actor, one that Phoenix approaches both soulfully and sweetly, providing a new-age relationship that's smart, intriguing, insightful, and telling in our tech-driven era. While it's a fascinating premise, it easily could've fallen flat through a less capable actor. Thankfully, Phoenix is more-than-fit to play our lonesome mustachioed protagonist, providing the right amount of wistfulness and realism to avoid overindulging in quirkiness. Instead, Phoenix finds humanity in a story about falling in love with a machine.
Stream It On SundanceNow here.
Joker (2019)
A mentally-unstable failed comedian (Joaquin Phoenix) descends into madness and anarchy, inspiring a counter-cultural revolution against the wealthy in a decayed Gotham City.
Why It's A Good Option For Joaquin Phoenix Fans: Joaquin Phoenix became the second actor in history to win an Oscar for playing a variation of DC's most famous arch-villain, The Joker, though Phoenix found a way to make the well-played role his own by providing a very Scorsese-influenced take on the killer clown, resulting in an intriguing dissection at what turns an unbalanced man into one of the greatest villains in comic book history. Through the film's intentionally grounded approach, Phoenix dives head-long into the character's twisted psyche, becoming fully immersed in the depravity of this broken man. It's not his very best performance, but it's easy to see why it's the one that turned him into an Academy Award-winner.
Stream It On HBO Max here (opens in new tab).
Two Lovers (2008)
A Brooklyn-based bachelor (Joaquin Phoenix) is torn between his beautiful new neighbor (Gwyneth Paltrow) and the family friend that his parents want him to marry (Vanessa Shaw).
Why It's A Good Option For Joaquin Phoenix Fans: In his third collaboration with writer/director James Gray, Joaquin Phoenix gives an intriguingly melancholy, effectively restrained, and emotionally honest performance in 2008's excellent Two Lovers. In this appealingly old-fashioned romantic drama, one that explores this character's neurological complexities through rich acting, smart writing, and commendable direction, Phoenix provides one of his sharpest, most astute performances, finding the layers and depths of this troubled man's mental state in an engrossing character-driven fashion. While Gwyneth Paltrow and Vanessa Shaw are also outstanding, it's really Phoenix's show. It's a shame that I'm Still Here's performance art antics took attention away from this quietly soulful picture.
Stream It On Tubi here, Pluto TV here, and SundanceNow here.
I'm Still Here (2010)
A faux-documentary exploring Joaquin Phoenix's self-sabotaging journey to quit acting and become an aspiring rapper.
Why It's A Good Option For Joaquin Phoenix Fans: The lines between reality and fiction are often blurred in Casey Affleck's I'm Still Here, a ruminative (and often navel-gazing) performance art piece that explores the life of a soul-searching celebrity on the brink of personal and professional decline. As it was filmed, Phoenix never publicly broke character, opting to let people believe that "Joaquin Phoenix" — a shaggy, thick-bearded, morally-astray version of the professional actor — was, in fact, the real Joaquin Phoenix. Only after the movie screened at film festivals did they admit otherwise. His career and public image were temporarily tarnished in the process, but it also produced one of Phoenix's finest and most personal performances (and, perhaps, "performance") of his continuously-impressive career.
Stream It On Dox here and Hoopla here.
Walk The Line (2005)
A musical biopic chronicling the life and legacy of Johnny Cash (Joaquin Phoenix) and his romance to his future wife, June (Reese Witherspoon).
Why It's A Good Option For Joaquin Phoenix Fans: Though Walk The Line follows many of the hard-wrought cliches of famous musician biopics, to the point where it was the primary source of ridicule in the underrated parody, Walk Hard: The Dewey Cox Story, it's hard to deny the power of Phoenix in this portrayal of one of the greatest musicians who ever lived and walked these plains. Having never sung or played guitar prior to taking on this role, Phoenix does a marvelous job of embodying the celebrated country/folk/rock/gospel singer, while not shying away from the complexities of his real-life character. It's ultimately stronger than the movie itself, but Phoenix's Oscar-nominated lead performance is nothing short of electrifying.
Stream It On HBO Max here. (opens in new tab)
The Sisters Brothers (2018)
An infamous pair of sibling assassins (John C. Reilly, Joaquin Phoenix) chase after a gold prospector (Riz Ahmed) and his accomplice (Jake Gyllenhaal).
Why It's A Good Option For Joaquin Phoenix Fans: As a couple of traveling brothers who leave a trail of blood in their wake, Joaquin Phoenix and John C. Reilly aren't exactly the type of gunslingers you'd expect to find in a western. Yet, each of them adapts into their roles nicely, providing a funny, engaging, and ultimately moving portrait of America as a country where comfort is desired but hustling is the way of the land. Balancing its weighted bouts of open-pasture drama with rewarding moments of dark comedy, the results didn't exactly make a splash when The Sisters Brothers rolled into theaters. That's a shame because it's quite a lovely picture. You should give this one a shot.
Stream It On Hulu here (opens in new tab).
Mary Magdalene (2019)
Seeking refuge, Mary Magdalene (Rooney Mara) discovers a sense of purpose through a radical movement led by Jesus Christ (Joaquin Phoenix).
Why It's A Good Option For Joaquin Phoenix Fans: Through its tempered, ponderous, and often methodical approach, 2019's Mary Magdalene didn't secure a wide audience — particularly through a prolonged shelf life with multiple delays. Though it can lack a sense of momentum or forward drive to make this reinterpretation as reverently compelling as the filmmakers find the biblical story itself, this religious drama from Garth Davis (Lion) is aided nicely by its lead performances from real-life couple, Rooney Mara and Joaquin Phoenix. The latter's performance, in particular, is quite intriguing in its own right. Phoenix hunts for the humanity in this revered figure and explores the fine complexities of his short-lived morality — particularly as he's in the midst of being mythologized.
Stream It On Showtime here.
Hotel Rwanda (2004)
A historical biopic documenting the efforts of hotelier Paul Rusesabagina (Don Cheadle) to save the lives of more than a thousand refugees during the Rwandan genocide.
Why It's A Good Option For Joaquin Phoenix Fans: There's no denying that Hotel Rwanda is Don Cheadle's movie. The actor's Oscar-nominated performance is an impressively accurate portrayal of the real-life figure, filled with compassion and care, and Cheadle provides a lovely authentic portrayal. But the movie is also filled with many strong supporting performances, including Sophie Okonedo (who was also Oscar-nominated), Nick Nolte, and Joaquin Phoenix. As Jack Daglish, an American journalist covering the Rwandan genocide, Phoenix provides a vocal and prominent supporting turn, but it's safe to note that the revered actor stays strictly in the supporting character range. Nevertheless, Phoenix makes the most of his limited screentime, providing another strong performance to this standout ensemble.
Stream It On Amazon Prime here.
Parenthood (1989)
Parenthood follows a midwestern family that faces various struggles in their day-to-day lives, including the highs and lows that come with parenting.
Why It's A Good Option For Joaquin Phoenix Fans: Before there was the show, there was the film. Joined by co-stars like Steve Martin, Mary Steenburgen, Rick Moranis, and Keanu Reeves, Joaquin Phoenix gave one of his earliest and most charming performances as Garry, a moody, withdrawn kid who has recently entered puberty, in this acclaimed Ron Howard-directed dysfunctional family comedy. Where else will you see Reeves teach Phoenix about masturbation?
Stream It On Showtime here.
The Immigrant (2013)
In 1921, a Polish immigrant (Marion Cotillard) is tricked into prostitution by a deceptive theater manager (Joaquin Phoenix).
Why It's A Good Option For Joaquin Phoenix Fans: Collaborating with James Gray for a fourth-and-currently-final time, Joaquin Phoenix gives a complex and unsettling performance in this acclaimed period drama — one that, once again, showcases his great talents for playing disturbing and challenging individuals in complex and compelling ways. While his movie mostly flew under the radar upon release, especially as more time passes, it's been hailed as a classic-in-the-making of the previous decade.
Stream It On Tubi here and PlutoTV here.
In addition to all these titles, it's also worth noting that We Own the Night is available on Starz and Signs is currently on HBO Max. What's your favorite Joaquin Phoenix performance? Let us know below!
Will is an entertainment writer based in Pittsburgh, PA. His writing can also be found in The Playlist, Cut Print Film, We Got This Covered, The Young Folks, Slate and other outlets. He also co-hosts the weekly film/TV podcast Cinemaholics with Jon Negroni and he likes to think he's a professional Garfield enthusiast.
Your Daily Blend of Entertainment News
Thank you for signing up to CinemaBlend. You will receive a verification email shortly.
There was a problem. Please refresh the page and try again.