Tom Cruise Had Some Really Kind Words For The Navy 'Heroes' Who Helped Him Prepare For Top Gun: Maverick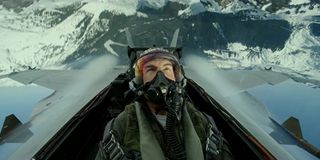 Since Top Gun, Tom Cruise has built an impressive action movie career over the years, in part due to his commitment to doing stunts himself. But he couldn't do those stunts without the help of the real experts. So to pay tribute, Tom Cruise had some kind words for the Navy heroes that helped him prepare for Top Gun: Maverick.
For Top Gun: Maverick, Tom Cruise, and many of his co-stars underwent intense training. In fact, we learned earlier this summer that film won't replace the fighter jet scenes with CGI. So, Tom Cruise recently expressed his gratitude to those Navy pilots that helped him prepare for the film (via USNI News):
What a kind sign of appreciation by Tom Cruise. Clearly, he has a great deal of respect for these Navy pilots and that makes sense, considering he owes them a lot. Because in addition to their service for the country, some are making his fighter pilot scenes as authentic as possible for the film.
Before coming on board to do Top Gun: Maverick, Tom Cruise had one request: No CGI. He wanted practical effects when filming, which obviously is a big request when you're talking about aerial cinematography. But they followed through with his request, and it probably didn't hurt that Tom Cruise is an aviator and can fly the planes.
At least in the cinematic world, Tom Cruise should also get a commendation. The long-time Hollywood star has repeatedly shown his commitment to his craft by pushing the limits of filmmaking and stunts in movies like Mission: Impossible – Fallout. It's this drive that keeps bringing audience members back to his movies.
As such, Tom Cruise sets a high bar for his co-stars to also perform at the top of their game. While working on Top Gun: Maverick with Tom Cruise, co-star Miles Teller admitted he was having a hard time keeping up, saying the training was pretty intense.
Unfortunately for Top Gun fans, Top Gun: Maverick has seen a number of delays. Originally, it was supposed to come out on June 26, 2020, but has since been pushed back to July 2, 2021, due to current events. For more movie news, stay tuned to CinemaBlend.
Your Daily Blend of Entertainment News