Theaters Going Dark As No Time To Die, Wonder Woman 1984 Delayed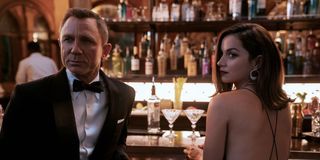 In another timeline, 2020 would have been a big year for movies. With new movies from several huge franchises dropping, it was poised to create some big box office numbers. Now that we're living in the COVID-19 reality, movies like No Time to Die and Wonder Woman 1984 have been shelved until the end of the year or even 2021. That means the movie theaters that were poised to profit from their success are going dark for now.
No Time To Die was originally set to be released in April 2020. Its new premiere date was set for November 2020 until earlier this week when news dropped that it won't hit theaters until April 2021. Following this announcement, Cineworld revealed it will be closing all of its Regal Cinema locations in the United States, the United Kingdom and Ireland. According to Variety, the 543 venues across the United States could close this week.
Regal Cinemas is the second largest domestic movie theater chain in the United States. Sources told Variety that the theaters could remain shuttered until 2021. In the UK, where approximately 5,500 jobs are on the line due to the closures, Culture Secretary Oliver Dowden recently said that COVID-19-induced delays for movie releases have made the exhibition sector "unviable."
No Time To Die is not the first 2020 tentpole release to encounter repeated delays in its rollout. Earlier this year, Wonder Woman 1984 was also delayed multiple times - first, from June 5, 2020 to October 2, 2020, and now to Christmas Day.
Other films like Fast 9 and Black Widow have been pushed into May 2021. While it's clear studios are doing their best to account for these unprecedented times, these constantly shifting release schedules have created chaos that's clearly being felt across the board.
Christopher Nolan's newest film, Tenet, was meant to signal a return to normalcy for fans this summer. However, as COVID-19 continued to impact the world, the movie's release was shifted. While it proved to be a success in other parts of the world, Tenet saw an underwhelming performance when it finally did hit theaters in the United States.
It's easy to see why studios might be hesitant to soldier ahead with plans for other tentpole movies -- and why theater chains like Regal are also struggling to find a path forward. The unfortunate reality is that until the COVID-19 threat is contained enough for most people to feel safe to return to a movie theater, there's not a lot anyone can do.
Regal Cinemas did have plans for a special re-release of Alita at the end of October. It's not clear what will happen to those plans, given that its venues seem poised to close before then.
Keep it here at CinemaBlend for more updates on movie theaters as they arrive.
Your Daily Blend of Entertainment News