Ryan Gosling Gripes About Disneyland's Haunted Mansion Going Full Nightmare Before Christmas, And We're Listening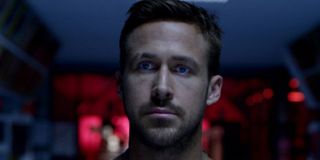 Ryan Gosling has some thoughts about The Haunted Manion ride at Disneyland, guys, and it's imperative you hear what he has to say. As many know, Disneyland's The Haunted Mansion changes the theme of the ride to The Nightmare Before Christmas for the Christmas season, but Ryan Gosling isn't having any of it, griping about the topic for a hot minute.
For some, The Nightmare Before Christmas is a favorite movie, and thus think that having it as a theme at The Haunted Manion ride is a great idea. But Ryan Gosling isn't in that camp at all. He recently spoke with Clevver News on the subject and made it clear what he thinks of it. Check it out:
I have to say, he makes a strong point. The Haunted Mansion is meant for scares, so seeing Christmas paraphernalia might make you feel more jolly than scared for your life. The mixed messages could be off-putting for some, like Ryan Gosling, who like to be purists about their holiday seasons.
On top of that, Christmas horror movies rarely do well. With the exception of The Nightmare Before Christmas, Gremlins and perhaps Krampus, most horror Christmas movies aren't just schlocky, they're all kinds of bad schlocky. Few people want to be scared during Christmas, and even fewer want to think about Christmas during Halloween, so it's a tough genre.
Oddly enough, Ryan Gosling has a deeper connection to The Haunted Mansion ride. Back in 2015, he and Guillermo Del Toro were said to be working together on a live-action Haunted Mansion movie. At the time, it was reported to be a family movie, which would have been a new genre for both of them, but evidently that iteration never got off the ground.
Howevrr, back in August, there were reports that the Haunted Mansion movie was back on track, but this time it'll be written by The Heat writer Kate Dippold and produced by the live-action Aladdin producers Dan Lin and Jonathan Eirich. It doesn't look like Ryan Gosling is attached.
Of course, Ryan Gosling is more known for dramas and rarely ever does horror (except for maybe that Goosebumps episode). But even if he won't end up in the Haunted Mansion movie, he has signed on for Universal's Wolfman remake, playing the titular character. Just don't expect him to wear a Christmas Santa hat.
Well, now that you know Ryan Gosling's stance on mixing Halloween and Christmas, and his displeasure at The Haunted Mansion's adopting The Nightmare Before Christmas, what's your take on it? Should The Haunted Mansion still do The Nightmare Before Christmas theme? Let us know in the comments, and keep checking back with CinemaBlend for more movie news!
This poll is no longer available.
Your Daily Blend of Entertainment News
Your Daily Blend of Entertainment News
Thank you for signing up to CinemaBlend. You will receive a verification email shortly.
There was a problem. Please refresh the page and try again.