Ryan Gosling May Star In A Haunted Mansion Adaptation, Get The Details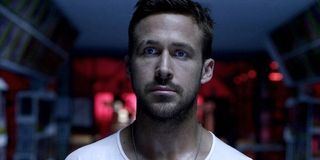 Ryan Gosling may have just made his directorial debut with the dark urban fantasy Lost River, but don't worry, he's not giving up life in front of the camera just yet. In fact, it's being reported that he's teaming up with both pal Guillermo del Toro and Disney.
The Wrap reports that the Drive star (and former Mouseketeer) is in talks to star in the Hellboy director's long-in-the-works Disney film based on their Haunted Mansion ride. The movie has been in the process of coming to the big screen since 2010, when it was announced at San Diego Comic-Con, and del Toro himself has been circling for quite some time.
Described as a "supernatural family film," this is going to be a marked departure for both Gosling and del Toro—who were also reportedly seen riding the ride at Disneyland over Oscar weekend, which is adorable. The last time we saw Gosling was in Nicolas Winding-Refn's ultra-violent Only God Forgives, and his in-the-works projects include Terrence Malick's Weightless and Shane Black's crime thriller The Nice Guys. Not exactly warm and fuzzy.
For his part, del Toro has the old timey horror flick Crimson Peak coming this year, as well as what seems like an endless supply of other projects in the works, including Pacific Rim 2. While he's not known for over the top gore, gratuitous nudity, or anything like that, he's not exactly who springs immediately to mind when you think of family friendly films. He has said that he hopes this will be "fun scary," and we know that he can certainly do both fun and scary, so we're curious to see what he can do at the helm here. There's not a lot of inherent narrative in the ride, so he could have a lot of fun working here.
D.V. DeVincentis is reportedly handling the scripting duties right now. His last produced screenplay was Stephen Frears' Lay the Favorite. Before that, you have to go back to 2001, and even then, his highest profile gigs were on the John Cusack vehicles High Fidelity and Grosse Pointe Blank.
Ryan Gosling and Guillermo del Toro were recently at the SXSW film festival in Austin, Texas. They appeared on stage together to talk about Lost River, which has, to put it bluntly, not received the best reviews. It premiered at Cannes last year, where it was critically brutalized, though it's found a few more supporters stateside. At one point they mentioned that they met a few years back to talk about a project, and while they didn't reveal what it was, perhaps it had something to do with Haunted Mansion.
Right now there's no timeline on when the wheels will get moving in earnest on Haunted Mansion, but with a star like Gosling lined up, and del Toro on board, maybe that will light a fire under Disney.
Your Daily Blend of Entertainment News