Dwayne Johnson's Black Adam Movie May Have Just Cast A Key Role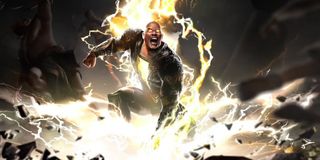 For over a decade, Dwayne "The Rock" Johnson has been ready to play DC Comics antihero Black Adam in one form another, and now he's closer than ever to accomplishing that. The Black Adam movie is deep into preproduction, which includes hiring the actors who will be joining Johnson in the main cast. So far the casting updates have been focused on who's comprising the Justice Society of America, but it's possible that the latest performer to be announced for Black Adam is playing someone incredibly important to the eponymous character who isn't directly affiliated with that superhero team.
Sarah Shahi, who's appeared/starred in TV shows like Alias, Fairly Legal, Chicago Fire, Person of Interest and City on a Hill, has been cast in Black Adam. While her character isn't identified, Deadline describes this individual as "a university professor and freedom fighter leading the resistance in Kahndaq." While it's possible Shahi is playing a brand-new character, I suspect it's more likely she's been cast as an altered version of Adrianna Tomaz, a.k.a. Isis, Black Adam's love interest from the comics.
For those unfamiliar with Isis, she originally started out as the lead character of the TV series The Secrets of Isis, which aired as the second half of The Shazam!/Isis Hour. However, in the mid-2000s limited series 52, a new version of Isis named Adrianna Tomaz was introduced to DC Comics' main continuity, and she started out as an Egyptian refugee who was kidnapped by Intergang and given to Black Adam as a gift. As a man who knows a thing or two about the horrors of slavery, Black Adam freed Adrianna and killer her captors, and in the following weeks they spent together, Adrianna convinced Adam to change his world outlook, leading him to commit kinder acts.
Taken with Adrianna, Black Adam traveled to the Rock of Eternity to retrieve The Amulet of Isis so that she could gain powers similar to his. Now going by Isis and marrying Black Adam soon after, Adrianna used her new abilities to free her brother Amon, who had been crippled in captivity, but was bequeathed powers by Black Adam directly and became Osiris. Alas, the story of the Black Adam family ultimately ended in tragedy, and post-Flashpoint, Adrianna and Amon have only appeared in the comics once.
It's also worth mentioning that a loosely-adapted version of Adrianna Tomaz has starred on The CW's Legends of Tomorrow since Season 3. However, rather than being a Black Adan-like figure from the present day, Tala Ashe's Zari Tomaz is a hacktivist from the future who uses the Air Totem, giving her the power of aerokinesis. So live-action-wise, there's definitely a void to be filled for a more traditional representation of Adrianna/Isis to come into play.
So assuming Sarah Shahi has been cast as Adrianna Tomaz, what does all this mean for the Black Adam movie? Well, considering that the man once known as Teth-Adam lived in ancient Kahndaq, and that her character is leading a resistance in that country in the present day, one can assume that their paths will cross through their respective efforts to improve their country, as opposed to Adrianna being offered to Adam as a gift. From there, they could easily fall in love like in the comics, or perhaps their relationship in the DCEU will be keto strictly platonic/friendly.
However, it's not necessarily guaranteed that Sarah Shahi's Adrianna Tomaz will necessarily gain special abilities and become Isis. Remember, along with Black Adam, this movie will also include Aldis Hodge's Hawkman, Noah Centineo's Atom Smasher, Cyclone and Doctor Fate (sorry, no Hawkgirl). Right off the bat, that's five superpowered people in on the action, and we can't discount the possibility that a yet-to-be-announced traditional villain is being thrown into the mix.
That's not to say that Adrianna Tomaz could never gain powers in the DCEU, but maybe that will be saved for a Black Adam sequel. Or maybe I'm way off base, and she actually obtains her powers during the latter half of the first Black Adam movie. Either way, considering how important Adrianna/Isis was to Black Adam's arc in the comics over a decade ago, it makes sense that she would be included in the Black Adam movie, and naturally as more people learn of her existence, her fanbase will only grow.
Black Adam was previously slated to come out on December 22, 2021, but it's currently undated following the delay of several other DC movies. Keep checking back for more updates on Black Adam's progress, and learn what else is coming from DC's film division with our comprehensive guide.
Your Daily Blend of Entertainment News
Connoisseur of Marvel, DC, Star Wars, John Wick, MonsterVerse and Doctor Who lore. He's aware he looks like Harry Potter and Clark Kent.
Your Daily Blend of Entertainment News
Thank you for signing up to CinemaBlend. You will receive a verification email shortly.
There was a problem. Please refresh the page and try again.