Noah Centineo's Black Adam Character: Everything You Need To Know About Atom Smasher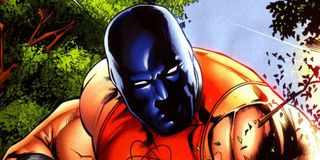 In a rare instance of new information about Black Adam coming to light, the much anticipated spin-off from the surprise 2019 hit DC Extended Universe Shazam! just got one smashing update. Netflix's go-to heartthrob for rom-coms, Noah Centineo, will appear alongside Dwayne Johnson as Atom Smasher.
I would not hold it against you if you admitted that this was the first time you had ever heard of Atom Smasher before, though. In fact, even if the name did a ring a bell or two, unless you were a lifelong, devoted follower of DC comic book lore, there is probably still not very much you might know about this recently announced Black Adam movie character, whose history with the Shazam adversary is poised to make for one interesting dynamic in the upcoming film, potentially.
Do you care to hear more in-depth details about that relationship? Read on to learn all about how he and Black Adam relate to each other, as well as five other intriguing facts about Atom Smasher that might have slipped past your memory, especially if the character's existence had slipped past your own awareness until Noah Centineo's name was attached.
Atom Smasher Has The Ability To Increase His Size
While the image of a man with the ability to destroy the smallest unit of matter does sound impressive, atoms are actually the most important factor to all of what Atom Smasher (née Albert Rothstein) is able to do. While he does possess a number of the more common superpowers, including your typical super strength, speed, and durability, all of that stems from his central feature of atomic dispersal, which allows him to change his own mass for a variety of purposes, most notably growing to a maximum height of 28 feet. Rothstein can also pilot and repair aircraft and attended the University of Southern California on a basketball scholarship.
Atom Smasher Originally Debuted Under The Alias Nuklon
When Albert Rothstein (the creation of Roy Thomas and Jerry Ordway) first appeared in a September 1983 issue of DC's All-Star Squadron, he emerged under a name that sounds far kinder to the main source of his power. Having inherited the metahuman abilities of his evil grandfather Terrence Kurtzberger (a.ka. Cyclotron), Rothstein donned a sick mohawk the same shade of red as his suit to fight crime as Nuklon, during which time he also had an ability to phase through objects. However, you almost have to imagine that, if it had not been taken, he might have opted to take on the superhero identity of his godfather.
Atom Smasher Is The Godson Of The Original Atom
Today, the person who is best known as The Atom is Dr. Ray Palmer, whose Arrowverse iteration is portrayed by former Superman actor Brandon Routh. The first, however, is Al Pratt, whose skills in boxing and atomic physiology due to a strange accident made him into the incredible shrinking superhero during the Golden Age of DC comics. It was actually Pratt's legacy that inspired his godson, Albert Rothstein, to use his powers for good as Nuklon and aspire to follow in his footsteps by joining the Justice Society of America, at which he would adopt the name Atom Smasher and a new, intimidating look to match.
Atom Smasher And Black Adam Have Been Both Friends And Enemies
While his name seems like a threat to Black Adam (phonetically speaking), Atom Smasher is actually someone the god-like Egyptian thinks of as a brother, especially after he turns good and they fight alongside each other in the Justice Society of America. However, given Adam's tendency to play both sides, things are not always so buddy-buddy between these two. Once, after Black Adam resurrected a dead Albert Rothstein (who was then imprisoned for helping him achieve rule of Kahndaq), Amanda Waller recruited him into a reformed Suicide Squad to track down and capture Adam.
Atom Smasher Is One Of Few Known Jewish DC Characters
Another thing that has put Atom Smasher at odds with colleagues is his religious beliefs and, in fact, he is actually one of the few DC characters who are openly Jewish. Albert Rothstein's devout practices actually informed his decision to refuse romance with fellow DC crime fighter Fire and almost cost him his friendship with openly gay superhero Obsidian, until he discovered his crush at the time was a bisexual woman, allowing him to accept his friend as he is. Coincidentally, Noah Centineo is not Jewish in real life, but actually has a small, unique following in the community particularly for his role in the Netflix original To All the Boys I've Loved Before and its 2020 sequel, even though his character, Peter Kavinksy, is not Jewish either.
Black Adam Will Be Atom Smasher's Big Screen Debut
Noah Centineo's casting in Black Adam marks the first time that Atom Smasher will grace the silver screen, although it will not be the first time the comic book character has been adapted for a different medium. Albert Rothstein's alter ego made multiple appearance in the series Justice League Unlimited (a counterpart to animated favorite Justice League with a much bigger cast) and also makes a cameo in the massively popular DC-based video game Injustice: Gods Among Us. Atom Smasher made his official live action debut, however, in the second season of the Arrowverse spin-off series The Flash, as played by pro wrestling star Adam Copeland, otherwise known as Edge in the ring.
What do you think? Now are you excited to see Atom Smasher (possibly) take on Dwayne Johnson in Black Adam, or were you until you heard Noah Centineo was cast? Tell us how you really feel in the comments and be sure to check back for additional information and updates on the long awaited DC film, as well as even more in-depth looks at the backstories of your favorite comic book characters here on CinemaBlend.
Your Daily Blend of Entertainment News
Jason has been writing since he was able to pick up a washable marker, with which he wrote his debut illustrated children's story, later transitioning to a short-lived comic book series and (very) amateur filmmaking before finally settling on pursuing a career in writing about movies in lieu of making them. Look for his name in just about any article related to Batman.
Your Daily Blend of Entertainment News
Thank you for signing up to CinemaBlend. You will receive a verification email shortly.
There was a problem. Please refresh the page and try again.