Honest Thief Box Office: Liam Neeson Action Takes The Top Spot On A Quiet Weekend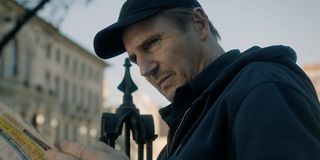 Box office tracking is, for obvious reasons, using very different metrics than normal right now. On this weekend last year, Joachim Rønning's Maleficent: Mistress Of Evil debuted in the top spot with $36.9 million earned domestically, and while that was far from the biggest three day total of 2019 – that honor belonging to Joe and Anthony Russo's record-setting Avengers: Endgame – it's a number that will very likely be beyond the reach of any film that comes out between now and the end of 2020. Because of this, expectations have to be lowered, and certain silver linings need to be appreciated.
For example, while they may not be raking in eight figures, the marketplace is starting to feature competition and turnover again, which is the headline behind this weekend's performance by Mark Williams' Honest Thief.
The Liam Neeson action film, which follows Hans Petter Moland's underrated Cold Pursuit as the Northern Irish actor's venture in the genre, hit theaters this past Friday and was able to successfully bump Tim Hill's The War With Grandpa out of the number one slot. All told, according to Variety, the new release made $3.7 million, which bested the additional $2.5 million made by the Robert De Niro-fronted family comedy. The swap at the top marks the second time that such a happening has occurred in the last two weeks, as it was last Sunday we were reporting that The War With Grandpa was the movie that took down Christopher Nolan's Tenet – which had been rolling as the biggest movie in North America since early September.
As you can probably guess, the new Nolan blockbuster is now holding on in third place. The additional $1.6 million it made in the last three days has now brought its domestic total up over $50 million ($50.6 million to be exact), which means that it is now just short of out-grossing 2006's The Prestige, and it's likely that will be accomplished before its run is done (again, we're hunting for silver linings here). The movie has continued to perform better in foreign markets, with that money making up the majority of the $333.9 million it has made to date globally.
It may also not be much longer that the film keeps showing up in the Top 3. In addition to new releases continuing to hit theaters (more on that in a minute), there is also some significant money being made by high profile and seasonal friendly re-releases. Tenet, in truth, only barely held on to its third place position, as screenings of Henry Selick's The Nightmare Before Christmas made $1.3 million. Showings of Kenny Ortega's the modern Halloween classic Hocus Pocus have also continued to sell a good number of tickets, adding $765,000 to its lifetime earnings.
While films and theaters presently are not exactly raking it in, so to speak, what can at the very least be appreciated is the sense of normalcy that comes with news of there being a weekly new "number one movie in America." Obviously there are annual hits that dominate the box office for multiple weekends in a row, but the normal pattern is that significant new arrivals get released every Friday to test the legs and staying power of the features already playing on the big screen, which usually results in a fresh feature wearing the box office crown. We saw this at the start of 2020, with, for example, Jeff Fowler's Sonic The Hedgehog being bumped by Leigh Whannell's The Invisible Man, and The Invisible Man being bumped by Pixar's Onward, but COVID-19 has decimated that design for the last few months. Now we seem to at the very least have that part of the system back as studios are feeling slightly more confident about theatrical releases.
Will Liam Neeson's latest quest for vengeance stay in the top spot for long? We can't really say right now, because there will be new competition for the title to face when the weekend race restarts on Friday and through the rest of the month. 20th Century Studios will be dropping David Prior's comic book adaptation The Empty Man in theaters this week, and just in time for Halloween Focus Features is going to be releasing Jacob Chase's Come Play on October 30.
Adding to the good news, it may not be too much longer before the box office gets a much needed boost from theaters being reopened in major markets such as Los Angeles and New York. In the case of the latter, Governor Andrew Cuomo announced on Saturday that theaters outside of the city can open with regulations in place starting October 23, and hopefully that, in time, will eventually lead to more openings.
The unique and unprecedented circumstances of the box office world continue to constantly evolve, but we here at CinemaBlend are continuing to follow it, and always hoping for improvements. Stay tuned for more updates, including a follow-up next Sunday to see where things stand.
Your Daily Blend of Entertainment News
Assistant Managing Editor
NJ native who calls LA home and lives in a Dreamatorium. A decade-plus CinemaBlend veteran who is endlessly enthusiastic about the career he's dreamt of since seventh grade.
Your Daily Blend of Entertainment News
Thank you for signing up to CinemaBlend. You will receive a verification email shortly.
There was a problem. Please refresh the page and try again.