8 Great Anthony Anderson Performance You May Have Forgotten About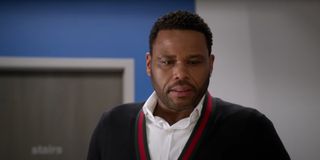 There have been some really great Anthony Anderson movies and TV shows over the years with performances that have earned him NAACP Image and Primetime Emmy Awards in programs like Black-ish. And since making his acting debut 25 years ago, Anderson has continued to remain a prominent figure in show business, both in front of and behind the camera, but during that time, the former Law & Order star has had appearances that may have been forgotten to the sands of time.
So, as we look forward to at least another 25 years of Anthony Anderson filling up our television screens and movie theaters, now's the perfect time to look back on some of those forgotten gems, those great comedic and dramatic roles that have made the actor such a success in Hollywood. Here are eight great performances you may have forgotten about.
Percy "Bone" Hamilton - Veronica Mars
There must be some unwritten rule in Hollywood that required all major stars to appear on Veronica Mars at one point in the show's four-season run. Well, you can add Anthony Anderson to that list following his 2005 appearance as Percy "Bone" Anderson, a record company owner with a checkered past who calls on Mars Investigations to help him find his missing daughter. Throughout the episode, Anderson's character walks the line between a tough guy and a father who would do anything for his daughter's safe return.
Anthony Anderson was already a star at this point in his career thanks to movies like Barbershop and Kangaroo Jack, but with so much time passing between now and the first airing of "Lord of the Bling," the appearance falls in forgotten territory unless you're a diehard Veronica Mars fan who's watched the series over and over.
Tony Brown - The Departed
Martin Scorsese's 2006 crime epic The Departed remains one of the best efforts from the legendary director in recent years thanks in part to its phenomenal cast. With Jack Nicholson, Leonardo DiCaprio, Matt Damon, and a who's who of top talent in the early years of the 21st Century, it shouldn't come as a surprise that there are some actors who appeared in the movie who have been forgotten in the 14 years since its release.
You can include Anthony Anderson's Tony Brown in that category. We first meet Tony at the police academy with Billy Costigan (Leonardo DiCaprio) and a few more times throughout the movie before one of the few decent cops on the force is killed just moments after his friend is killed in the film's most shocking moment. And admittedly, it's a small role for Anderson, but still one that stands out.
Antwon Mitchell - The Shield
Before FX was known for shows like Fargo and Sons of Anarchy, one of its most notable and controversial releases was the gritty cop drama The Shield. In addition to its main cast which included Michael Chiklis, Walton Goggins, and C.C.H. Pounder, Hollywood mainstays like the Glenn Close, Forest Whitaker, and Anthony Anderson appeared in extended guest roles throughout different seasons of the hit drama.
Between 2004 and 2005, Anthony Anderson showed up in 15 episodes as drug kingpin Antwon Mitchell, who attempted to improve his image following a stint in prison by becoming a community leader. However, with a show like The Shield, things are never as they seem and Antwon continues his operation behind closed doors while making himself a saint in front of the public. It's just a shame that The Shield doesn't get talked about as much as it should these days.
Anthony Anderson - All About The Andersons
Long before Anthony Anderson was bringing home awards for his performance on Black-ish, he had a sitcom of his very own, although it didn't have the run that his future show would get years later. Between 2003 and 2004, Anderson led All About the Andersons on The WB. The show, which only lasted 16 episodes before it was cancelled, centered on a single father and struggling actor (Anderson) after he is forced to move back in with his parents. Things aren't simple for the character (they never are) especially after he discovers that his old bedroom has been rented out to someone else.
It's a shame All About The Andersons didn't get the opportunity to really take off, especially when you consider the combination of Anthony Anderson and the legendary John Amos, who portrayed the struggling actor's father.
Terry Nolan - Big Momma's House
By the time the 21st Century rolled around, Martin Lawrence was a massive star and his summer 2000 hit comedy Big Momma's House only made a stronger case for the box office draw. Seriously, the movie remains one of the funniest of Lawrence's career and that era in general, 20 years later. In addition to Lawrence, the movie also featured a star-in-the-making with Terrence Howard, Paul Giamatti, Nia Long, and none other than Anthony Anderson.
Appearing as Terry Nolan, the dim-witted security guard who always finds himself at the wrong place at the wrong time, Anthony Anderson pretty much steals every scene he's in, but those appearances are few and far between. Anderson wasn't quite the movie star he would become when he appeared in Big Momma's House, which is probably why he's not as remembered here.
Jamaal Baileygates - Me, Myself & Irene
It's no secret that Jim Carrey's best work isn't found in the 2000 Farrelly Brothers' comedy Me, Myself & Irene. And while it's true that Carrey is borderline annoying in his approach to a character with split-personality disorder, one thing that can be agreed on by everyone is the amazing work by the actors who portrayed his three sons. Seriously, Jerod Mixon, Mongo Brownlee, and Anthony Anderson are consistently the best thing about the movie whenever they get a chance to shine.
This isn't the first movie to come to mind whenever Anthony Anderson's name is brought up, but it should be at the top of everyone's list for the way he and his brothers go from goofing around to absolutely tearing each other apart (lovingly, I should add) by breaking down complex issues dealing with their above-average intellect.
Teddy Brodis - Hang Time
Remember the NBC Saturday morning show Hang Time? Well, you're not alone if don't recall the teenage sitcom about the Deering Tornados boys' basketball team. Maybe that's why Anthony Anderson's character, Teddy Brodis, doesn't come up so much 24 years after he debuted on the show. Over the course of 39 episodes, a young Anderson brought comedic relief to the series that tackled a number of societal issues, including the teen smoking episode where Teddy tries to hide his smoking habits from his teammates and coach.
If anyone talks about Hang Time these days, it's mostly to remember a cameo from a young Kobe Bryant shortly after he was first drafted by the Los Angeles Lakers in the mid 1990s.
Burger Shack Employee - Harold & Kumar Go To White Castle
And then there is the Burger Shack employee from the 2004 stoner comedy Harold & Kumar Go To White Castle. In a brief, but hilarious appearance, Anthony Anderson's character not only tells the titular characters how to get to the famed 24-hour White Castle, he describes the burgers in such detail that it will make everyone want to go seek out those greasy square-shaped patties, even if you swore them off after a bad night shortly after you graduated from college.
The role doesn't get brought up as much as the appearance by Neil Patrick Harris later in the movie, but it still should be one we look back on and laugh at all these years later.
These are just a few of the great Anthony Anderson performances that get overlooked these days. And as much as I wanted to include the likes of Scream 4 and Anderson's appearances in horror parodies like Scary Movie 3 and Scary Movie 4, those titles come up from time to time, just not as much as they should.
Your Daily Blend of Entertainment News
Philip grew up in Louisiana (not New Orleans) before moving to St. Louis after graduating from Louisiana State University-Shreveport. When he's not writing about movies or television, Philip can be found being chased by his three kids, telling his dogs to stop yelling at the mailman, or yelling about professional wrestling to his wife. If the stars properly align, he will talk about For Love Of The Game being the best baseball movie of all time.
Your Daily Blend of Entertainment News
Thank you for signing up to CinemaBlend. You will receive a verification email shortly.
There was a problem. Please refresh the page and try again.