What To Watch On Streaming If You Like Sons Of Anarchy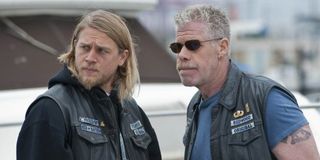 Like many of you, Sons of Anarchy was one of my favorite shows at one point. I would watch it every week with either my dad or a group of buddies and we'd discuss everything that went down and what we thought would happen the following week. And oftentimes, we'd try to find other shows and movies that we thought compared to the FX crime drama.
Now, all these years later, I have found myself doing that very thing — finding shows and movies that share characteristics with the story of SAMCRO. Surprise, surprise, there are a lot of movies and shows out there that either inspired the series or took inspiration from it over the years. So I've put together a list of films and series you can watch if you are a diehard fan of Sons of Anarchy who needs a break from watching the show for the millionth time.
Mayans M.C. (2018 - Present)
Set in the same universe as Sons of Anarchy, the FX crime series Mayans M.C. follows the exploits of the Mayans Motorcycle Club, one of SAMCRO's fiercest rivals-turned-allies.
Why It's A Good Option for Sons of Anarchy Fans: SOA fans looking to stick around the world of the successful series will be right at home with Mayans M.C., because not only do several characters from the original series make appearances here, the show continues the legacy of Kurt Sutter's biker series with plenty of family drama, intense action, and plenty of badass motorcycle scenes.
Stream it on Hulu here (opens in new tab).
The Shield (2002 - 2008)
Before Kurt Sutter went on to create Sons of Anarchy, the television writer/producer helped get The Shield off the ground. Centered around an elite group of mix-matched LAPD detectives , the show was known for his bleak view of police corruption and loads and loads of violence.
Why It's A Good Option for Sons of Anarchy Fans: When The Shield, which was considered one of the grittiest shows on television at the time of is 2002 debut, helped lay the groundwork for much of what viewers came to love in Sons of Anarchy. And with many of the actors from SOA appearing on the police thriller, you can have a great time finding them all.
Stream it on Hulu here (opens in new tab).
Hell Or High Water (2016)
Written by Taylor Sheridan (Deputy Chief David Hale on Sons of Anarchy), the 2016 modern-day western Hell or High Water follows brothers Toby (Chris Pine) and Tanner Howard (Ben Foster) as they go out and commit a series of bank heists to pay off a large debt. Little do they know but Texas Ranger Marcus Hamilton (Jeff Bridges) is hot on their trail.
Why It's A Good Option for Sons of Anarchy Fans: Much like on Sons of Anarchy, Hell or High Water provides dynamic and fleshed-out characters that go beyond good and evil. And much like the FX series in which the film's screenwriter starred, the movie is heartfelt, engaging, and extremely violent. Also, SOA fans who became drawn in by handsome outlaws hearts of gold will be right at home in this Academy Award-nominated picture.
Stream it on Netflix here (opens in new tab).
The Sopranos (1999 - 2007)
The HBO classic crime epic The Sopranos examines New Jersey Mobster Tony Soprano (James Gandolfini) as he tries to find his place as the leader of a crime organization as well as in his very own family. Over the course of six seasons, this groundbreaking series became one of the most well-regarded shows of all time.
Why It's A Good Option for Sons of Anarchy Fans: When talking about shows like the ones we're discussing here, there are, no doubt, some fans who enjoy both series. However, there are probably some out there who missed the boat with The Sopranos ending its run more than a year before Sons of Anarchy rolled into the picture. For those fans I say watch this HBO series immediately. It has the humor, violence, and familial drama found in everyone's favorite biker show and then some.
Stream it on HBO Max here (opens in new tab).
Brotherhood (2006 - 2008)
Set in Providence, Rhode Island, the Showtime series Brotherhood centers around two Irish brothers on opposite sides of the law played by Jason Isaacs and Jason Clarke as they both fight survival in the hardened neighborhood in which they were raised.
Why It's A Good Option for Sons of Anarchy Fans: Fans of Sons of Anarchy's Season 3 diversion to Belfast, Ireland, will enjoy the familiar sounds of Irish accents and longtime criminals in Brotherhood. Add in a touch of the family members finding themselves at odds with one another with Annabeth Gish (Sheriff Althea Jarry from SOA Season 7), and you have yourself a perfect combination for any fans looking for a quick three-season show to binge.
Stream it on Hulu here (opens in new tab).
Triple Frontier (2019)
The incredibly stacked Netflix original action film Triple Frontier centers around a group of former soldiers from the elite U.S. Army Delta Force who get back together and try to pull off an incredible heist in the jungles of South America.
Why It's A Good Option for Sons of Anarchy Fans: For starters, Jax Teller himself, Charlie Hunnam appears as William "Ironhead" Miller one of the former soldiers-turned-thieves who attempts to pull off the nearly impossible heist. And then you have the whole tried-and-true concept of a plan going horribly wrong, just like pretty much every plan in Sons of Anarchy. Plus, it doesn't hurt to have some of the most intense action sequences featuring the likes of Ben Affleck, Oscar Isaac, and Pedro Pascal featured heavily throughout.
Stream it on Netflix here (opens in new tab).
Animal Kingdom (2016 - Present)
Based on the critically-acclaimed Australian drama of the same name, the 2016 TNT series Animal Kingdom follows Joshua "J" Cody (Finn Cole) as he tries to find his place with a group of his crime-ridden surf-obsessed family members following the death of his mother.
Why It's A Good Option for Sons of Anarchy Fans: Like Sons of Anarchy before it, Animal Kingdom explores what it's like to be a part of a family so entrenched in crime, seedy operations, and violence, as well as the effect it has on someone who didn't grow up in that lifestyle. With a large ensemble cast and some fairly shocking twists and turns, this series is right up there with SOA.
Stream it on Amazon here (opens in new tab).
Peaky Blinders (2013 - Present)
Set just after the events of the First World War, the BBC period crime series Peaky Blinders is one of the most talked about shows on television, and it's not just because of the characters' signature style and sharp haircuts. With a cast that includes Cillian Murphy, Sam Neil, Tom Hardy, Finn Cole, and loads of other famed actors and actresses, this exploration of the formation of the Peaky Blinders urban street gang is one of the best of its era.
Why It's A Good Option for Sons of Anarchy Fans: At the very center of it, Peaky Blinders is anchored by its lead actor Cillian Murphy in his portrayal of Thomas Shelby. Much like Charlie Hunnam during his time on Sons of Anarchy, Murphy steals every single one of his scenes with his magnetic charisma, unique style, and propensity for explosive bursts of violence. On top of that, you have the inner-politics of the Peaky Blinders gang as well as how its seen by the outside world, much like SAMCRO.
Stream it on Netflix here (opens in new tab).
The Highwaymen (2019)
The story of Bonnie and Clyde is one of the most well-known tales about American outlaws from the 20th Century, and the 2019 Netflix original movie The Highwaymen explores the other side of the fight that ended the couple's reign of terror in the 1930s. Starring Kevin Costner and Woody Harrelson as two former Texas Rangers on the hunt for the couple, the movie recounts the investigation that ended bloody shootout in Louisiana.
Why It's A Good Option for Sons of Anarchy Fans: Fans of Sons of Anarchy who enjoyed the show's back-and-forth between the criminals and law enforcement will feel right at home with this retelling of the bloody piece of American History. With outlaws, lawmen, shaky relationships, and plenty of deception, The Highwaymen explores the very foundation of the outlaws and the men who cut them down that would go on to inspire films and television series like SOA.
Stream it on Netflix here (opens in new tab).
The Good, The Bad And The Ugly (1966)
Considered one of the most important films of all time, Sergio Leone's 1966 classic The Good, the Bad and the Ugly is what most people picture when they think of the western genre. Centered around a mysterious stranger played by Clint Eastwood as he hunts down $200,000 buried somewhere in the desert of the American Southwest, the violent and strikingly beautiful movie is one for the ages.
Why It's A Good Option for Sons of Anarchy Fans: At the very core of it, Sons of Anarchy is a modern-day western with motorcycles replaced the steeds of outlaws past. What better way to follow up the long-running biker gang drama than by watching one of the quintessential westerns, The Good, the Bad, and the Ugly. You can in Charlie Hunnam's facial expressions throughout the series that he drew inspiration from Clint Eastwood's Man with No Name.
Stream it on Amazon here (opens in new tab).
Well, hopefully that's more than enough to hold you over now that you've finished all seven seasons of Sons of Anarchy. But don't feel like you're limited it this movies and television shows, as there are countless others that either inspired or took inspiration from Kurt Sutter's biker gang epic. And we've got you covered if you want to know how Charlie Hunnam looked so good in The Gentlemen here on CinemaBlend.