Christopher Nolan's Insomnia And 7 Other Movies You Might Not Know Are Remakes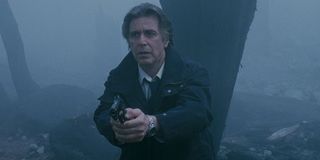 Hollywood has long had a habit of taking successful movies from other territories and making a flashy English-language remake, with results being hit or miss. These remakes are typically pretty on the nose in terms of making audiences aware that this is "new and improved" remake of a foreign film with a bigger budget and more familiar cast that won't require the audience to read for two hours. However, there are times when there's a movie that you don't realize is a remake until years after the fact. Sometimes you get something like the 2002 Christopher Nolan psychological thriller Insomnia, surprisingly enough, happens to be a remake.
But there is a seemingly never-ending list of classic and highly-regarded movies that are actually remakes. Films like The Departed, Scent of a Woman, and even True Lies are all some form of a remake. So, to shed some light (and perhaps spark new life) for some of everyone's favorite crime thrillers, comedies, and dramas, here's a list of movies you might not know are actually remakes.
Insomnia - 2002 (Insomnia - 1997)
It might be hard to imagine that Christopher Nolan would take on any project where he wasn't the one coming up with the premise, but that was the case for his third film, Insomnia starring Al Pacino as an LAPD detective with a checkered past sent to investigate the murder of a teenage girl in an Alaskan fishing village where the sun doesn't set. The 2002 thriller is based on the 1997 Norwegian movie of the same name, starring Stellan Skarsgård as a detective trying to escape his past in the Arctic. The two versions are identical to one another in almost every way except for the fact that Nolan turns up head-games and hallucinations more than his Norwegian counterpart, Erik Skjoldbjaerg. Still, there's enough of a difference to appreciate both versions if you want to do a fun double-feature to compare.
The Departed - 2006 (Internal Affairs - 2002)
The Departed, Martin Scorsese's 2006 crime drama remains one of the director's most popular movies, which is saying something when compared to the filmmaker's long list of cultural milestones. But did you know that the tale of corruption in the city of Boston and the inner ranks of the city's police department is actually a remake of a 2002 Hong Kong police thriller called Internal Affairs? The basic premise of each movie is the same in the sense that there is an undercover cop infiltrating a crime organization and a secret gang member infiltrating the police department, but the original includes multiple gangs vying for control of Hong Kong's criminal underbelly as well as a less satisfying ending where justice isn't served.
Scent Of A Woman - 1992 (Profumo Di Donna - 1974)
The basic premise of Scent of a Woman and the 1974 Italian film on which it was based, Profumo di Donna, are essentially the same in that they both center around a young man who is hired to escort a blind retired military officer who is set on committing suicide. However, the 1992 American remake which earned Al Pacino his first and only Academy Award for Best Actor, adds the entire subplot of Chris O'Donnell's character witnessing a prank at his prestigious prep school and the ensuing drama that comes with it. The much shorter and simpler original is also nearly an hour shorter than its remake since it mostly focuses on the relationship between the two main characters.
EdTV - 1999 (Louis 19, Le Roi Des Ondes - 1994)
Upon watching Ron Howard's 1999 box office bomb EDtv, you would probably think that it was Universal Pictures' answer to the 1998 Truman Show, but the movie about a reality TV show starring Matthew McConaughey is actually a remake of the 1994 French-Canadian comedy Louis 19 le roi des ondes. Both films have similar plots in that they both center around an everyman who is thrown into stardom thanks to a revolutionary concept for reality television, transforming his boring life into something made out of this world. The American version, which had an all-star cast consisting of some of the biggest names of the '90s with Woody Harrelson, Jenna Elfman, and Ellen DeGeneres, failed to perform at the box office while the original was the biggest movie in Canada the year of its release.
The Birdcage - 1996 (La Cage Aux Folles - 1978)
The 1996 comedy The Birdcage seems like a movie that was tailor-made for the pairing of Robin Williams and Nathan Lane, especially with its setting in South Beach, but it's actually a remake of a 1978 Franco-Italian film by the name of La Cage aux Folles, which translates to The Cage of Madwomen. Both versions are based on the 1973 French play, also titled La Cage aux Folles, which centers around a gay couple who have to act like they're a traditional family when their son brings home his fiancée and her ultraconservative parents. The American version made a variation to the story by making Gene Hackman's character of Kevin Keeley a conservative senator. Besides that there's not much difference between the plots.
The Thing - 1982 (The Thing From Another World - 1951)
This next one shouldn't come as a surprise to diehard sci-fi fanatics and horror-hounds, but John Carpenter's 1982 The Thing is actually a remake of a 1951 B-movie by the name of The Thing From Another World. Besides the name and the premise of an alien creature hunting a group of scientists in a remote location, the two movies are vastly different. The 1982 remake is more in line with John W. Campbell Jr.'s 1938 novella "Who Goes There?" which centers around a shape-shifting alien that can take on the form of any living creature, while the alien in the 1951 version just simply feeds on the blood of its victims.
True Lies - 1994 (La Totale! - 1991)
It's no secret that James Cameron is a master at making big-budget sequels of iconic franchises like Aliens and Terminator 2: Judgment Day, but did you know that he also made a remake at one point in his career? Well, be prepared to be shocked but the 1994 action comedy True Lies is actually a beefed-up remake of a 1991 French film called La Totale! The two movies are similar in almost every way with a secret agent hiding his occupation from his family, a sleazy car dealer acting like a spy, and international terrorists hellbent on inflicting a lot of damage to the public. The original is a much smaller scale, but the 1994 remake was also one of the most expensive movies at the time of its release.
Scarface - 1983 (Scarface - 1932)
And then there is Brian De Palma's 1983 crime masterpiece Scarface, which surprise, surprise, is a remake of a film of the same name that came out more than 50 years earlier. Both films focus on up-and-coming gangsters (Al Pacino as Tony Montana in the remake, Paul Muni as Antonio "Tony" Carmonte in the original), but each film is set in a different location. While the 1983 version is set in the steamy and sunny Miami, the original uses Chicago as its backdrop, but besides that and a few situations, there's not a lot of differences. Both versions of the "Tony" character are inspired by flashing signs that read "The World Is Yours," even if they have to lose everything in order to achieve their ultimate goal.
Which of these remakes is your favorite? Make sure to leave your answer in the poll below, or add your favorite in the comments if it didn't make the list.
This poll is no longer available.
Your Daily Blend of Entertainment News
Philip grew up in Louisiana (not New Orleans) before moving to St. Louis after graduating from Louisiana State University-Shreveport. When he's not writing about movies or television, Philip can be found being chased by his three kids, telling his dogs to stop yelling at the mailman, or yelling about professional wrestling to his wife. If the stars properly align, he will talk about For Love Of The Game being the best baseball movie of all time.