Could A Star Wars Lightsaber Destroy Alita: Battle Angel's Blade? Unfortunately, Mark Hamill Can't Answer Yet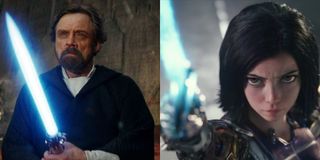 Imagine this: for some weird reason, Luke Skywalker from Star Wars and Alita from Alita: Battle Angel are in a fight. Luke has his lightsaber, and Alita is armed with her Damascus Blade; both are standing at the ready, poised to strike at any given moment. Who do you think would win this conflict of wills, this duel of the fates? In the case of Master Skywalker himself Mark Hamill, the answer isn't readily apparent, because the Star Wars actor can't answer for one very important reason:
Sometimes, Twitter and the Alita fandom really come through with the questions you didn't think to ask in the first place. While the reasons for Alita and Luke Skywalker fighting are still something we'd be curious to puzzle out, the bigger question of whether a lightsaber or the Damascus Blade would prevail is even more of a fun exercise to engage in. Of course, that still leaves the question of how Mark Hamill hasn't seen Alita: Battle Angel in the first place; especially when Disney owns both properties and could have easily slipped the man a private copy.
It's not like anyone would try to shame Mark Hamill, beloved internet personality and iconic actor, for not seeing Alita: Battle Angel. Still, before anyone gets any ideas, it should be known that back when director Robert Rodriguez released his sci-fi vision to the world, a little film called Star Wars: The Rise of Skywalker was finishing its production. Literally, the day after the Valentine's Day release of Alita: Battle Angel in 2019 was the day that the ninth and final episode in the Skywalker Saga wrapped. Between that, and his work/promotional duties on the Child's Play remake from last summer, the man seemed to have a busy year.
The question still remains though: does Luke's lightsaber or Alita's blade win in a hypothetical fight? Well, it all depends on who's quicker on the draw really, as the Damascus Blade does have a special ability: it uses the energy from her Berserker body to generate a plasma corona. So if Luke strikes before Alita can get that charge up and running, the blade might be cut like hot butter. But if Alita uses Panzer Kunst fighting abilities to outmaneuver Luke, she could potentially cut the Jedi, with or without plasma energy running through it, and strike a crushing blow. While, like Mark Hamill himself, we don't have a definite answer on the final result of this battle, we do have more information on how everyone can see Alita: Battle Angel again, and on the big screen.
This question is going to take some more research, to be certain. So it's a good thing that Alita: Battle Angel will be headed back to a theater near you on October 30th; news that even Mark Hamill himself might be excited to hear. But if you're not feeling up to going out to the movies just yet, you can currently take advantage of Alita showings on cable and streaming, through Cinemax and the MaxGo platform, respectively. Also, with the entire Star Wars saga on Disney+, answering this question might be all the easier for fans who want to take some notes and break down a final answer.
This poll is no longer available.
Your Daily Blend of Entertainment News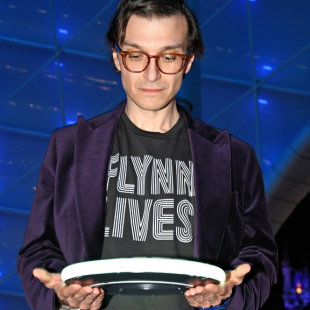 Senior Movies Contributor
CinemaBlend's James Bond (expert). Also versed in Large Scale Aggressors, time travel, and Guillermo del Toro. He fights for The User.