Star Wars Released A Skywalker Saga Poster, And I Can't Look Away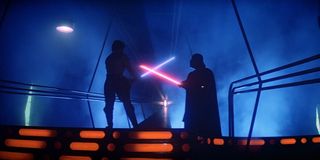 CinemaBlend participates in affiliate programs with various companies. We may earn a commission when you click on or make purchases via links.
Last year marked the end of an era for many franchises, including Star Wars. After 42 years, the Skywalker Saga came to an end with Episode IX, a.k.a. The Rise of Skywalker. Now that this movie is available on home media, and will premiere on Disney+ soon in a few days, a poster representing this nine-movie epic tale has been released, and it looks all kinds of awesome.
Take a look at the Skywalker Saga poster below.
Here we have many of the major Skywalker Saga players gathered together on one Star Wars poster, separated, of course, by the light and dark sides. Well, except for Padme Amidala and Yoda, both of whom straddle both factions. I mean, these two characters fall firmly into the good guy camps in the Star Wars movies, so I'd be interested to learn why they were placed in those positions beyond there being only so much space to work with on the artwork.
In any case, the two faces on this Star Wars poster that immediately draw the eyes are Luke Skywalker, hero of the Original Trilogy and mentor to Rey in the latter two Sequel Trilogy movies; and Darth Vader, whose journey as Anakin Skywalker we witnessed in the Prequel Trilogy, and then watched as he terrorized the Rebel Alliance as a cybernetic Sith Lord in the Original Trilogy.
Looking through the comments on this Twitter post, there are some folks who aren't pleased that the Hayden Christensen-portrayed Anakin Skywalker isn't included on this Skywalker Saga poster. Granted, anyone familiar with the main beats of the Star Wars movies knows that Anakin and Darth Vader are one and the same, so he clearly is well-represented here. Still, considering how prominent Christensen's Anakin was in Attack of the Clones and Revenge of the Sith, the annoyance is at least understandable.
Rey and Kylo Ren also get a solid amount of poster space towards the bottom of the Skywalker Saga poster, which is appropriate since they served as the main hero and villain, respectively, of the Sequel Trilogy. I don't need to name off all the other high-profile characters who appear on the poster, but suffice it to say that each trilogy is well represented… although I might have thrown in Mace Windu and Rose Tico too.
Of course, this poster is centered on the Skywalker Saga, hence why no original characters from Rogue One and Solo are present. And needless to say that the franchise has expanded over the years with TV shows like The Clone Wars, Rebels, Resistance and The Mandalorian. Quite frankly, if you wanted to represent all of the Star Wars franchise, both on screen and in other canon material, you'd need to draw each character extremely small or stretch out to a banner, and even that would be tricky.
More Star Wars movies are on the way, but they'll be exploring new characters and new corners of a galaxy far, far away. So The Rise of Skywalker very much served as a goodbye to many of this franchise's iconic characters. But hey, there was a time when we didn't think we'd see Luke, Han and Leia again, and look how that turned out. Perhaps several decades down the line, there'll be an opportunity to see what Rey, Finn and Poe are up to on the big screen.
For now though, you'll be able to watch the Skywalker Saga from start to finish on Disney+ (which is offering a free seven-day trial) when The Rise of Skywalker drops on the streaming service May 4th, a.k.a. Star Wars Day. Keep checking back with CinemaBlend for news on what's happening in Star Wars' movie and TV realms.
This poll is no longer available.
Your Daily Blend of Entertainment News
Connoisseur of Marvel, DC, Star Wars, John Wick, MonsterVerse and Doctor Who lore. He's aware he looks like Harry Potter and Clark Kent.